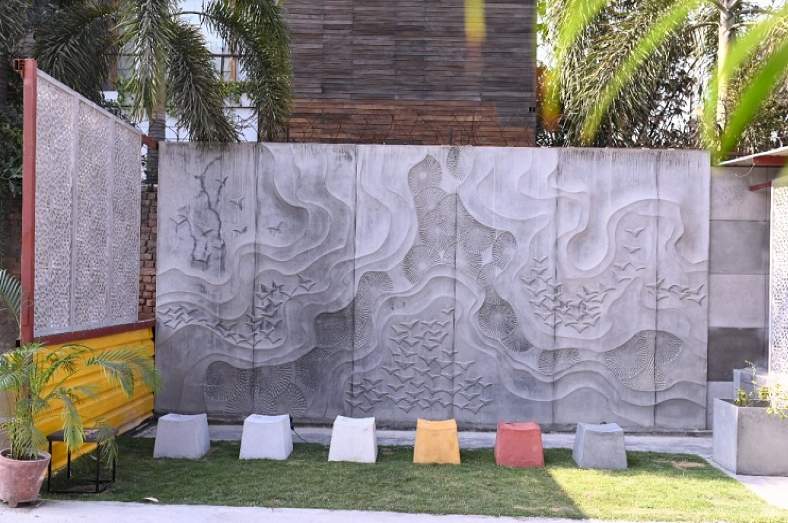 Their portfolio has grown to incorporate the concept of articulating the functional aesthetic for wall claddings, sinks, and light fixtures.
GoMaads, a Delhi-based designer label, had a "concrete tales" meet & greet where they displayed their raw, basic, utilitarian, and concrete products. The name Gomaads comes from the founders' initials. Malavika Singh, an interior designer, and Gopendra Singh, an architect and product designer. GoMaads has a variety of concrete lifestyle products — clocks, organisers, lights, platters, paperweights, ashtrays, and so on — and has extended to lighting and is working on furniture ideas.
Their ever-expanding collection of accessories, dinnerware, planters, and wall art exemplifies the triumphant reward of their hard work in a variety of moods. The redressing of concrete in this new incarnation undoubtedly contributes to a more edgy and expansive perspective. As they continue, their work will incorporate the idea of explicating the functional aesthetic for wall claddings, sinks, and light fixtures, and will move to furniture pieces derived of an interaction with other materials such as wood and metal.
"When we think about cement, the first image that comes to mind is of a dark, drab, industrial substance that's used to construct buildings and bridges," said Malavika Singh, co-founder. "However, due of its unique organic qualities, it can be cast into any shape." Cement has an enduring beauty that will never go out of style. And the textures — because to the air bubbles and lines, you may make two completely distinct surfaces from the same bag of cement. We used to be concerned about this, viewing it as a constraint. But it's the strength of cement; no two pieces are alike."
The adaptability of concrete is wonderful and astounding, and the GOMAADS' folio confirms the amazing layered outcome of the chemistry and labour. Their work is based on a hands-on approach, from the selection of the suitable mix to the quality of the moulds. The sensation is amplified by the fragility of a specific encounter and the inherent beauty of concrete. Their works are abstracted from genuine shapes, bringing substance to a material play and rendering images to all mundane realities.
15