Good architecture listens to the present and looks to the future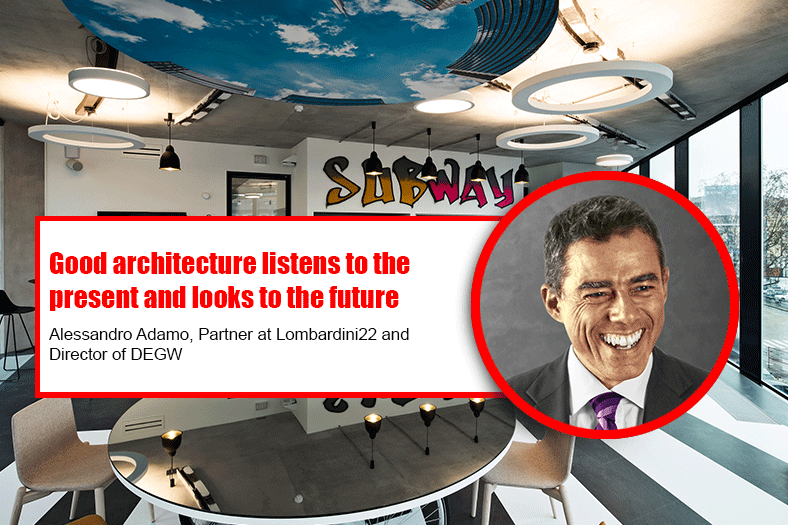 In a conversation with Vikas Bhadra, Alessandro Adamo, Partner at Lombardini22 and Director of DEGW says that architecture has the task of creating places where people feel good and to achieve this objective, one has to work on various levels of sensoriality; from visual to tactile and olfactory.
The idea of good design
A good interior design project must be dynamic, timeless and functional. It should be able to respond and if necessary anticipate the needs of clients and those who will populate the space. In general, I don't like decoration or excessive eccentricity.
The impact of the pandemic on workspace design.
We will not say goodbye to open spaces, nor will we see the return of cubicles or hierarchical positions. The pandemic has allowed us to become aware that you can work remotely, without problems. A penalizing aspect, in a work like ours which is also very connected to physicality and senses, is the impossibility to see and touch the materials live.
The office was already going through a process of change, which has been going on for years. At DEGW, we have long been supporting corporate organizations to work smarter and in ways that don't involve physical presence in the workplace. Technologies, laptops, connections have started to change the relationship between man and space. So we were already in a process of change and what happened has only accelerated this process. It is important to understand how this situation will evolve over time: I am convinced that the office will not disappear but will turn into something different that has its roots in a situation already in progress. The traditional office focused on individual activities, which can be carried out anywhere, will lose its value.
The office counts and will always count in the future because it generates team spirit. It is important for the meeting, for the informal connections that are created naturally in the workplace, for the possibility of carrying out collaborative activities. Now as designers we must make spaces and buildings accessible and safe. In general, we have to get used to living with something we did not know and take precautions we did not have before. Today we are a little scared of it, but we will get used to all those checks we are subjected to when we enter airports or places of interest.
We will have to get used to distance and different behaviours, difficult to imagine in the workplace but also in all scenarios of space sharing. I do not believe that these models will change, but it will be necessary to apply usage criteria that were not there before.
It comes naturally to me to make a comparison: if a fire breaks out, we have the tools and technologies – REI materials, fire doors – to deal with it. We know about the fire, we're experiencing the pandemic and we're dealing with it.
Workspace design for a diverse workforce
Globalisation has certainly brought shared styles and ways. Italy – home of good design – is a master in driving trends and modes, and treasures diversity that is synonymous with wealth.
In the contemporary world the workspace design and architecture must speak a unique language that respects differences and make people feel comfortable. As a design professional, I feel the need to include prayer rooms dedicated to different cults can be a good idea to achieve this balance. I wish to implement it in my projects.
The syntax of design – global, cultural or project based
The language of the project is linked to the individual project. We at DEGW, as well as the entire Lombardini22 Group, are not archistars, we do not have a recognizable style, but we have a working method. Thanks to this method, we have increasingly focused our main objective: to help companies improve their performance by adapting the workspace to the company's strategies and people's needs. In each project we interpret the values of each client and create environments that reflect them. We talk about co-design, active collaboration with the client, who is involved from the very beginning of the project: we organize workshops to define values and objectives of the project and to share concepts in which clients can be reflected.
The importance of Salone Del Mobile hosted annually in Milan
Salone Del Mobile is a great moment of exchange, comparison and innovation, where productive creativity meets users and customers from all over the world. It represents a strong attraction for the city of Milan that turns into a place of connection where design acts as a glue.
Best project till date
I have no preference among my projects. For me they are all beautiful and interesting because in each one there is the customer at the center. From each project I gain a human and professional growth because for everyone I know a microcosm (company, people, working and personal dynamics) from which a new world opens up.
Architecture – Is it is a discourse, much beyond form and function alone?
It depends a lot on the type of architecture. At Lombardini22, we believe in specializing in different design fields: if we create an architecture designed to be iconic, image and attractiveness naturally counts, if it's a service architecture we must think first of all about efficiency and functionality. Functionality and efficiency factors are of great importance in the office world. Museums, for example, have another value: they must be recognizable and iconic.
Architecture and Emotions
Architecture has the task of creating places where people have to feel good, so it goes to touch tangible and intangible values. DEGW has an Anglo-Saxon approach with a double matrix: consulting and design, and that's what made me fall in love and still fascinates me today. Our projects arise from an analytical approach and the definition of a brief. From us, customers expect high professionalism, benchmarks, a vision on the evolution of the way of working. We do a lot of research and apply neuroscience. DavideRuzzon, who works with us at Lombardini22, is responsible for TUNED, which applies the principles of neuroscience to architecture.
We are in fact studying projects that aim to bring out primary emotions, working on various levels of sensoriality, from visual to tactile and olfactory, experimenting with different scents depending on the emotions you want to stimulate. In the Lombardini22 team there are also psychologists specialized in this field and we have a business unit, ATMOS, headed by EmanueleSiciliano, which is dedicated to the study of research and design of well-being, acoustic comfort, lighting engineering, at all levels.
The balance between traditional and contemporary architecture
The world is evolving, it's fluid. Man changes, the needs, the values, the way in which needs are met. Good architecture listens to the present and looks to the future.
Current Projects
We have just completed the new offices of the financial company Agos in Milan and Ernst & Young in Rome. We are working on the PWC tower in Milan and for fashion and banking companies.
5