Good interior design is not what you make them see, it's how you make them feel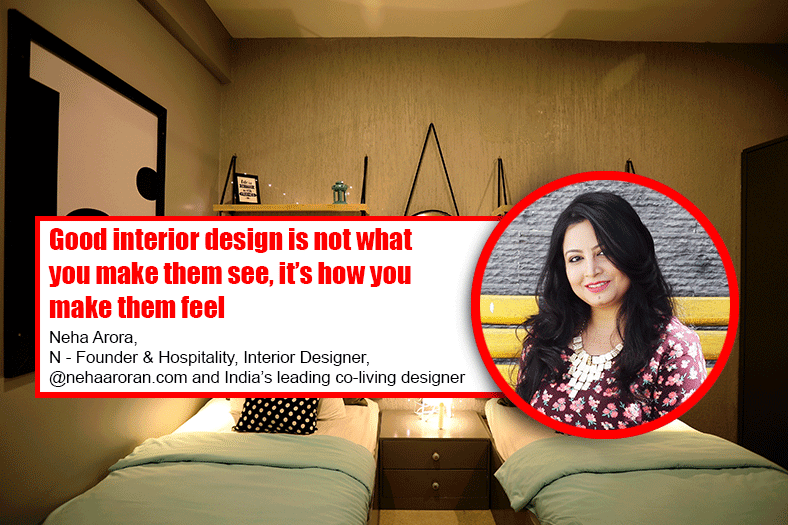 Lighting plays a huge role in achieving sound interior design. It's key to creating a memorable guest experience in hospitality and co-living spaces says Neha Arora N – Founder & Hospitality Interior Designer @nehaaroran.com and India's leading co-living designer.
When it comes to lighting, what kind of products and brands are in vogue?
Gold, especially soft gold is trending high for accessories, light fixtures and lamps, bringing in a Midas touch to every interior space. The trending effects are subtle, ranging from soft muted gold, rose gold, gold flecks on lamps, gold that patina over time, to just a hint of golden detail on a contrasting colour like green, white or grey. Natural, earthy and textural lamps like wicker, wood, rattan, burlap and grass are also in vogue.
Designed in contemporary styles, they not only bring the outdoors in but also look chic and exotic. And with Instagrammable designs becoming the new norm, Statement lamps that stop you in your tracks, and tempt you to click share, are also turning heads these days. The Origami Bird lamp, the Ostrich Feather Lamp by James Perkins; The Zeppelin pendent lamp by Dutch designer Marcel Wanders, and the Horse Lamp by Mooi are just some examples of neighbour's-envy-owner's-pride lamps.
How important is luminance and illuminance as far as interior lighting is concerned, what is the difference between the two?
Luminance is basically the amount of light that passes through, is emitted from, or is reflected from a particular area. It is measured using candela per square meter. Illuminance, on the other hand, is the amount of light falling onto a given surface. Illuminance is measured in Lux (lx). Knowing these is very important in designing interiors, because, one, it helps you manipulate the kind of lighting you want for a particular space; and two, it helps you ensure the recommended light levels for different kinds of spaces with different purposes.
What are some of the ways to enhance interiors with indirect lighting techniques?
There are different types of lighting – general, ambient, mood, accent and task lighting. The trick is to know which type of lighting to use for which space and how to seamlessly blend them together to create your desired ambience! Here are some ways:
• Take a layered approach to lighting, using different light sources, with different intensities, across different levels. This adds both drama and depth to the room.
• Create a dim, soft, ambient lighting, using options such as flush mount ceiling lights, chandeliers, pendants, Torchiere or wall sconces to create the base, on which you can add the other light effects.
• Use spotlights, picture lights, wall sconces to highlight feature walls, photo frames, wall art, mirrors, collections, or any unique architectural element. This brings in dimension and character to space, creating an illusion of unearthing treasures in a dark room.
• Add texture, interest and style statement to your space using lamp shades – both table and floor lamps. They create a diffused, warm and welcoming glow that hugs you softly, enhancing the mood.
• Play with light, shadow and reflection to create variation and texture.
In office spaces, how can one achieve task lighting without causing strain on the eyes of the user?
• One should reduce the ambient lighting already in the office room, through dimmers or the on-off controls. Too much ambient light, while conducive to one form of task such as reading, may actually create discomfort for another task, such as working on the computer, which requires five times less light.
• Place task lights that are adjustable, such as table lamps, study lamps, etc on every desk to allow people to focus light exactly where they need it and support a variety of tasks.
• One should place the lamp on the side of the task and not in front of it.
• Avoid shadows cast by your writing hand, by placing the lamp on the opposite side of your hand.
• Point the lamp onto the object you need to see and do not allow it to reflect off the computer screen.
• Also, allow natural light while working, but be careful of too much direct sunlight that can cause unhealthy glare.
• Shades and blinds and curtains to adjust the natural light during different times of the day also help in creating a comfortable space for working.
All the above tips can be applied to both your corporate office and home office
In hospitality and co-living spaces, what kind of lighting can make an impact?
I often say this – "Good interior design is not what you make them see, it's how you make them feel". And lighting plays a huge role in that. It's key to creating a memorable guest experience in hospitality and co-living spaces. Warm light tones for one should be used in hotels and long stay accommodations, for it helps guests and residents have better sleep.
Accent lighting should be used to draw the attention of the guests to elements and design features that we want them to experience and directional lighting, on the other hand, helps guide the guests to the right place. Subtle, warm, diffused lighting, creates a sense of relaxation and is used often in the lounge, hangout, and chill-out areas. It makes guests feel at home, creating a hygge like feeling. Ample hallway lights to reduce the 'tunnel effect', study lamps for comfortable reading and bright natural light that mimics sunlight, in the vanity area, are some of the ways that lighting can greatly impact the guest experience.
Kindly tell us about the recent projects you are working on?
One of the latest co-living hospitality projects I am working on is designed around the story of 'Sunshine' and 'Happiness'. Inspired by John Denver's song – "Sunshine on my shoulders makes me happy", the place is designed to become 'Your Happy Place'. The lounge with its 20 feet high glass window, invites the sunlight to enter in its full glory; the grey colour, while being calming, is also the colour of sustainability; and the yellow accent brings in fresh energy and joy. All the rooms feature a headboard wall that mimics a ray of sunshine falling on the beds, gently waking up the residents with a 'good morning sunshine' message. Wall art, fabrics, materials, décor and accessories are selected to create a sensorial experience of happy sunny days.
8