GSBS 4th Edition & #Time2Leap Awards concludes successfully in Pune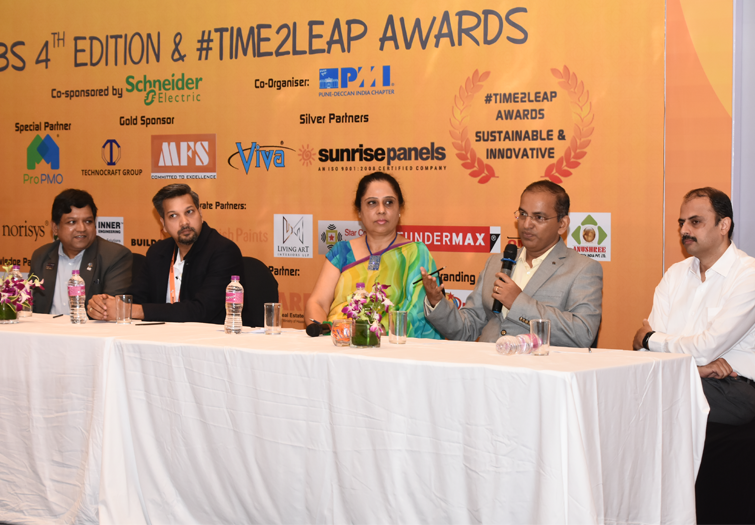 18th July 2019: The fourth edition of GSBS & #Time2Leap Awards Co-Sponsored by Scheinder Electric & Co-Organized by PMI – (Pune Deccan Chapter) concluded successfully.
The full day event was held in the Istana Ballroom, Ground Floor at the Hyatt Kalyaninagar, Pune, India. Registration began at 9.30 am and was followed by Welcome Speech delivered by current President PMI (Pune-Declan Chapter) Shyam Bhavsar.
The event was divided into 3 parts which included Conference Sessions, B2B Meetings & #Time2Leap Awards. The key takeaways from the conference session was to streamline effective measures for development & re-development of buildings by comparing interstate modules & measures taken into consideration, while planning the same. The discussions focused on the history of Bombay City, Category of Buildings, Reasons why redevelopment is of key importance today, smart construction technologies saving time & money, Stats on how cities are economic engines, key components that elevate projects – Architects & Interior Designers point of view. The B2B meetings was the 2nd part of the summit, the feedback collected suggested that 2 out of 3 leads introduced to all the brands were unique and each company received a bare minimum of 10 decision makers of their choice.
Apart from the respected keynote speakers which included Sanjay Pathak – Former Commissioner Planning – DDA (Delhi Development Authority), Dhirajkumar Pandirkar – Chief Engineer MHADA – Maharashtra Housing Area Development Authority, Asutosh Limaye – Director Research – Anarock Property Consultants, Manish Motwani – Director & CEO – RSP India, Sriram Natrajan – VP Project Management – Radius Developers, Amitabh Kumar – Senior VP Engineering – Puranik Builders and Kumar Ravindra – Design Director – Venkataramanan Associates the event hosted 150+ construction industry peers alongside 16 unique construction products& solutions brands like, Technocraft Industries, Meinhardt EPCM India Pvt Ltd ,British Paints, Living Art Interiors, Norisys, Omega Elevators, MFS Formwork, Bronco Buildsmart LLP etc.
The summit also hosted a gala awards night #Time2Leap Awards 2nd Edition which proved to be hugely popular & successful, formulated to honor innovative & sustainable construction marvels that are changing the dimensions of buildings in India.
For any further information please contact:
Nitika.Shahi
nitika@summentorpro.com
T: 08043729419 M: +91-8884886363
9