Guardian SunGuard: Incorporating Sustainability and Elegance in Architecture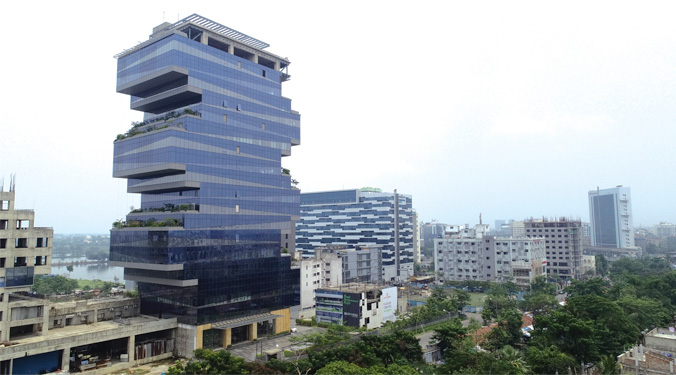 Biowonder is an effort to re-establish a sustainable biological relationship between humans, architecture, and nature.
The Pasari Group has created India's first biophilic project with Biowonder, which provides uninterrupted views at a minimum carbon footprint. Biowonder is an effort to re-establish a sustainable biological relationship between humans, architecture, and nature. Although this affiliation already exists, it must evolve with time. Biowonder's landscape design, 100% green cover, ensures you stay oxygenated all the time, increasing your productivity and reducing energy usage. Today, Bengal has the first ever non-IT, E+ (economically favourable) commercial hub in Eastern India. With over 4,00,000 square feet, this mammoth architectural wonder will house tomorrow's offices.
First, of its kind, Biowonder is a Gold Green and LEED- certified workspace. Located 2 minutes from Ruby Hospital, on the EM Bypass, the new landmark is part of the new Central Business District. By using Guardian SunGuard glass, the thermal load was reduced significantly while the visible light transmission was maximized. Guardian® SunGuard® High Performance Royal Blue 40, Neutral Plus 50, Guardian SunGuard Solar Silver 20, and Royal Blue 20 were the preferred choices when architects wanted an imminent appearance
along with exceptional thermal properties.
Biowonder has a high E+ (Environment positive) quotient light and pollution management, wastewater energy recycling, biodiversity promotion, inorganics reduction, energy conservation, and solar energy harnessing, to name a few. In the words of Ashok Pasari, Chairman of Pasari Group, Biowonder is not just one piece of the puzzle, but rather the whole picture." Biowonder was conceived to foster human-nature interaction that enhances productivity, ultimately leading to higher quality lives. As a concept, Biowonder would unleash a green revolution, promote a collective aptitude, and act as an invisible partner – enhancing your efforts and results."
Biowonder establishes the standard for setting a delicate balance between nature, elegance, strength, and commercial benefits for its owners. A four-sided glazed facade built with Guardian® SunGuard® products for enhanced occupant comfort and an energy-efficient envelope that allows clear visibility throughout the structure.
Fact File:
Developer: Pasari Group Type: Corporate Park (Office & Hotel)
City: Kolkata
Height: 79.9Mtr
Floors: 2B+G+20
Status: Completed
Land: 2.25 Acres
Awards:
• For its outstanding contribution to sustainable development in Dubai, Biowonder won the prestigious CityScape Award 2012
• In Atlanta,' Biowonder communication collateral won the LACP Platinum Award.
• In 2014, Biowonder also won the prestigious CREDAI Bengal Realty Award for Best Green Project.
• The Pasari Group has won the Economic Times Award 2015 for Best Real Estate Brand.
For more info visit : https://www.gujaratguardianglass.com/
34