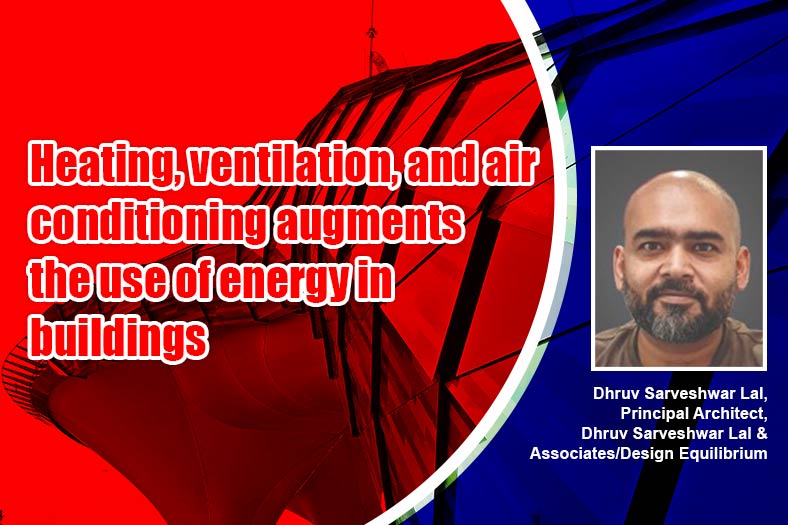 The inevitable increase in technological dependency of the human habitat is a major factor which has contributed heavily to the rise in energy demands in buildings says Dhruv Sarveshwar Lal, Principal Architect, Dhruv Sarveshwar Lal & Associates/Design Equilibrium.
What makes buildings one of the major energy-consuming sectors across the world?
Buildings from the moment they are broken ground for, to their construction, running and maintenance and then finally at the end of their lifespan consume unfathomable amounts of energy directly or indirectly. To share a brief insight into the energy demand and  dependency of buildings; before the turn of the past decade the buildings sector, in developed countries which weren't driven by renewable energy resources, accounted for about 76% of electricity use and 40% of all primary energy use and associated greenhouse gas (GHG) emissions, making it essential to reduce energy consumption in buildings in order to meet energy and environmental challenges and to reduce costs to building owners and tenants. By 2030, building energy use could be cut more than 20% using technologies known to be cost effective today and by more than 35% if research goals are met, a statistic for which the numbers are changing for the better with the advent of new technological advancements and a buildup of general understanding among the masses of the significant role they play in this.
There are opportunities both for improving the performance of system components (e.g., improving the efficiency of energy consumption in running of buildings) and improving the way they are controlled as a part of integrated building systems (e.g., sensors that adjust light levels to occupancy and daylight). Through the diagrams below are shared the energy consumption statistics of the buildings in such developed nations before the turn of the decade. One can only imagine the plight of the situation in countries and parts of the world where there are no monitoring systems in place and there are no benchmarks set to measure the energy usage in different sectors.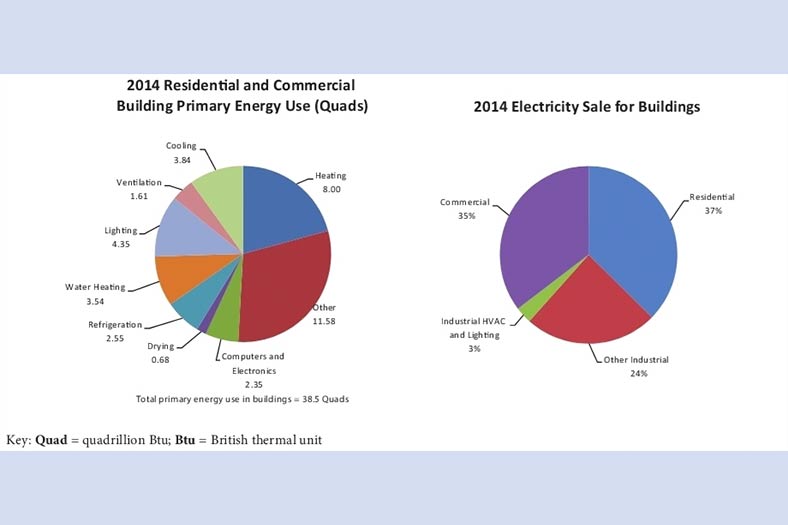 What are some of the areas and functions in a building where the energy usage you believe tends to overshoot?
During their life tenure the major areas in buildings where energy consumption tends to overshoot unmistakably are heating, ventilation, and air conditioning. To put into perspective 35% of total building energy; lighting- 14%; major appliances (water heating, refrigerators and freezers, dryers)- 18% with the remaining 36% in miscellaneous areas including electronics. Though at the same time it is unwise to neglect the root cause of the problem which is inefficient and environmentally unsound and unresponsive building design and construction practices, from where these problems stem and as and when the occupancy of the building rises so does the consumption of energy required to provide comfortable, user friendly and well lit buildings.
The inevitable increase in technological dependency of the human habitat also is a major factor which has contributed heavily to the rise in energy demands of the built habitats whether residential or commercial. The gap which tends to grow more and leads to increasing consumption of energy is at the same time the inability to efficiently run these systems, processes and interactions without the use of monitoring technologies and supporting building passive design strategies.
Key factors which need development to efficiently manage the energy needs during the lifespan of a building are: –
Efficient Law making and timely up gradation of electronic efficiency rating systems by concerned authorities in view of research advancements made by the private sector.
High-efficiency heat pumps that reduce or eliminate the use of refrigerants that can lead to GHG emissions
Thin insulating materials, windows and building surfaces with tunable optical properties
High efficiency lighting devices including improved green light-emitting diodes, phosphors, and quantum dots
Improved software for optimizing building design, operation and monitoring
Low cost, easy to install, energy harvesting sensors and controls
Interoperable building communication systems and optimized control strategies
Decision science issues affecting purchasing and operating choices
Increasing dependency on renewable energy resources for fulfilling operational needs.
Elaborating through the figures shared, contrary to general thinking there is a theoretical limit to which the dependency on energy (generated through renewable or non renewable sources) can be reduced to unless and until the occupants want to entirely live devoid of technology.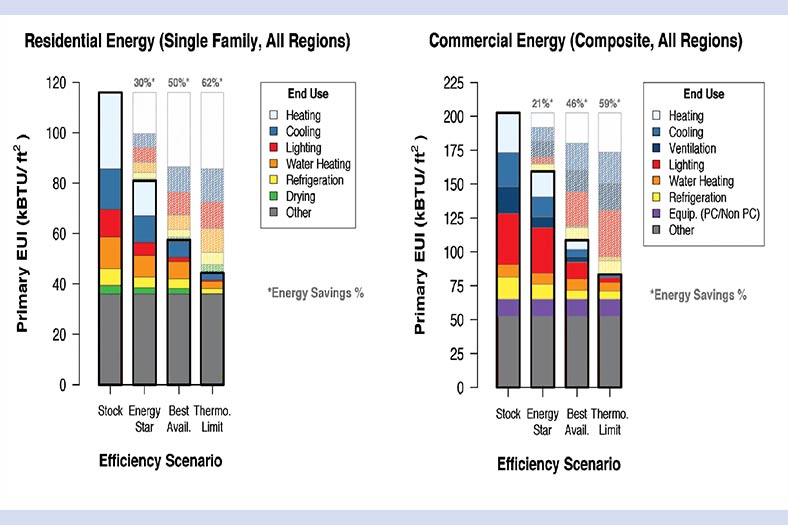 How can these overshoots be addressed, by the use of innovative materials and products to achieve energy efficiency?
Energy use in buildings depends on combination of good architecture and energy systems design and on effective operations and maintenance once the building is occupied. Buildings should be treated as sophisticated, integrated, interrelated systems. It should also be understood that different climates and usage define unique requirements, different design strategies and equipment involvement, and that the performance and value of any component technology depends on the design supported system in which it is embedded. Efficient lighting depends on the performance of the devices that convert electricity to visible light, as well as on window design and fenestration designs along with window covering controls, occupancy detectors, and other lighting controls. As the light fixture efficiency is greatly increased, lighting controls will have a reduced net impact on energy use. In addition, the thermal energy released into the room by lighting would decrease, which then affects building dead (vacant) heating and cooling loads. Since buildings consume a large fraction of the output of electric utilities, they can greatly impact utility operations. Specifically, buildings' ability to shift energy demand away from peak periods, such as on hot summer afternoons, can greatly reduce both cost and GHG emissions by allowing utilities to reduce the need for their least efficient and most polluting power plants. Coordinating building energy systems, on-site for improving the performance of system components (e.g., improving the efficiency of lighting devices) and improving the way they are controlled and monitored as a part of integrated building systems is as equally important as designing a sustainable building using passive design strategies.
In line with the growing trend of green building development, the industry of innovative building materials and services is also developing rapidly. The sustainable building incorporates many strategies during design construction and operation of a building project. Using green building material is one of the sustainable design construction and operation strategies. These innovative materials are environmentally responsible materials as they help in reducing environmental impact and aide in reducing energy dependency of the building. The taking up of these materials in forming the building envelope is essential since The walls, foundation, roof, and windows of a building couple the exterior environment with the interior environment in a complex way (see table below).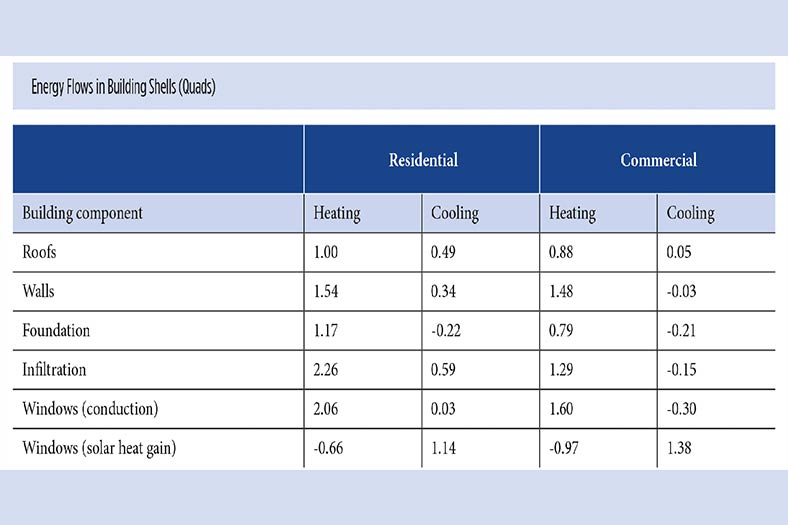 The insulating properties of the building envelope and construction quality together control the way heat and moisture flows into or out of the building. The color of the building envelope and other optical properties govern how solar energy is reflected and how thermal energy (heat) is radiated from the building. Windows bring sunlight and the sun's energy into the building. About 50% of the heating load in residential buildings and 60% in commercial buildings results from flows through walls, foundations, and the roof.  Virtually the entire commercial cooling load comes from energy entering through the windows (i.e., solar heat gain). The bulk of residential cooling results from window heat gains although infiltration also has a significant role.
To what extent do you believe solar energy can play an important role in curtailing the use of excess energy in the life cycle of a building, what kind of products are needed to achieve it?
Solar Energy is one of the renowned identified sectors to support the sustainability because of its ease of installation and retrofitting in different building types enhancing its reach and potential in the current world scenario.
In a developing nation scenario advocating the first contact viz-a-viz energy of root level users with renewable energy methods and resources is the setting print for sustainable development for generations to come. Many nations have realized the problem and supported solar energy enlargement through a broad range of financial, authoritarian, promotional and other instruments. Various policies are designed to promote renewable energy, including solar, at the global level. Sustainable implementation of policies in developed and developing countries are helping in the growth of solar energy market, mainly for grid-connected solar PV and solar thermal water heating systems. Going further few innovative and upcoming solar applications in architecture and design are
Solar Paint
Mixture of nanometer-sized titanium dioxide particles, coated with either cadmium sulfide or cadmium selenide and suspended in a water-alcohol mixture to create a paint-like paste that generates electricity when exposed to light. Using solar paint on the all walls of a building can generate small amount of electricity from solar energy. This is an innovative and new application of solar energy which is being researched by service providers
Solar Fabric
A company called Pavillion is currently making a fabric with solar power capabilities for use in commercial applications. According to an article from New Scientist researchers have built a PV cell in the layers around a fiber, creating a tiny cylindrical cell. Now solar collection could work silently and unobtrusively from everyday objects, not limited to rooftops and poles.
Solar Roofing materials
In a recent by the technology giant Tesla, the company has launched roofing shingles which act as solar panels producing electricity while not taking up any extra space like the prevalent solar panels used for heaters and electric generation in residences. The applications and effectiveness after being studied and researched are paving ways for material which can be further applied to building enveloped to generate electricity from almost every component of the envelope.
Solar Windows
Transparent glass solar panels can be used as solar window, which will allow windows to become power generators. If this solar window successfully developed and implemented then it can supply a sufficient amount of energy required in a building for everyday use. The development of any technology is the key to its lifespan and with it being based energy source which is renewable, available the next step in its advancement is the development of its application for personal use while providing mobility to its user. This has to be the key step to finally encourage and set firm the use of renewable energy resources and embed them in a living style where mobilization and connectivity are the key to progress.
4