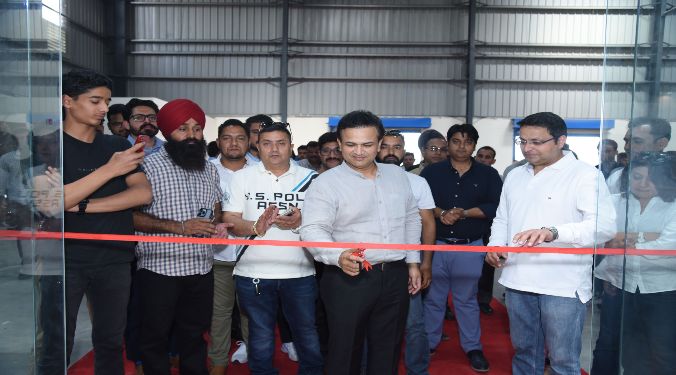 Hindware Italian Collection brings Hindware Italian Tiles, the premium range of experiential tiles for the discerning consumer. As part of the expansion, the company aims to open 18 depots across India, starting with Rajpur, Punjab. 
The iconic bathware brand 'Hindware', announced its expansion into tiles segment with Hindware Italian Tiles. With this, the company inaugurated a depot in Rajpura (Punjab) and announced that it will open 18 such depots across India. Currently, the company holds the largest network spread amongst any bathware company, with its presence in 259 cities. Catering to the North market, the depot at Rajpura is expected to serve distributors & retailers across Punjab, Himachal, Jammu & Kashmir and parts of Haryana.
These depots will assist trade to address demand quickly, whilst minimizing the cost for logistics and transportation. Targeting distributors, dealers, architects, and interior designers, the company has put up the state-of-the-art experience centre for Hindware Italian Tiles at the depot. The depot is spread across 33000 sq. ft with a display centre of about 3000 sq.ft  and offers more than 500+ SKUs to dealers from the single location. With this extension into the tiles segment with Hindware Italian Tiles, the company reinforces its commitment towards the consumers who require a one-stop-shop caters to all bathware and sanitaryware solutions.
Hindware Italian Tiles product portfolio will include modern and sleek designs of varied sizes inspired by the possibilities of sophistication that surround the consumer. Inclusively, Hindware will support consumers to craft spaces that unite style, substance, and spirit and are imbibed with boundless energy, joy, individuality, and flair.
Inaugurating the depot at Rajpura, Sudhanshu Pokhriyal, Chief Executive Officer, Bath & Tiles Business, Brilloca Limited said, "Hindware is a household name, and has been at the forefront of industry-first designs and innovations. Today as we inaugurate our first tiles depot for Hindware Italian Tiles in Rajpura, Punjab, we anticipate a stronger relationship with our retailers to easily address customers across the northern region. We will be expanding our reach with more tile depots across India that will ensure an effective network between our distributors and customers at multiple touchpoints."
He further added "Hindware Italian Tiles includes strong portfolio with sizes ranging from 300x400mm to 1200x2400mm with refreshing designs inspired by natural elements."
Commenting on the announcement, Charu Malhotra Bhatia, Vice – President, Marketing, Brilloca Limited said, "At Hindware we believe in setting new trends and improving lives by offering more than just products, and hence we're excited to step into the tiles segment with Hindware Italian Tiles. With this launch, we aim to tap consumers that are looking at a trusted brand to offer a myriad of bathware solutions under one umbrella. Furthermore, we will be initiating our marketing efforts soon for Hindware Italian Tiles as we expand our footprint across markets"
With the evolution of smart cities, the company's network has extended beyond Tier II and III cities. This has helped them in establishing multiple customer touch points and is going to play a significant role in the company's growth.
16