HVAC Industry aims to reach $30 billion by 2030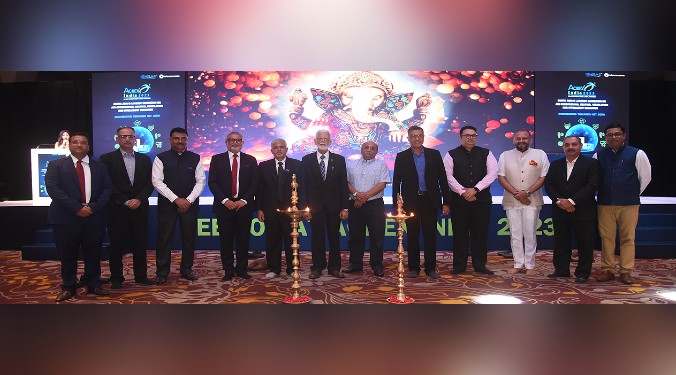 ACREX India lays out Roadmap for an Impressive USD 30 billion by FY 2030 for HVAC Industry.
ISHRAE – The Indian Society of Heating, Refrigerating and Air Conditioning Engineers in partnership with Informa Markets in India announced the 22nd Edition of ACREX India, South Asia's largest exhibition on Air Conditioning, Heating, Ventilation, and Intelligent Buildings. Slated for 14th to 16th March 2023, the three-day expo will be held at the Bombay Exhibition Centre, Mumbai showcasing India's high-potential HVAC Industry which is expects to reach a healthy $30 billion by 2030. The expo will contribute towards creating an ecosystem in line with the Prime Minister's vision of making India 'Atmanirbhar'.
ACREX India is well supported by key associations such as the Refrigeration and Air Conditioning Trades Association (RATA), All India Air Conditioning and Refrigeration Association (ACRA), International Institute of Ammonia Refrigeration (IIAR), Assocham India, Indian Plumbing Association, India Green Building Council, FSAI to name a few.
Speaking on ACREX India, Mr Chandrasekar Narayanan Srikantan, National President, ISHRAE says, "ACREX India, being organised in association with Informa Markets in India, facilitates the industry buyers and sellers to move from being energy guzzlers to energy conservers by providing the perfect platform to meet and grow their business. The expo is proud to present 'Make in India' industry leaders and aspiring innovators. With Net Zero as the focus of the industry, ACREX India will host power-packed knowledge sessions and a practical showcase of products and innovation. The expo will feature over 450 Exhibitors from 40 countries, including Belgium, China, Czech Republic, Egypt, France, Germany, Italy, Japan, Korea, Malaysia, Saudi Arabia, Singapore, Spain, Switzerland, Taiwan, the Netherlands, UAE, UK, Ukraine, and USA and will see participation from over 17,000 trade visitors and buyers and over 30 National and International conference speakers over the course of three days."
ACREX India will bring insightful workshops and seminars to the industry to carve out a medium-to-long-term blueprint for the HVAC stakeholders and identify various growth drivers and inhibitors within it. The power-packed Seminar will comprise panel discussions and presentations on topics such as Engineering Towards Net Zero, Role of HVAC in Net Zero Plan of India, Design Challenges for large-scale residential, to name a few.
Speaking on the announcement of ACREX India, Mr Yogesh Mudras, Managing Director, Informa Markets in India says, "The move toward smart HVAC systems is a key trend in India. With the increase in energy consumption and advancement of system efficiency, buyers are consciously opting for more intelligent HVAC systems with better controls, real-time monitoring, advanced building automation, and all things IoT. Global temperatures have also increased the frequency and intensity of heat waves, draughts, and rainfall. These factors affect relative humidity, thereby altering HVAC equipment's performance and energy consumption.
Moreover, a boost in investments by the Government for the construction sector is creating demand for HVAC systems, which is expected to drive growth in the HVAC electronics market. In its 22nd edition, ACREX India, which is being held after a gap of 3 years, has taken a step to address the widespread environmental challenges and provide a roadmap to the HVAC industry to move towards low carbon intensity, lesser fuel, and electricity, giving rise to the demand for energy-efficient equipment in that market. It will propel the industry to grow at a consistent CAGR of 14.8 percent."
The key players this year include Fujitsu General India Pvt Ltd, Greystone Energy Systems Pvt. Ltd., Honeywell Automation India Ltd., Kirloskar Brothers Limited, Matel Motion and Energy Solution Pvt Ltd., Murugappa Morgan Thermal Ceramic Ltd., Panasonic Life Solutions, Yaskawa India Pvt. Ltd., Shanti Refrigration and Auro Engg Company among many others that will provide a 360-degree overview on the current HVAC trends worldwide. Key Partners at the expo include AEROPURE UV SYSTEMS, Kehems Technologies Pvt. Ltd., ZECO AIRCON Ltd., DAIKIN AIRCONDITIONING INDIA PVT. LTD, Blue Star Limited, Sanuha India Pvt Ltd., Frascold India Pvt Ltd., Danfoss Industries Pvt Ltd., Hisense India Pvt Ltd., M/s ABS Fujitsu General Pvt Ltd., Munters India Humidity Control Pvt Ltd., Gandhi Automation Pvt. Ltd., Eurovent Certita Certification, AHRI (Air-Conditioning Heating and Refrigeration Institute and Enlite Research Pvt. Ltd.
The HVAC industry in India was at a market size of $7,820.5 million in 2021, and it is anticipated to reach an approx. $30,000 million by 2030, owing to a CAGR growth of 15.8 percent between 2021 and 2030. The growth is attributed to infrastructure development, technological advancements, and rising tourism activities across the country. The rising disposable income and various initiatives by the Government that focus on improving the energy efficiency of appliances are also contributing to the market growth.
For more info visit : https://acrex.in/
99