India's journey towards becoming a major exporter of railway technology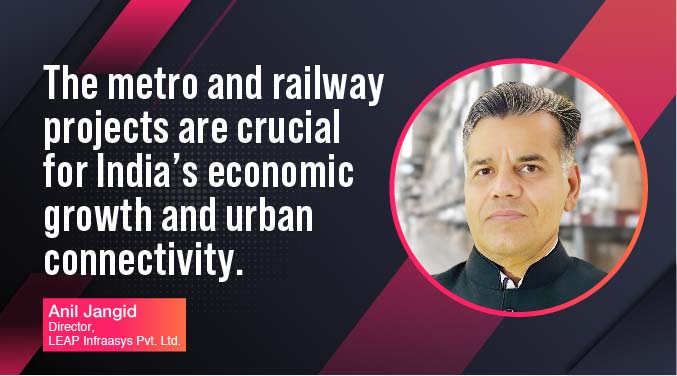 Anil Jangid, Director, LEAP Infraasys Private Limited, speaks about railway technology and significant advancements in railway and metro projects in India.
Over the past few years, metros and railways have become crucial means of mass transit, playing a significant role in connecting urban areas and alleviating traffic congestion in numerous cities. For a densely populated metropolis, a Mass Rapid Transit System (MRTS) or Metro Rail has been deemed the optimal solution for a congested transportation corridor. The MRTS primarily affects accessibility, travel patterns, land use, and property values, among other things. It can enhance accessibility to remote regions and foster urban regeneration as a catalyst.
What measures are taken by railways and metro systems in India to ensure the safety of their passengers and minimise the risk of accidents?
The safety of metros and railways has always been a paramount concern. However, with technological advancements and new safety measures, the safety standards of these transportation modes have significantly improved. Modern metros and railways, for example, are equipped with advanced signalling systems, automatic train control, and other safety features that help reduce the likelihood of accidents.
In India, railways and metro systems employ various other methods to minimise the risk of accidents further. These measures include regular maintenance and inspections, automated signalling systems, staff training and certification, safety audits, passenger awareness and education, and installing safety devices and technological upgrades.
What steps does the country need to take to become a major exporter of railway technology?
In recent years, India has made notable strides in developing its railway technology through various initiatives, including the Make in India campaign, which aims to promote the domestic production of railway equipment. According to EY reports, India is expected to become a major exporter of railway technology within three years. However, to achieve this, the government must increase investment in research and development, infrastructure, and skill-building initiatives, which would drive growth in the sector.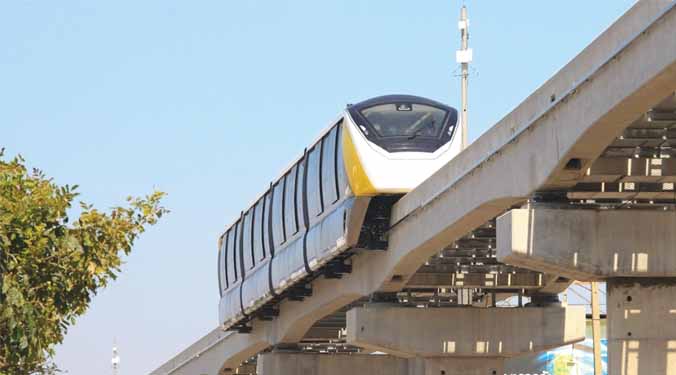 This investment would enable producing high-quality, cost-effective railway products that adhere to global standards and attract foreign investment. Given India's extensive experience in the sector and the increasing demand for railway infrastructure in other countries, the country has the potential to become a global leader in the export of railway technology.
What is the role of private consultancy firms in developing Indian metros and railways?
The Indian government has implemented various initiatives to drive the development of metros and railways, including the Smart Cities Mission, Gati Shakti, and the Atmanirbhar Bharat Abhiyan. The Gati Shakti National Master Plan, a central government project aimed at transforming infrastructure in India, was launched by Prime Minister Narendra Modi. The Gati Shakti Yojana, a Rs 100 lakh-crore project aimed at developing comprehensive infrastructure across the country, was also announced.
Private consultancy firms are crucial in developing metros and railways, providing planning and design, project management, technical expertise, operations and maintenance, and funding and financing. Private consultancy firms can offer valuable services and expertise to metro and rail authorities, ensuring that projects are completed efficiently, safely, and within budget.
What projects have Leap Infraasys worked on to improve the accessibility and safety of Indian metros and railways, and what expertise do they offer in these areas?
Safety measures have been implemented to ensure worker and project safety, including using safety equipment, regular safety audits, and training programs for workers. Additionally, safety protocols have been established by government agencies and private companies to guarantee the safety of passengers and prevent accidents. These protocols involve measures such as regular train maintenance, safety checks, and the utilisation of advanced signalling and train control systems.
Leap Infraasys is a firm that strives to improve the accessibility and overall safety of railways and metros. This is evident in our work on various projects such as the Kolkata Metro Rolling Stock, Riyadh Metro trackwork, Chennai Monorail, Pune Metro Line-3, NCRTC Traction Power and Load Flow Study, and Delhi Meerut RRTS Speed Simulation. We have contributed to quality and safety assurance, construction support, FATs, FAIs, type tests, safety requirement tests, and more. In addition, we have collaborated on the Cairo Monorail and Bangkok Metro projects to ensure that works related to reliability, safety, and the system are in good order. Our expertise in rolling stock traction, power supply track systems (including rails), safety, and the environment, overall project planning and program scheduling, testing and commissioning operations, and maintenance management support makes us one of the leading firms in the field.
For more info visit : https://www.leapinfraasys.com/
59