INSDAG promote sustainable steel practices and life cycle costing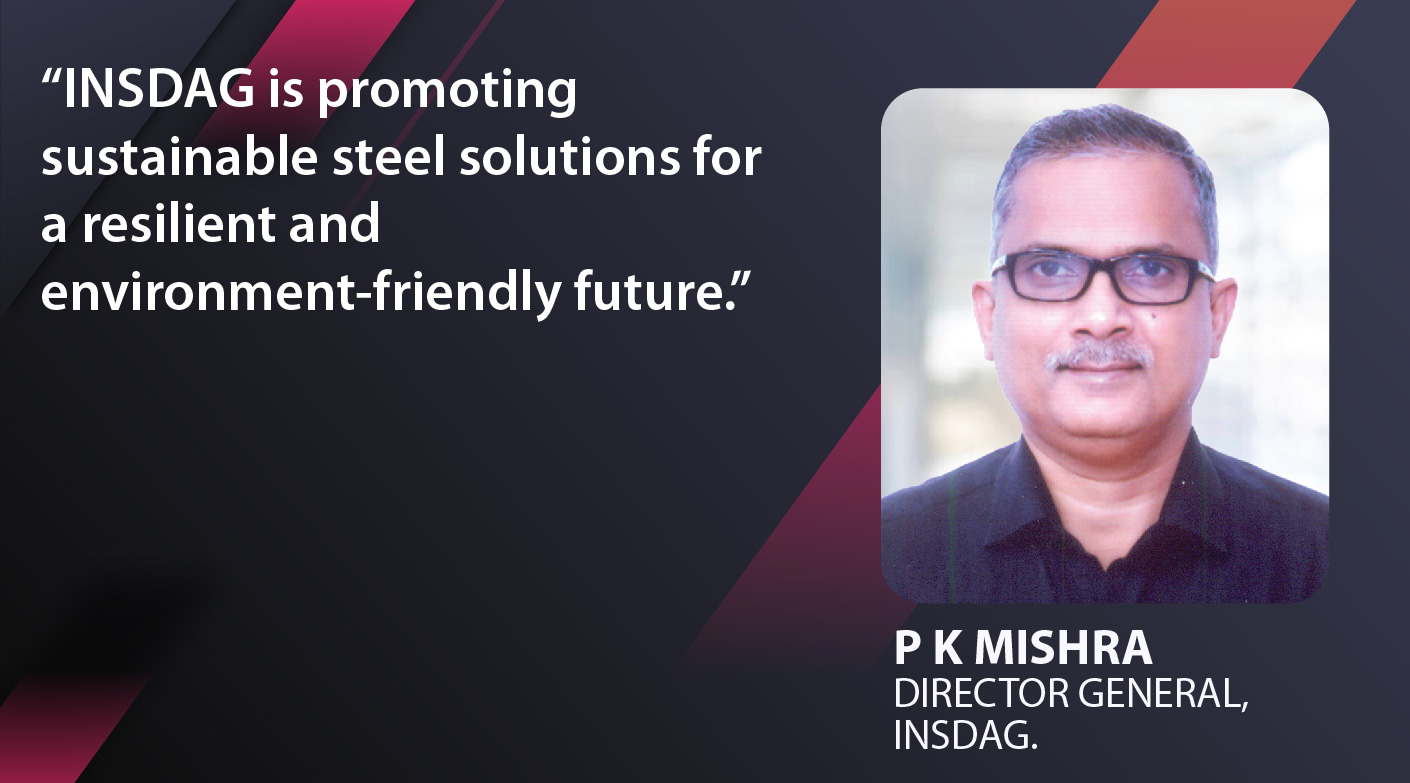 P K Mishra, Director General, INSDAG. talks about emerging trends in steel structure and the demand for sustainable and environment friendly construction practices.
What is the current global demand for steel structures? How has it evolved over recent years?
The current global demand for steel structures is on a growth path. Infrastructure developments in developing and developed countries primarily drive the demand for structural steel. Globally, the infrastructure sector consumes around 52 percent of the total steel consumption. Infrastructure includes steel in bridges, buildings, railways, wind and solar energy. About 68 percent of crude steel production in India is consumed in the construction and infrastructure segments combined. This trend is expected to remain at this level over the next ten years. The global demand for structural steel is growing primarily due to increased demand for housing to accommodate the world's expanding population and the corresponding development of infrastructure..
Are any emerging trends or innovations in steel structure design or construction methods shaping the market?
The client and user community constantly explore economic and technically stable solutions for structures worldwide. Thus, innovation in technology and construction materials is ongoing. Architects and structural engineers now focus on eco-friendly products and processes that offer manufacturing efficiency. Countries are moving towards the construction of green buildings and stronger, disaster-resilient structures for infrastructure. However, stricter environmental norms and constrained financial options are restricting developments in some specific sectors, such as transportation. The use of more structural steel is being promoted as steel is more sustainable and eco-friendly. Steel-concrete composite construction techniques and steel with pre-engineered concepts have gained popularity and are increasingly finding a place in the construction industry. 
How does the demand for sustainable and environmentally friendly construction practices impact the steel structure market?
Steel producers worldwide are preparing for construction solutions enabling energy-efficient, low-carbon-neutral buildings and structures. Steel is affordable, readily available, and safe. Still, its intrinsic properties, such as strength, versatility, durability, and 100 percent recyclability, also contribute to improved environmental performance throughout the entire life cycle of buildings. Structural steel can be pre-fabricated in specific dimensions or modules in a factory, making components readily available on-site when needed. Structural steel is also used in structures designed for dismantling and relocation. However, more people need to be aware of the benefits of using structural steel in terms of sustainability. This is where the role of INSDAG (Institute for Steel Development & Growth) becomes important. INSDAG is tasked with carrying out sustainability aspects of steel, including life cycle costing. With comprehensive information, INSDAG will play a pivotal role in engaging with governments and users to raise awareness of the benefits of using steel as a primary construction material.
What growth opportunities or market segments do you anticipate for steel structures in the coming years?
The steel structure market holds promise for growth opportunities and potential market segments in the coming years. Advancements in technology, including supply chain improvements and the development of shared service centres, galvanised and coated products, are driving the expansion of the structural steel market. Construction safety concerns have become paramount, leading companies to seek innovative structural solutions that meet safety requirements while remaining cost-effective. The resilience of structural steel in the face of disasters presents another avenue for its application in construction. The rise of modular construction, with its advantages of quicker construction, standardised quality, and environmental sustainability, is expected to continue as developers strive to reduce costs and leverage new technologies.
for more info visit : https://www.steel-insdag.org/
12