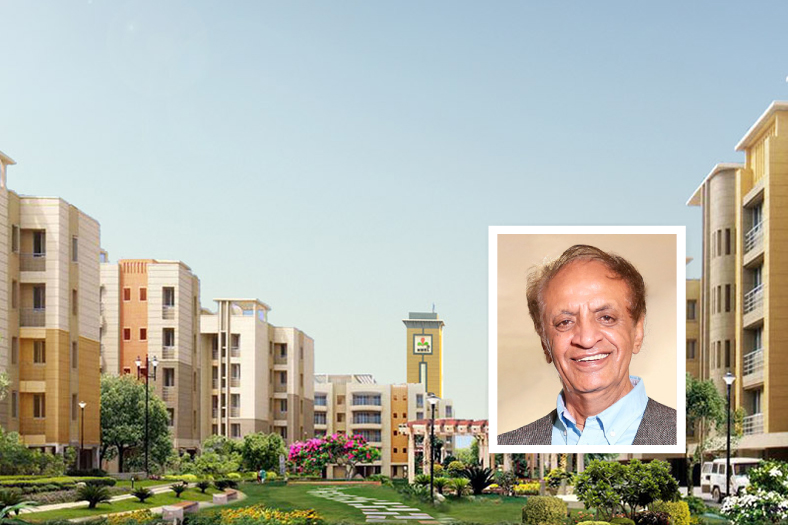 Most of the projects, today, aspire to be green, only to achieve green rating certificates, while there are developments which achieve 'green' and are then awarded green ratings & special citations.
Ar. Prem Nath,Prem Nath and Associates
Sustainable construction for today's needs
"Sustainable Construction, today, is an inevitable fact of life," says Ar. Prem Nath of Prem Nath and Associates. He adds, "If one goes back to ancient Indian Architectural history, each structure was built sustainable. Somehow, in our endeavour to 'build modern', we started replicating the 'West' and lost track of our own methods and science of cognizant development and started developing 'energy guzzlers'– thus today we are retracting back to eco-friendly and green development, which now have become an vital need of the hour."
Building sustainable structures
"It takes an intention to build sustainable," says Ar. Prem Nath. He dealt with a variety of clients and projects. Recalling one of his experience he said, "The client was not much concern about obtaining green certification, but was willing to guarantee that the core of his project remains green. Most of the projects, today, aspire to be Green, only to achieve Green Rating Certificates, while there are developments which achieve 'Green' and are then awarded green ratings and special citations."
Once there is an intention, it takes right decisions at the planning stage itself wherein one instils basic principles of architecture such as shading, orientation, etc followed by comprehensive specification of all green features and materials, which ensures the development evolves to be sustainable from its 'grass-root' level itself, he further adds.
Significant sustainable structures designed by Ar. Prem Nath
A 150-acre township at Bathinda, Punjab, for HP-Mittal Energy Ltd. – A Gold-rated residential township has been designed on the lines of sustainable-green development. This project was also awarded with the coveted HUDCO design award for green architecture.
The project was added with a lot of value addition in terms of its eco-friendly features like rainwater harvesting for efficient way of collecting, renewing and reusing an important natural resource like water; the township has been planned as a 'Zero Depletion' site, with all rain water being collected and recharged back to Mother Earth, through strategically placed percolation pits; sewage treatment plant- all waste is being treated in STP, converting the sewage into reusable water for landscape and makeup water for the HVAC systems of public areas; this system is further topped with biodegradation system for solid waste – which in-turn provides cooking gas, for the club house; solar water heaters being used widely by residential townships – each villas, apartment is having a small installation on the roof-top, which shall suffice the daily hot water requirement, with most minimal or zero power consumption, for the same; insulated walls and ceiling- use of fly-ash-cement blocks for external wall construction can enable temperate difference of at least 4-6 C between exteriors and interiors – the site being in the one of the extreme climatic conditions – the said system helps not only during hot summers, but also during cold winters; similarly brick bat coba, efficiently laid over the top roof of buildings provides heat insulation from top – this system again adds to the temperate difference.
Likewise, a campus project at Vadodara, Cygnus World School, too has achieved platinum green rating, one of the first such ratings given by IGBC to an educational project with major structures being non-air-conditioned.
12