JCB brings futuristic, smart technologies to India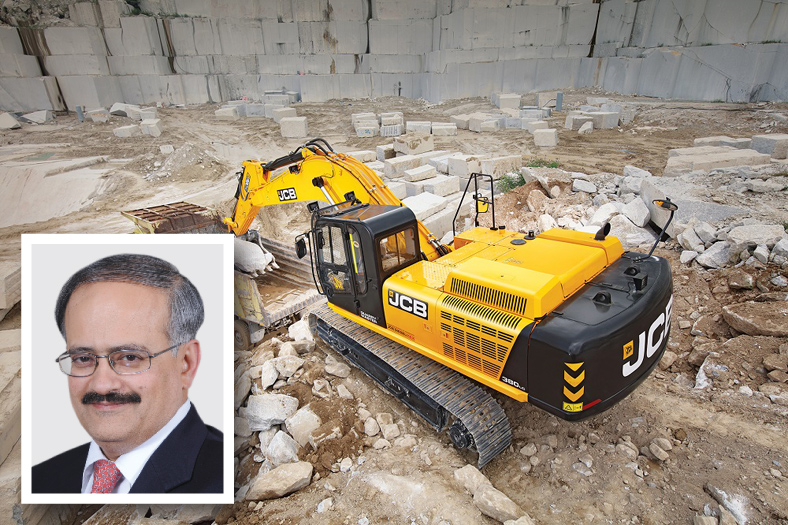 We have made the iconic JCB Backhoe Loader even better with the introduction of five world's first features, including an Automated Manual Transmission called Easy Shift. Vipin Sondhi, MD and CEO, JCB India Ltd

Introduces the world's first Backhoe Loader with an Automated Manual Transmission (AMT) and its largest 'Made in India' 38-tonne Tracked Excavator at Excon 2017.
Known for products with state-of-the-art technology and innovation in design, JCB India is now leveraging digital technology by integrating Big Data and Internet of Things in its products and services. The company showcased an exciting line up of innovative and intelligent machines at the recently concluded 9th edition of Excon 2017 in Bangalore.
The new range of intelligent machines exhibit the blend of technology and digital innovation to meet the demand for world-class machines to build India's next-gen infrastructure.
Speaking on the occasion, Vipin Sondhi, MD and CEO, JCB India Ltd said "Through continual innovation, range of intelligent machines is being used in infrastructure projects, and not only in India, but also in over 85 countries where JCB's 'Made in India' machines have been exported to. We have made the iconic JCB Backhoe Loader even better with the introduction of five world's first features, including an Automated Manual Transmission called Easy Shift."
Easy Shift AMT on a Backhoe Loader allows gear shifting to take place with no operator effort through a rotating knob below steering wheel thus, replacing the gear lever. This facilitates ease of operation, a rested operator and also ensures better productivity.
This new Backhoe Loader is packed with 30 new innovative features, including 15 industry firsts, and five world's first such as an SOS switch, Economy and Power Mode, Guide me home, Smart App machine Diagnostics.
The largest 'Made in India' Tracked Excavator arrives
In line with its philosophy of being a full range infrastructure equipment partner, JCB India has also introduced its largest 'Made in India' machine – the JCB 380LC, a 38-tonne Tracked Excavator.
The all new 38-tonne Tracked Excavator comes with two variants –JCB 380LC Xtra and JCB 380LC Quarry Master (QM). "The JCB 380LCQM offers 16 per cent higher lifting capacity owing to a combination of high hydraulic power and high operating weight and provides 6 per cent more output while handling blocks. The JCB Dieselmax engine return a 3 per cent high fuel efficiency and generates high torque at low speed to suit the job needs," JCB said issuing a statement.
The JCB 380LC Xtra comes with a powerful engine and its hydraulic performance gives the power to do more than expected. The wide range of heavy duty buckets can be used as per different applications and strata to maximise output which is available from 1.4 to 2.3 cu.m. Power boost feature increases hydraulic system pressure to provide higher digging force and lifting capacity when needed.
Banking on innovation
Innovation has always been the cornerstone of JCB's philosophy. On the back of this year's theme of 'Smart Technologies: Fuelling the Next Generation Infra', the company has introduced smart and digitally enhanced technologies in its products and services. JCB is also stepping up its offerings to provide the latest solutions based on the evolving customer trends through customer centric apps and by integrating Internet of Things through advanced telematics technology – Livelink.
Fuelling India's next gen infra building
JCB India's pavilion theme resonates with the theme of Excon 2017 of fuelling next gen infra building by using smart and innovative technologies. Excon saw JCB showcases its commitment towards providing a world-class digital experience to its customers as it introduced multiple mobile applications which ensures all the relevant information is just a click away for users.
"We believe that applications such as JCB Livelink, Smart Diagnostic, Parts E-sell and Digital product manuals will re-define how customers interact with manufacturers. They are all aimed at improving the overall customer experience by providing all the important information in real time," says Jasmeet Singh, Head – Corporate Communications and External Relations, JCB India.
Other breakthrough solutions on display
The JCB 116 Soil Compactor is a first in the industry to have Compaction Monitoring System (CMS) integrated with Livelink. The CMS ensures uniform compaction by optimising the overall compaction process. The on-board Digital display for real time monitoring ensures accuracy in compaction, helps to reduce number of passes and saves fuel and time. This unique system not only improves the quality of compaction, but also provides real time alerts on over-compaction.
The Loader Productivity Management System (LPMS) in the JCB455ZX helps in real time monitoring of individual weight of loaded bucket, Total Accumulated Weight, Tare weight, and Number of loaded buckets. Its integration with JCB LiveLink is another Industry First that is used to transmit the monitored value to server for analytics and report generation.
Excon also saw JCB introducing its range of Livelink enabled Diesel Gensets. The new range of diesel generators is designed to meet user requirements in terms of performance, serviceability, strength, safety and space. On display was the comprehensive range of world class Gensets ranging from 125 kVA to 200 kVA.
Also on display was the revolutionary range of Material Handling Equipment – the Telehandlers, the Skid Steer Loaders and the Super Loader. JCB has been pioneering the concept of Telehandlers globally since 1977 and has remained the world's first choice in this segment ever since. In India, JCB offers three variants of Telehandlers – a 7-metre lift height machine known as the 530-70, an 11-metre lift height machine known as 530-110, and a 17-metre lift height machine which is the imported 540-170. The 7-metre Telehandler is the Waste Master machine; designed for the waste recycling industry.
These machines are extensively used for material handling applications such as loading, unloading, placing and lifting material at various heights and reaches. Through the use of various attachments, this versatile machine offers the perfection of 4 machines in one.
A real-time experience for visitors
JCB at its exhibition area had a dedicated "Livelink Zone" which was set up to provide a Virtual Reality tour on JCB's innovation and future telematics technology. It gave visitors a real-time experience of the new features of its advanced telematics technology – Livelink.
28