JSW Group inks pact with Uttarakhand govt to reconstruct Kedarnath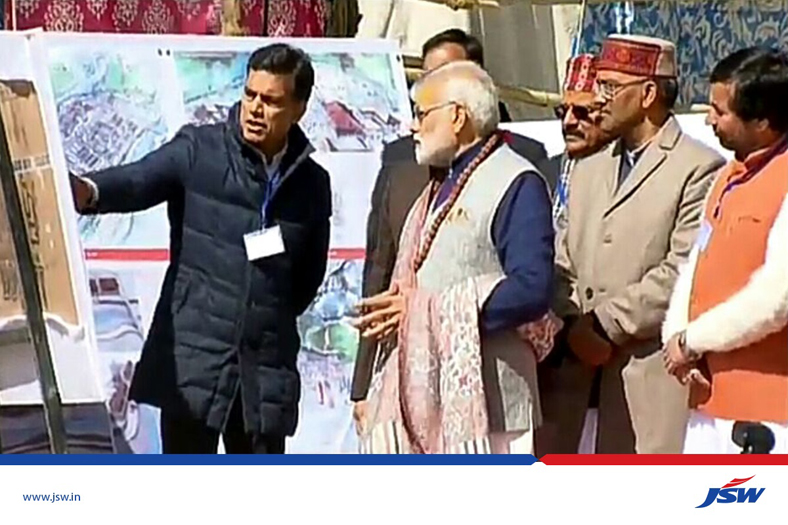 Sajjan Jindal and PM Narendra Modi discussing the Kedarpuri restoration blueprint in Kedarnath on October 20th.
Sajjan Jindal-led JSW Group signed a Memorandum of Understanding (MoU) with Uttarakhand government for reconstruction and restoration of Kedarnath.
Kedarnath is located in the Himalayas, approximately 11,000 feet above sea level in the Rudraprayag district of Uttarakhand. It is one of the Chardham's and is one of the holiest shrines in India. The reconstruction and restoration of these projects will help improve the overall facilities at Kedarnath which were damaged or washed away in the deluge of 2013.
Prime Minister Narendra Modi laid the foundation stone to mark the commencement of the reconstruction and restoration projects.
According to the MoU signed, JSW Group has committed to the reconstruction and restoration of the Adi Shankaracharya Kutir along with a museum, Ghats on River Saraswati and part reconstruction of the Teerth Purohit (Priests) houses and other infrastructural facilities related to the houses in Kedarpuri.
Commenting on the MoU signed, Sajjan Jindal, Chairman, JSW Group said, "We believe that our restoration effort will help improve local infrastructure as well as develop various facilities for local Teerth Purohits and the large number of pilgrims that visit Kedarnath."
4