Kochi Water Metro:  A socially inclusive transportation system
The Kochi Water Metro Project envisages to bring contemporary, energy-efficient, environmentally friendly, and safe boats with minimal wake and draft characteristics at a high frequency. 
The Kochi water metro project envisions an integrated water transport system with the establishment of 15 designated routes connecting 10 islands along a network of routes spanning 76 kilometers and a fleet of 78 fast, electrically propelled hybrid boats plying to 38 jetties. The water metro is intended to help over 100,000 islanders. It is intended to be a socially inclusive transportation system rather than only a transportation service, with a focus on improved livelihoods through commercial property development and tourism-based projects. To promote passengers, the Kochi Water Metro Project proposes to bring contemporary, energy-efficient, environmentally friendly, and safe boats with minimal wake and draft characteristics at a high frequency. 
Core challenges and the journey so far
The primary challenge was design of an overall system that can adapt to the locality/landscape of Kochi, and at the same time, meet the commuter demand. This demands restoration of waterways, wherever possible in terms of width & depth of channel for ferry movement. 
Going for a battery electric hybrid ferry that has no models in the world to replicate or to be adapted.

Availability of technology and components in the Indian continent, especially the battery technology which can adapt to super charging requirements. Charging the boats in 15 minutes was a big challenge

Introducing a commuter friendly water transport system ensuring effortless accessibility to disabled and aged communities.

Establish metro standards of commuting, including air conditioned ferries and automatic fare collection systems – first time in India on a water transport system. fleet monitoring via operation control center (OCC).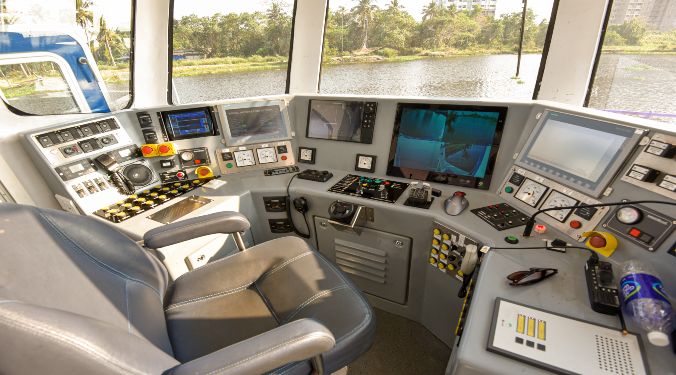 In-line with Make-in-India initiative, ferries are being constructed at Cochin Shipyard Limited. State of the art boats with air-conditioning, sliding doors, feeding area, panoramic windows, wheel-chair friendly ramps for commuters are envisaged. In terms of operation, advanced LTO battery technology powers the ferry thereby reducing carbon footprint. In terms of safety, the ferry is equipped with CCTV cameras, radar, thermal camera, life-saving vests, emergency ramps, auto-closing doors, emergency DG, etc. for safety of navigation particularly in night and low visibility.
Terminals are envisaged as per metro standards. Ticketing and customer service centers are included in every terminal. Automatic fare collection and passenger counting systems ensure hassle-free commuter traffic. Floating concrete jetties ensure ease & safe access from terminals to ferries irrespective of tidal and flood conditions. This is also in-line with accessibility guidelines followed world-wide for disabled and aged.
Currently operational boats and terminals
In total, 38 terminals connecting 15 routes have been planned.
The first 100 pax ferry has been delivered, and are already under route trials at Route no 2 Vyttila Kakkanadu. 22 more 100 pax boats are in various stages of construction at the Cochin shipyard. With regards to the terminals, 16 terminals are, presently, under various stages of construction. Currently two terminals are operational for ferry/system trials and six  have been completed substantially. 
Provision for Sustainability 
Sustainability in the real sense refers to how a project helps in environmental sustainability – Net zero targets on energy are key to water metro operations. Rooftops of terminals and parking spaces will be considered for solar PV installations. Economic sustainability will be achieved by adopting electric mobility and bringing down operational costs drastically.
A centralized monitoring system from an operating control center utilizes technology for fleet monitoring, an intelligent transport management system employed onboard can track the ferries and at the same time feed the information online ensuring commuter safety and convenience, auto-docking mechanisms, automatic fare collection (AFC) and passenger counting systems (PCS) help in reducing manpower expenses, thereby increasing system efficiency and operational profits. This project envisages holistic development of island communities thereby increasing tourist footfall and alternate revenue models.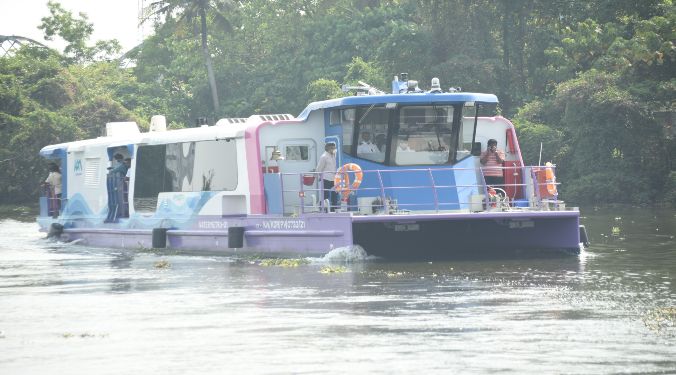 Footfall 
Already choked roads and land availability for further road development are time-taking and cumbersome.

Waterways including canals enable shorter routes and duration of travel, with less or zero traffic worries.

Comfortable and scenic journeys add to time savings and overall experience.

Cheaper rates and improved safety will gradually uplift ridership numbers also.
The project is planned to minimize pollution and traffic congestion in the city, as well as provide urban homes along the Kochi lakefront with easier access to business centers on the mainland. Integration with other forms of transportation, such as metro, rail, buses, and other public modes of transportation, as well as the anticipated high-speed rail, is planned.
40