Koemmerling uPVC window and door systems are highly developed technical products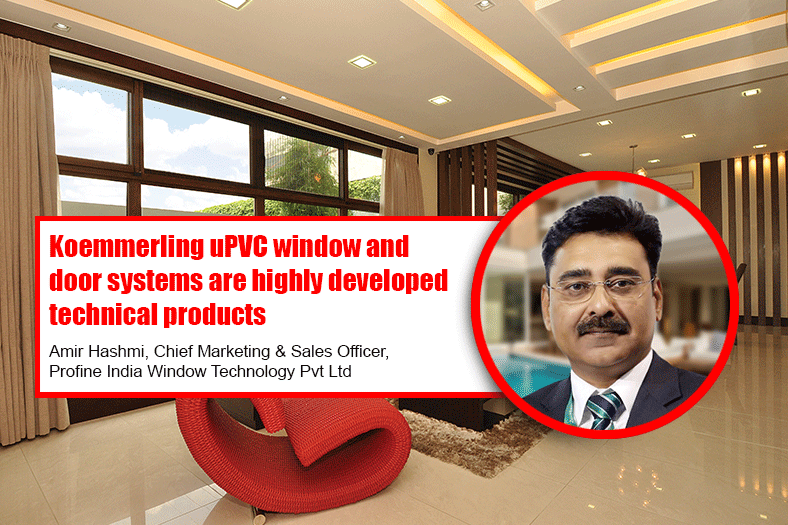 Quality is of utmost importance to Koemmerling, it fulfils the requirements of the American Standards AS 4420 and AS 2047 says Amir Hashmi, Chief Marketing & Sales Officer, profine India Window Technology Pvt Ltd.
What are the water-resistant properties of uPVC windows and doors?
uPVC is naturally a water resistant material as it does not absorb moisture and prevent windows and doors from dampness. Windows and doors made of good quality uPVC with the right combination of hardware and accessories have proved their performance in coastal and tropical environments without detrimental effect to the surface finish. The main reason behind the performance of these windows which make them water resistant is their fabrication and installation done by professionals. Window fabrication, glass and gasket fitting and usage of sealants for filling the gaps and installation make uPVC windows and doors water resistant, any defect can lead to water leakage. It is advisable to take services of the branded window and door manufacturers as they adapt standard quality procedures to maintain the quality of their products.
What are the customization options in uPVC doors and windows in terms of frame designs, colours, laminations and hardware?
uPVC windows and doors offer great leeway to match the taste and requirements of the architecture of any type of property ranging from residential houses and apartments to commercial buildings such as hotels, hospitals and modern office blocks. With great versatility, they can satisfy any taste of style and design and have proven to be the best solution even for the restoration of windows and doors in old buildings. Wide range of window and door systems are available in different sizes and shapes with the combination of colour, glass and hardware in the market.
Tell us something about your product portfolio? What are the different standards of manufacturing your product conforms to?
Koemmerling uPVC window and door systems are highly developed technical products which call for ultimate precision. Koemmerling has an outstanding reputation globally for high quality and advanced technologies. Over the years, Koemmerling has invested in versatile, state of the art production technologies at our extrusion facility which is well equipped with advanced extruders and tooling. Quality is of utmost importance to Koemmerling, it fulfils the requirements of the American Standards AS 4420 and AS 2047. The company's Quality Management System (QMS) was awarded with the British Standards Institute (BSI) Certificate for Quality Management System – ISO 9001:2015. Independent testing institutes and research centers in Germany and India strictly supervise and certify the quality of our profiles.
The company has set itself goal of manufacturing window and door profiles for demanding applications, while equally focusing on aesthetic aspects. The brand aims to deliver the highest technical and physical performance values, together with an extremely long service life and minimal care and service requirements. Koemmerling offers a wide range of window and door systems like casement window and door (inward/outward open), sliding window and door, fix and slide window, lift and slide door, sliding folding door, tilt and turn window, tilt and slide door, casement window with grill & fly mesh. The window & door systems are also available in woodgrain and grey laminations.
How are you managing sales and service in the post lockdown period?
Our operations started on 25th April 2020 after getting all mandatory approvals from the concerned government authorities.  It was tough as things were still under lockdown at large across India. We knew things will take time, but operations were started with an objective to boost the morale of our channel partners and employees and it proved to be a positive step as things slowly started opening in the market for the fenestration industry.  Our production and logistics team at the plant has been adhering to all safety measures as per government guidelines.  We are pleased to see the market is gaining some confidence.
In this modern world,  we have plenty of virtual mediums helpful in providing technical and sales services as travelling is still not permitted in most part of the country.  This work culture is being termed as "new normal" and we can see everyone is adapting it at large.
23