Lighting has evolved to suit modern interior design styles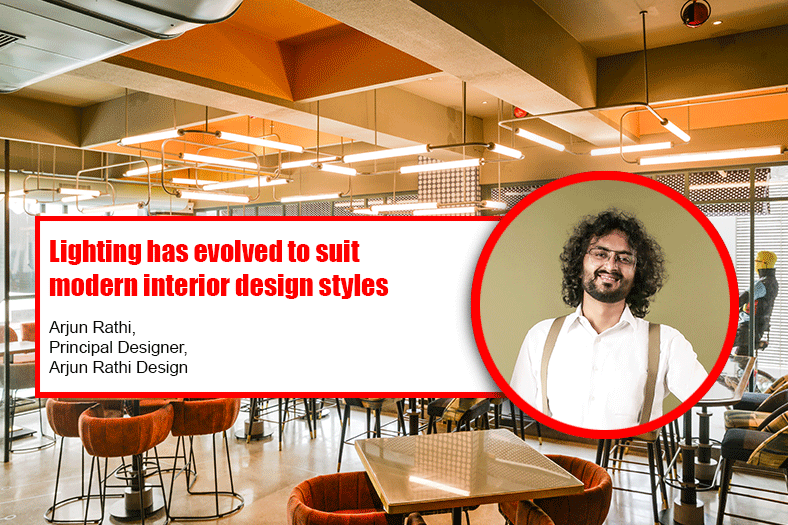 Great lighting can not only aid the appearance of good interiors but also have a positive physiological effect on the inhabitants says Arjun Rathi, Principal Designer, Arjun Rathi Design.
When it comes to lighting, what kind of products and brands are in vogue?
Lighting has evolved to suit modern interior design styles. Different materials are being experimented with to suit these styles. Brands using blown glass and ceramics are getting in vouge as the materials offer great flexibility for lighting designers to create atmospheres and stories through their lighting installations. Post the pandemic, a lot of Indian brands have the opportunity to stand out and take over the import heavy market in lighting design.
How does light aid the appearance of good interiors?
Without light there is no architecture. Great lighting cannot only aid the appearance of good interiors but also have a positive physiological effect on the inhabitants. It's very important to design lighting with respect to the materials being used in the space, many designers like using materials with semi-gloss and glossy surface finishes. It's very important to balance lighting in those situations to avoid unnecessary reflections which creates glare. Also when using matt and rough textures, using shadows and soft lighting techniques can enhance the atmosphere in the space.
Having said that, what are the other important factors which make lighting an important attribute in interior design?
Lighting design can be broadly broken in to the architectural lights (spotlights, coves, technical lights) and decorative (chandeliers, wall scones, hanging pendants, standing lamps etc). The decorative aspect has great scope to compliment interiors though a mix of materials and textures – many times being the focal point of spaces. For decorative lighting, the ceiling, wall among other surfaces become uninterrupted canvases to create an impact.
How important is luminance and illuminance as far as interior lighting is concerned, what is the difference between the two?
Luminance is more concerned with the lighting fixture, as it's a value which calculates the amount of light emitted by a fixture. Illuminance is something which we have to be more sensitive too, as it helps us determine the amount of light needed for various activities, functions, mood lighting and various other atmospheres. It is calculated in lux levels and there are existing standards which can be followed for various spaces.
What are some of the ways to enhance interiors with indirect lighting techniques?
Indirect lighting has become increasingly popular with our clients off late. It's a great way to create mood atmospheres for a space. Many designers off late are designing around art and sculptures – A common technique is to mix in-direct lighting with wall hanging paintings and free standing sculptures to reflect indirect light into the room, also highlighting the artworks. Other techniques like using coves and recessed ceiling levels is a great way to incorporate indirect lighting.
In green buildings or projects which entail sustainability, what kind of lights should be used?
Majority of green buildings use LED lighting systems for energy efficiency. It is very important to mix natural day lighting into the calculations to reduce the power consumption.
Spacious homes can imply luxury by using huge chandeliers, in contemporary homes, in a defined sq.ft area, how can lighting make a fashionable statement?
I feel decorative lighting design is one of the most flexible design disciplines, as a studio we create customised lighting to suit all interior styles. We had recently launched the Bauhaus Lighting collection which was a series of standing lamps and hanging lights made in sleek metal frames with industrially blown glass. The collection was specifically designed for smaller urban apartments, and the flexibility in finishes allowed it to range from luxury to eclectic interior styles.
In office spaces, how can one achieve task lighting without causing strain on the eyes of the user?
It's important to have direct light above the work tables/spaces in offices. Most of the time we are working on computer screens and its important the surrounding light is complementing that lux level to avoid minimal strain to the eyes.
In retail spaces and exhibitions, what kind of lighting can make an impact?
For retail and exhibition spaces it's very important to know what the product to be showcased is. The colour temperature of For retail and exhibition spaces it's very important to know what the product to be showcased is. The colour temperature of light reflecting on a surface can give a great impact. Many jewellery brands prefer to use warmer and yellow tones of light to highlight the sparkle of their product, whereas certain mass fashion brands like to illuminate their clothes evenly with whiter shades of light. It's essential to determine what colour of light
suits your product for the best impact.
Kindly tell us about the recent projects you are working on?
We are presently working on custom lighting design projects across the country namely in cities like Mumbai, Kolkata, Delhi, Hyderabad, Bangalore among others. We have an ongoing lighting installation due to complete next month which is spanning over 900 square feet. It is an installation inspired from the Gulmohar Trees made in casted brass and blown glass. Another project we are excited about are these 30 feet tall installations we have designed for the food court at the upcoming Maker Maxity Mall. The five 30 feet trees made in wood, steel and acoustic panels, designed to soften the noise at the food court, will also be the main source of lighting for the area.
Kindly cite a project where lighting was used to good effect?
Louis Kahn once said "The sun never knew how great it was until it hit the side of a building." The Kimbel art museum he designed is one of favourite example of lighting design, where natural daylight and soft indirect lighting illuminate the museum. The project was way ahead of its time in thinking and set a benchmark for architects to follow.
16