Lingel will be introducing Wi-Fi enabled smart windows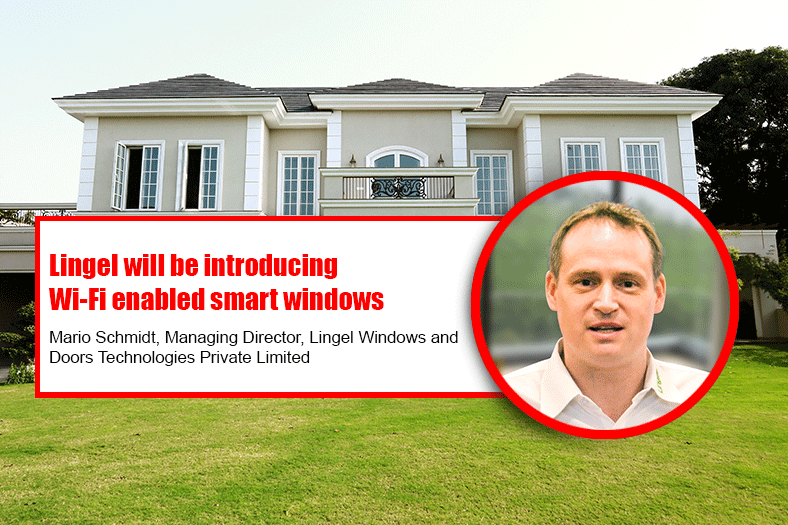 Smart Li is a breakthrough in windows and doors technology, it has a host of features which can be controlled using a smartphone says Mario Schmidt, Managing Director, Lingel Windows and Doors Technologies Private Limited.
What are the water-resistant properties of uPVC windows and doors?
uPVC windows are known for its water and air tightness. This means it does not allow water to enter in during the monsoon season. This can be achieved by the proper use of a gasket and ensure that your window has a sealing gasket. This is essential not only in the monsoon season but for all the seasons. It will eliminate the probability of water, air and sound leakages. If the windows are not sealed appropriately then: water, dust and other particles can get collected in the window frame. The gasket will prevent the hardware from corroding if water gets in.
Even for dry and dusty areas, uPVC windows are ideal because of their dustproof performance which is its highlight. They are also easy to clean and maintain in the long run.
What are the customization options in uPVC doors and windows terms of frame designs, colours, laminations and hardware?
We have expertise in creating unique designs as per the needs of our customers. Over the years, we have catered to thousands of customers and each has a requirement different from the other. The entire window can be customised keeping in mind all the aspects from frame design, colours, hardware and much more. Various colour options are available in uPVC ranging from snow white to mahogany.
Tell us something about your product portfolio?
What are the different standards of manufacturing your product conforms to? Lingel offers quality and follow the standards that are necessary for the manufacturing of the windows. We follow the guidelines given by uPVC Window and Door Manufacturers Association (UWDMA). We have recently introduced the new Snow White colour of windows; it has a special white foil on the white uPVC surface. It makes cleaning very easy and gives a stark white look.
In addition, we have also introduced Roller Shutter with and without the insect mesh. Both can be operated manually or automatic. We are also very soon going to introduce our Smart Windows which are Wi-Fi operated. Smart Li, a breakthrough when it comes to windows and doors technology has special features such as Smartphone as a control panel, window inbuilt security system, rain sensor, Lingel Air purifier and Smoke detector.
Aluminum system 6.0 launched in 2017 is as per our opinion the most aesthetic aluminium system available in India. As the design made similar to a wooden or uPVC window, we can use the complete uPVC hardware range. The options available are entrance doors, slide, and folding solutions, casement opening windows, lift and slide. Our Oakwood (timber) windows which are made in Germany and it is becoming a favourite for its texture and classic look.
Initially, there were very few fabricators but now with many fabricators selling inferior quality windows and doors, the role of our association with UWDMA has become stronger and to protect the consumer/buyers, the UWDMA fabrication and installation guidelines and policies have to be in place. Lingel is ensuring to follow the guidelines and Lingel via UWDMA is also working with BIS to get the first standards on windows in place. The National Building Code (NBC) latest update has for the first time glass and glazing as a newly added chapter. There is the (GGFK) Glass and Glazing knowledge forum which organises awareness campaign across the county on safety, security and energy saving aspects.
How are you managing sales and service in the post lockdown period?
We are following all the government SOP before we visit our customer and the same also goes for our production unit in Bhiwadi, Rajasthan. The sales are gradually rising and our team is following all the safety norms. We have kept in touch with all our customers, associates and team through webinars and have shared knowledge about the product. We are making the quotation as we did earlier and supply of windows and doors has started in areas where it is allowed.
Tell us something about your Old UPVC projects and also share with us some information on your aluminium windows and other innovations.
We are well-known for our uPVC windows and doors and our projects are still standing tall, to name a few:
• Uppal Marble Arch  based in Chandigarh Orchid Metropolis, Delhi
• Fortune Hotel based in Bhiwadi NH8
• Hotel Sterling Mac based in Bangalore
• Great Lakes Institute of Management, Chennai
Our Alu 6.0 is made in India. Lingel 6.0 has unique features, for instance, 60 mm, wide section for frame and shutter, 2mm outer wall thicker, glued corner connector, SS grade and glued corner connector for all visible parts of the corners, first in industry Z mullion used for outside/inside glazing, Lingel SS grade hardware, heavy duty friction hinges upto 50kg per panel can be fitted, glass thickness up to 36 mm, Chambers can be steel reinforced for additional strength.
The added benefit of Lingel 6.0 is that any possible window design from anywhere in the world can be fabricated so that the international and local taste and choice of the customer can be fulfilled at any point of time.  We also have the Alu Hueck which is made in Germany.  It has a sturdy profile construction with standard gaskets for self-cleaning glazing. It also has a high level of thermal insulation.
This is the right time to upscale the industry. As branded uPVC and system aluminium products are set in place and are well known by the customers. The introduction of the roller shutter, window trim/sill, tested burglar proof hardware systems, compressed sealing tapes for monsoon proof joinery between the windows and the walls, door flush to floor with inbuilt drainage systems and many more innovations the customer can look forward to in the coming months.
11