Lutron introduces Alisse wall control- the newest addition to its HomeWorks portfolio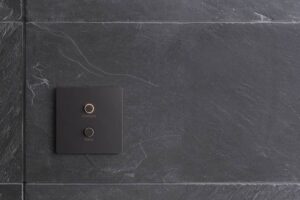 Lutron Electronics, the leader in lighting controls and automated shading solutions, has announced the launch of Alisse wall control within its HomeWorks whole home automation system. Lutron reimagined every detail with the Alisse wall control–starting with its thin profile, broad range of hand-crafted finishes, and subtle illumination around the buttons which can perfectly complement any décor. With its powerful, game-changing technology, a flexible personalization and ordering process, the Alisse wall control is both delightful to use, simple to specify and install.
The sleek architectural design, innovative technical approach and customizable controls make Alisse a seamless addition to any room. Lutron's hand finishing process bring out the dimension and hues of the genuine materials that offers a range of signature metal finishes that stretch across the style continuum. Each finish is thoughtfully matched with crisp engraving filled with carefully coordinated ink, as well as a complementary thin, glowing halo around the buttons to complete the look. The Alisse wall control's plate form is perfectly balanced, featuring a sleek and slim profile that protrudes less than 1/8th of an inch from the wall.
Ripu Daman Sharma, Country Manager, Lutron's India Subcon region discusses the company's scrupulous attention to detail and precisely balanced designs, "At the heart of the Alisse wall control, Lutron's understanding is that every detail matters while designing a home, and technology's role should be to enhance the design vision, not distract from it. The Alisse wall control's uncompromising approach to aesthetics through its craftsmanship, style, versatility, and harmonious form bring design visions to life in a beautiful way. We imagined an elegant form, machined from a solid metal plate, and hand finished and grained to perfection with just a hint of powerful technology. But we didn't stop there. Our team, thought about how they could innovate in every aspect of the product and make the design, ordering, installation, and programming better for everyone."
Personalization made flexible
The Alisse wall control offers several personalization options including custom engraving and multiple button configurations but does so in an incredibly innovative way. Lutron has decoupled the wall plate, button configuration, and finish selection from the installation and programming process to allow the base unit to be ordered, installed, and programmed independent of the Alisse wall control plate. This easily snaps on when the button configuration, finish selection, and engraving details have been finalized. The approach allows homeowners to make both design choices and changes up until the end of the installation. Lutron also provides a protective cover plate for the base unit to prevent damage from construction debris and has created a suite of e-tools to make ordering of products and customizations quick and easy.
Additional features of the Alisse wall control include:
All new Signature Metal Collection– a range of handcrafted metal finishes (aged bronze, aged brass, brushed brass, champagne, satin nickel, graphite, and bright chrome) and painted metal colors (matte black, brilliant white, snow white, and architectural white) to fit a range of interiors.
Resistant to wear, fingerprints, and stains– uses a proprietary preservation process that does not compromise the luxurious feeling of the material.
Personalized to fit your lifestyle– features precise engraving, which gives homeowners the ability to name the specific scenes they want to achieve, and one-, two-, and three-column button configurations to suit the needs of any space.
Integrated by design– designed to seamlessly integrate with Lutron's HomeWorks system to ensure that the experience in the home is simple and reliable.
Flexible mounting options– one, two and three-column controls mount within a European, single-gang, square backbox.
The Alisse wall control will begin shipping from July 2021 onwards.
45