Macmillan: Heat management solutions for various verticals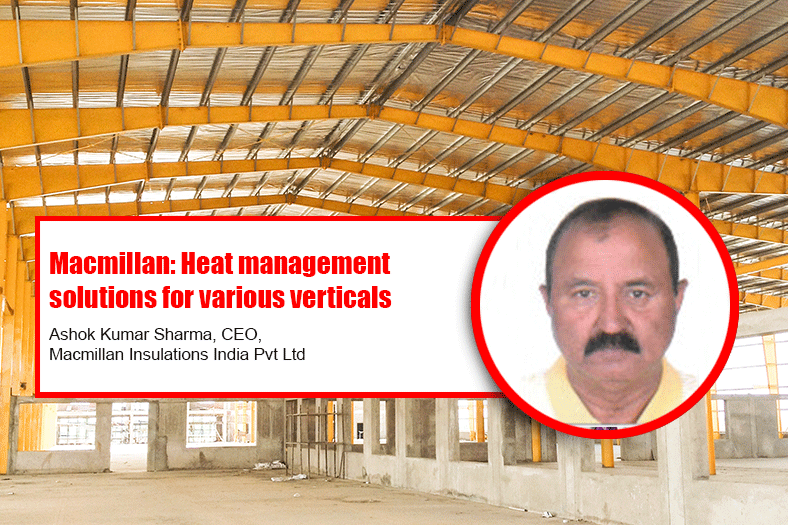 Right from engineering, auto and electronics to pharma, food, logistics and warehouses, Macmillan provides thermal reflective insulation for different verticals says Ashok Kumar Sharma, CEO, Macmillan Insulations India Pvt Ltd.
What are some of the pre-requisites to ensure reflective insulation systems to work properly?
The main source of discomfort to occupants of a building/shed/shelter is the heat radiations from the hot roof. The roof temperatures are well above sixty degree Celsius while outside ambient temperature exceeds forty degree Celsius in most of the Indian sub-continent during summer months.The reflective insulating foil should be installed below the roof. An air gap of about 20 to 25 mm between the roof and the foil is a pre-requisite.
What is the criteria of product selection, what are some of the product certifications one needs to look at?
Here are the major criteria and advantages of thermal insulation and they are as follows:
It is fire retardant and will not support combustion or the spread of flames.
Non hazardous- It is user friendly and non-toxic. And it doesn't pose any health hazard.
Virgin material and no water absorption does not support in creation of fungus or pests. It can be used in food and pharmacy industry or any industry as it is hygienic.
Manufactured with pure aluminium foil reflects more than 97 per cent of solar heat.
It maintains a comfortable temperature inside of the building/shed/shelters by reflecting 95 per cent of radiated heat and thus making inside working atmosphere comfortable.
Economically priced as compared with other insulation products.
Effortless and quick installation on all types of roofs in warehouses, maintenance free.
Low transportation, storage and handling cost.
Environment friendly – Green Star Compliant for zero Ozone depleting potential.
Light material with heavy weight performance.
Approved by Department of Defence, Government of India. And it is installed in shelters, air force hangers.
What are the different products you offer for Thermal Reflective Insulation?
Macmillan Insulations India Pvt Ltd is offering Sisalation products.
Flamestop 138: It is an eight layer double sided aluminium foil laminate having superior radiant heat reflective properties. It is extensively used for existing and new industrial sheds, food parks, warehouses and PEB structures for reducing the solar heat gain inside the premises. Our Sisalation Flamestop-138 is high in performance, radiates more than 95 per cent of heat at source only, long life (As long as of shed's life). We provide up to 20 years of warranty for Flamestop 138.
Tuff Wrap Breather: The coloured face of the polumer-weave minimises the level of glare experience during installation. It is better suited for use in applications where a degree of permeability is required in the wall design and it is flexible, non tearable, woven, double sided reflective.
Sisalation Medium duty White Face: Glossy white Polybar film face superior light diffusion to enhance lighting condition, two way fibre glass greater strength. Polybar face provides resistance to chemicals, high edge tear resistance to prevent ripping during installation, faced with lbar and Polybar to provide bith sides with scuff resistance.
In India, we have installed Thermal Reflective Insulation for millions of sq.ft. across industries such as auto, engineering, electronics, pharma, food, logistics warehouses etc. and delivered repeated customer satisfaction.
How are you managing the supply chain in the 'unlock' period?
We are authorized distributor of Fletcher Insulation (Australia), a multi-billion dollar company, which specializes in manufacturing world class Radiant Heat Barriers for roof and wall insulations for the last 60 years.
Our products are imported from Australia and we had stocked up till December 2019. Our sales are high during the summer but due to the lockdown, they (sales) have been quite low and as a result of this, the company has only managed to deliver few projects.
4