Maintenance aspects of the building should be considered at the design stage itself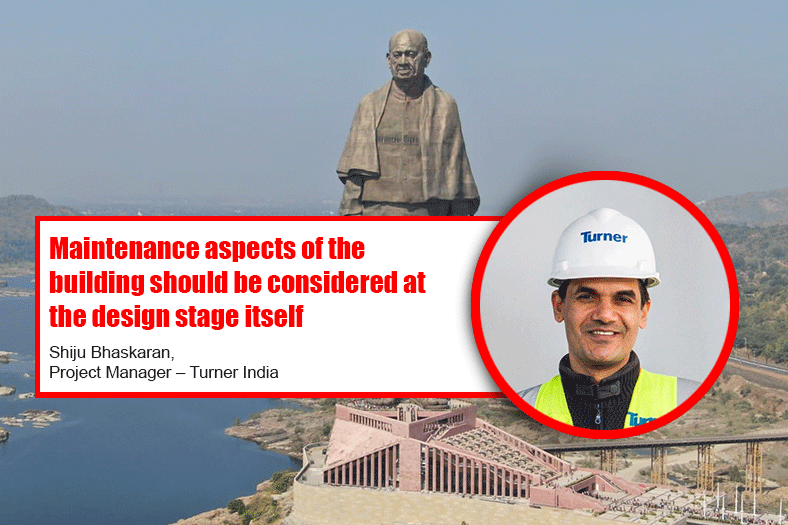 Durability of the materials that complement the climatic conditions should be the first consideration. Mechanical options for safe maintenance practices should be made mandatory for all high rise buildings says Shiju Bhaskaran, Project Manager – Turner India.
The skyline of India has changed but the challenges of maintaining these high-rises and other prime properties is quite a task, what methods do you suggest to keep it in robust condition in the long term?
India's skyline has undergone a tremendous degree of change in the last few decades. Some of our buildings are at par with the iconic buildings in the rest of the world. But when we look around, the sight of many buildings in our metro cities are disheartening or even appalling. So it is imperative that extensive research efforts are dedicated towards developing innovative ways to maintain and preserve our prime properties in the best condition.
Prior to Covid-19, the urbanization in India was increasing at a rate of approximately 0.30 per cent per year. Around 34 per cent of the Indian population is staying in urban areas. The increase in urban population has caused a sharp increase in the cost of urban lands. Local self-government bodies revisited the building Byelaws and this has paved the way for the high rise building sector. The skyline of each urban area and its satellite cities are transforming every year.
The definition of high rise buildings differs from country to country, sometimes even from city to city. The life safety codes generally categorize buildings as low rise, high rise, super high rise, etc. Generally, buildings of height 32m and above are categorized as high rise buildings.
Of late, positive changes have come about on the construction quality front in India. Many developers are quality conscious and have started appointing expert management consultants to ensure safe and quality construction. However, in many cases, quality controls are limited to structural and interior finish aspects. The façade of the buildings is not getting the required attention even though the building envelope has to withstand the harsh climatic conditions. Façade becomes an area of cost reduction and the building loses its charm within a few years after its construction. This is a common sight in many Indian cities.
Therefore, external maintenance of high rise buildings requires our special attention. In India, Building Maintenance Units (BMU) are provided only for luxurious skyscrapers. Maintenance of most of the high rise buildings is done using conventional methods and techniques. Use of long lasting coatings or cladding needs to gain more popularity. This will help to reduce the operations and maintenance cost.
Many modern buildings stand out for their advanced architectural aesthetic appearance. The growth of modern megalopolises and high-rise construction has created challenges in the construction industry in the form of regular maintenance of the facades of buildings and the execution of high-altitude service in many tasks. These issues are now effectively being tackled using industrial mountaineering techniques. The variety of architectural forms and the flight of imagination of architects truly knows no boundaries and this has given rise to another problem – the complexity of architecture leaving the maintenance service providers puzzled.
Maintenance aspects of the building should be considered during the design stage itself. Durability of the materials that complement the climatic conditions should be the first consideration. Mechanical options for safe maintenance practices should be made mandatory for all high rise buildings.
What role will technology play in the maintenance of these prime properties in the long run?
Robotic building maintenance units are now available in the market making easy access for men and materials attainable for the entire building perimeter. Automated Robotic units is one of the recent additions to the BMU technology.
In future, the use of robots in areas of building maintenance and facility management is expected to increase. Future designs of buildings could be with access arrangements for robots to maintain it. New sensor technology will provide better visibility through robots as compared to human vision. When the technology advances further to a state where robots could be entrusted with hazardous and unwelcome tasks, one of the serious problems faced by maintenance engineers will get solved.
Nanotechnology and artificial intelligence are expected to make revolutionary changes in the construction industry.
Traditionally, Indian buildings have had sun shades or 'chajjas' above the windows. Chajjas are a tested and proven way of protecting the windows and help prevent water infiltration up to a certain extent. However, many of the high rise building designs compromise the chajjas by following the building designs abroad or for ease of construction. Elimination of chajjas without providing alternative shading elements is not advisable for the climatic conditions in India. Aluminium shading, as well as shading adjustable with the sun's direction, are some modern options available.
What are some of the new age materials which will find prominence in the construction and maintenance of massive buildings and other elements of the built environment in the post Covid world?
Prevention is definitely better than cure. In the modern era, nanotechnology will be playing a major role in producing better coating materials which will endow longterm durability to structures. Internal maintenance of buildings is generally managed by facility management agencies and residential societies. Lack of maintenance services is generally observed for building envelopes. Leaking windows and roofs are common problems. Better quality control and protection during the construction stage should be ensured. A damp-proof course can be used on external walls before applying the primer for painting. Durability of paints can be increased with new age protective PU coating as a final layer.
The development of photocatalytic materials with self-cleaning and pollutant reducing properties are also being feverishly pursued to provide enhanced solutions for building maintenance and sustainability. In photocatalysis, facades, paving stones and roof tiles are coated with nanoparticles made of titanium dioxide which in combination with sunlight decomposes all organic materials on the surface and
converts them into CO2 and water. The environmentally harmful nitrogen oxides are thus broken down into harmless compounds. Photocatalytic building materials applied on a larger scale can make a major contribution in the improvement of the urban climate, reducing nitrogen oxide pollution in high-traffic areas and reducing surface pollution. Several research projects are currently active in trying to bridge the gap between the technological innovations occurring in the laboratory and the real time application in the world of urban planning.
Much importance has been given for sustainable and energy efficient buildings in recent years. A few developers in India too have added sustainable buildings in their portfolio. High-tech building materials or smart building materials have additional functions or new material properties through the use of nanotechnology which would help in resource efficiencies. Innovative composite materials made from renewable raw materials is another research area in the building material industry.
Cross Laminated Timber (CLT) has proved its competence and cost effectiveness for utilization in various building typologies, ranging from low to high-rises. CLT is considered quite efficacious in the areas of strength, speed and cost. Additionally, CLT's main attraction lies in the fact that it is a sustainable construction material and this gives it an edge over other reliable construction materials.
Carbon Composite Concrete is currently seeking approvals for preparation of Building Standards. One of the major challenges being faced by reinforced concrete structures is the corrosion of reinforcement steel. With the aim of avoiding expensive maintenance measures in the future, researches are being carried out on reinforcement made from natural and synthetic fibers. Innovative carbon fiber in combination with high performance concrete could lead to a major change in the building industry.
Globally, Turner pioneered the use of steel-reinforced concrete in the previous millennium, what are some of the innovations Turner is fostering in the current timeline? Turner has constituted an 'Innovation Department' which aims to drive innovations in the built environment by implementing pioneering transformative advancements that could shape the future of the industry. We have selected champions from different business units globally for market research, training and development to encourage the use of innovative building products, processes and technologies.
Currently, most of the sites around the world are struggling to maintain the usual pace of construction due to the compliance with the Covid-19 protocols. In the post-Covid world, more attention will be given for modularization and offsite construction. If building modules are fabricated in an industrial environment, we can assure better quality and faster construction by reducing the labour component. Accelerating digitization and automation in the industry are increasingly making the offsite construction model possible.
Turner has developed internal automation tools and applications to simplify the project management process. While buildings are constructed using building materials, a parallel virtual construction of documents of project control procedures are happening for every site. Artificial Intelligence has started playing a major role in simplifying project management processes and protocols. Remote inspection was successfully implemented in our sites during the Covid-19 lockdown period as the consultants were immobile.
Turner has worked with different clients in India, which marquee project was challenging across different parameters?
If we compare the documents of lessons learnt from different projects handed over by Turner across India, the Statue of Unity was certainly the most complex and challenging project considering various parameters.  The tallest statue in the world has achieved its current status as a global icon because of the sheer scale, magnitude and accuracy
required in the implementation of the mammoth project. As Project Managers, we at Turner were not only required to be at the top of our efficiency game but also had to micromanage several aspects of the construction process.  Erecting a statue of about 182 meters in height required us to tackle several challenges including coordination, logistics, sequencing, material sourcing, inclement weather conditions, communication etc. Deployment of automatic climbing systems for the core proved to be immensely beneficial towards the timely completion of the monumental project.
Our tracking system for the incoming material had to be extremely efficient to ensure that any delays in arrival would not hamper other procedures. We made sure that there is no wastage of labour hours or resources by having contingency project plans. Dedicated resources were deployed to relay the information between decision-makers, engineers, labourers and technicians whenever and wherever there were limited communication channels or mobile network lapses.
The landmark project tested our capabilities and expertise at several levels. Thanks to our proficient team and their commitment to the project, we were able to succeed in all aspects of project management and today the glory and magnificence of the Statue of Unity is there for everyone to see and admire.
41