Metro line-10 adopts double-decker design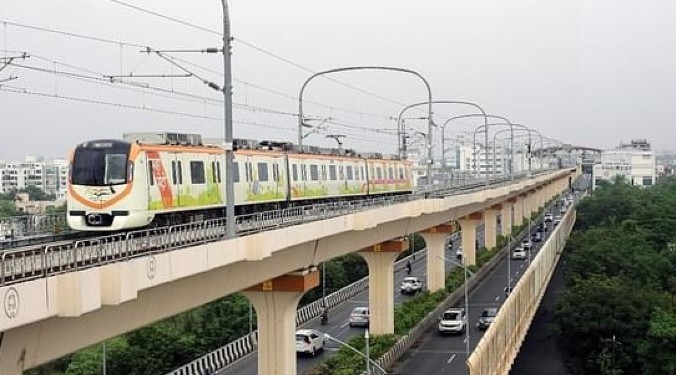 Mumbai metro line-10 set to have double-decker design, to be completed by 2027.
In an exciting development, the Mumbai Metropolitan Region Development Authority (MMRDA) is gearing up to commence construction on the Metro Line-10, a vital project spanning nearly 10 km. This new line aims to bridge the connectivity between Metro-4 and Mira Road, covering a distance of 9.2 km and terminating at Mira Gaon, originating from Gaimukh, where Line 4A ends.
The unique characteristic of Metro Line-10 lies in its innovative double-decker design, set to run above an elevated road planned between Gaimukh and Fountain Hotel. This design was necessitated by the challenge of widening the road at Ghodbunder, prompting the construction of the metro above the elevated road at a height of at least 20 m from the ground level.
The MMRDA has taken proactive steps for this visionary project, appointing the Systra-DB Engineering consortium as consultants. Environmental clearance is a crucial aspect, and the MMRDA is in the process of appointing a consultant to navigate this requirement. Upon obtaining environmental clearance, the tendering process is slated to commence this year, with actual construction set to kick off in 2024.
The project, estimated at ₹ 4,476 crores, was approved in September 2019 and was originally scheduled for completion in 2025. However, the revised timeline anticipates project completion within 36 months from initiation. Approximately 4 km of the metro line will be elevated between Gaimukh and Hotel Fountain, providing an enhanced commuting experience.
Furthermore, to streamline the construction process, the Maharashtra State Road Development Corporation has already secured several approvals for the elevated road. The MMRDA can leverage these approvals to expedite the construction of Metro Line-10.
This metro line extension is integral to Mumbai's transportation network, seamlessly extending from the ongoing Metro-4 (Wadala-Ghatkopar-Thane-Kasarvadavli) and Metro-4A (Kasarvadavli-Gaimukh) projects. Importantly, there's no need for a separate depot, as the existing Mogharpada depot, serving lines 4, 4A, and 11 (CSMT-Wadala), will efficiently cater to Metro Line-10, showcasing a cohesive and integrated approach to the city's metro network. Anticipated to be operational by 2027, Metro Line-10 is set to revolutionise Mumbai's transportation landscape, enhancing connectivity and convenience for its residents.
76