Ministry of Road Transport drives 'Swacchata Hi Sewa' cleanliness campaign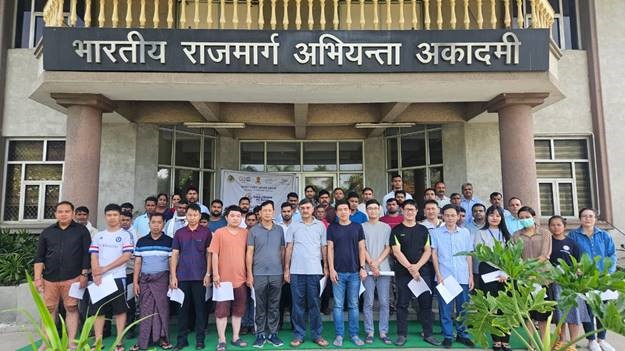 The Ministry of Road Transport and Highways and its subordinate organisations – NHAI, NHIDCL, IAHE took active part in the 'Swacchata Hi Sewa' campaign.
The Ministry of Road Transport and Highways, alongside its subsidiary entities including NHAI, NHIDCL, and IAHE, actively engaged in the 'Swacchata Hi Sewa' campaign, aligning with the ideals of Mahatma Gandhi and underlining the paramount importance of cleanliness and communal engagement. Hon'ble Prime Minister Shri Narendra Modi's call for 'Shramdaan' for Swachhata (cleanliness) urged citizens to devote one hour – "Ek Tareekh, Ek Ghanta, Ek Saath" – to cleanliness activities in collaboration with their communities.
Secretary of MoRTH, Shri Anurag Jain, led the campaign by participating in 'Shramdaan' during a cleanliness drive at a toll plaza near Hyderabad. He emphasised the need for maintaining cleanliness not only at toll plazas but also in offices and their surroundings. NHAI Chairman Shri Santosh Kumar Yadav and other senior officials joined in this initiative.
In Chandrabhaga, Konark (Odisha), a beach cleaning drive took place on NH 316 as a part of the nationwide campaign, with Joint Secretary MoRTH Shri Kamlesh Chaturvedi and ADG MoRTH Shri D. Sarangi in attendance.
This collective effort echoed a firm commitment to fostering a cleaner and greener environment. Joint Secretary MoRTH Shri S.P. Singh actively participated in the 'Shramdaan' alongside residents of the Government Residential Accommodations Complex in New Motibagh, New Delhi. Employees of NBCC also contributed to the campaign.
More than 1,000 events were organised across the country, witnessing significant participation from senior officials, staff, and the public. Toll Plazas were prominent centers for these activities due to their high public footfall. Cleanliness drives also extended to Way Side Amenities, road-side dhabas, and various project sites.
In Delhi, NHAI organised a cleanliness drive near Dwarka Expressway, and NHIDCL conducted cleanliness activities at Khanna Market, Lodhi Road. 'Shramdaan for Swachhata' activities were also organised at the Indian Academy of Highway Engineers (IAHE), Noida, with active participation from trainees representing Cambodia, Laos, Myanmar, and Vietnam, embodying a spirit of international cooperation in promoting cleanliness and a sustainable environment.
41