Mivan technology and steel-concrete composite structures have gained prominence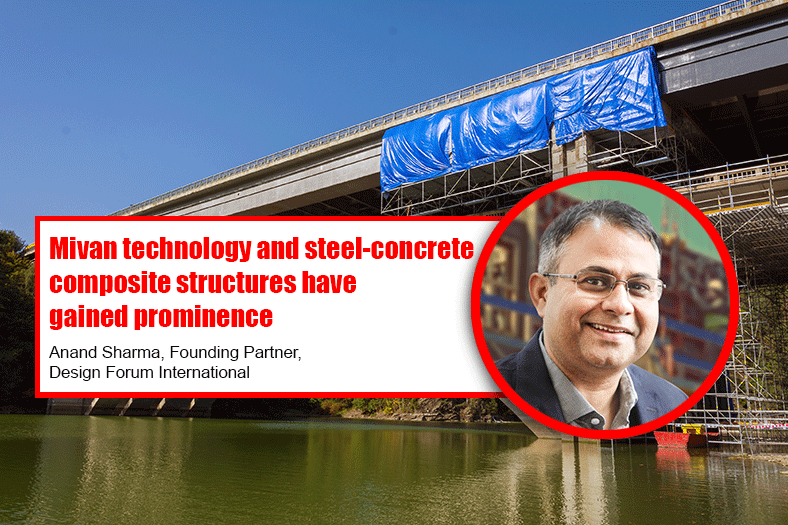 They are being utilised for affordable housing segment, modular housing segment, and predominantly housing with similar formats says Anand Sharma, Founding Partner, Design Forum International.
What are some of the innovations in the structural strengthening of buildings and other infrastructure projects?
For RCC structure rehabilitation, the post-construction strengthening of the structure is done using multiple methods depending on the type of damages. Reinforcement using fibre mesh is employed to repair minor cracks in the wall. Shotcreting and jacketing are employed mainly for columns and beams that have suffered considerable damage. The process involves using additional reinforcements placed around the member acting as a jacket and then pouring concrete over it.
Due to recent waterlogging cases, it has become even more critical to retain earth envelope around the vulnerable buildings; this is achieved using diaphragm walls and soldier piles. These are primarily subterranean structures constructed around the site to retain earth and support deeper excavation. In addition to facilitating the construction, they also prevent settlement of buildings and superstructures around the site.
Especially for projects based in geographies experiencing inclement weather, what can be done to ensure they are seismic proof?
The geographies vulnerable to inclement weather and lying is high-risk seismic zones, i.e. Zone 4 and Zone 5, the strategies are adopted for their resistance and performance viz. a. viz. wind forces and seismic forces. For seismic zones, the coded provisions laid by the Bureau of Indian Standards are sufficient. The codes include practices such as the use of tie beams at plinth level, sill, lintel and roof slab level and the use of vertical steel members around openings such as doors and windows to prevent damage to walls. For additional precautions, we provide Zone 5 seismic requirements in Zone 4 also.
One recent development has been the performance of long span structures such as airports and stadiums in cyclone prone areas. The set of codes laid out by the authority suggest bracing of steel structures, especially roofing sheets in high risk-zones.
What are some of the new age technologies utilized in the construction of high-rises and infrastructure projects?
Two construction technologies are gaining momentum in the construction industry today, esp. for affordable housing segment, modular housing segment, and predominantly housing with similar formats.
First, the use of aluminium slip form shuttering (also called Mivan Technology). The process involves erecting a wall using steel reinforcements, followed by placing an aluminium framework and pouring concrete inside. The framework is then dismantled after the concrete sets. This technology has been a game-changer ensuring faster turnaround period, speedier construction, improved quality and an overall reduction in construction cost.
However, for a long span and high rise structures, be it corporate buildings, retail or infrastructure, we are resorting to steel-concrete composite structures. Essentially these structures, combine the properties of its constituent materials. Steel is the primary structural member responsible for tensile strength, and concrete provides additional compressive strength. Additionally, concrete also brings fire-rating to the building.
Having said that, what kind of maintenance is a must to ensure that the structure stays resilient in the long term?
For exposed steel structures, weather resistant paints are applied. Especially in the coastal areas where the air is saline, there are specific coating available to protect the exposed steel structures from corrosion. Newer technologies such as metal coatings are now used in the structures to elongate the lifespan. The coatings are either done using hot-dip galvanization or thermally sprayed metal coatings.
To protect concrete structures, the first line of defence is to use concrete with low water permeability and use adequate cover around the reinforcements. These days with innovations in the materials, high-quality cement is available in the market, which ensures that the corrosion doesn't set inside the concrete structure.
What are some of the projects you are working on currently?
We are working on a variety of projects including
• Spacepark for KSITIL at Trivandrum
• BPO Tower for Amtron, Guwahati
• Narcotics Control Bureau, Mohali
• Amritsar railway Station
• Guwahati International Airport.
37