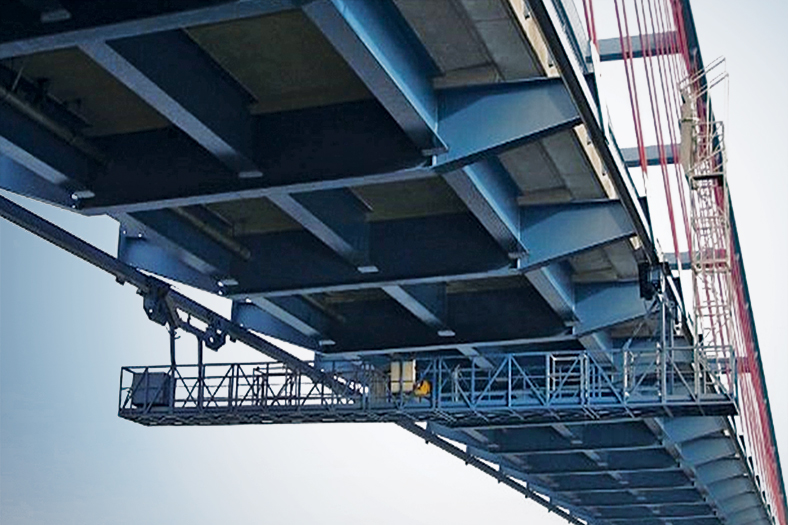 A discussion on role of access equipment for bridge inspection and maintenance
There are thousands of old bridges in the country many of which are in dilapidated state needing immediate repairs. Therefore, special purpose vehicle in the form of access equipment can only be termed as the need of the hour.
Sharing his views about the role of access equipment for bridge inspection and maintenance, Rajiv Sethi, Managing Director, Gemini Power Hydraulics Pvt Ltd says, "Mobile Bridge Inspection Unit (MBIU) is very much indispensable for carrying out the bridge inspection and maintenance tasks. It is a versatile and efficient machine, built on a reliable Indian cabin chassis without there being any need for modifying the chassis. It is designed to provide a safe, quick and economic system of access to those structures where setting of scaffolding is not feasible or not economical. These units take a few minutes only to launch from the rest position to the work position without personnel on board. After initial launching manoeuvres are completed, operators can easily descend on the platform through the provided protected access."
Such machines (MBIU) are available from imported sources and a few such machines are already there in India which has been imported at exorbitant prices. "Due to the high cost of imported spare parts and poor availability of service facilities most of these imported units are lying idle," opines Sethi.
Access equipment are among the highest safety equipment. These are available both in vertical and articulated forms. A normal height of access equipment is from 5 to 50 metres and up to these heights equipment is easily available with the Indian rental companies. "In overseas countries, access equipment are mostly used in bridge inspection by project and safety teams. For the painting and maintenance of the bridges, these machines are much safe and productive. In India, this segment has already started accepting these machines and growing quite fast," informs Manjeet Singh, Commercial Manager, Manlift India Pvt Ltd.
"There are many kinds of access equipment that can be used depending on the complexity of the structure. The various methods used for maintenance and inspection would be fixed motorised gantries, fixed manually operated gantries, and fixed suspended platforms. These access systems are fixed on the bridge structure for rotational inspection and maintenance. Other than these there is temporary access systems which can be called upon when required, these include articulated aerial platforms, telescopic aerial platforms," says Sunil Malhotra, Managing Director, Appletree Building Maintenance Pvt Ltd.
A few advanced access equipment
Appletree's fixed motorised gantry system
Appletree has a state-of-the-art workshop at Manesar where it manufactures access equipment systems. To add to this, the company has designers who have more than 10 years of experience in this field and are more than capable of designing customised solutions for each and every structure, claims Malhotra. "The most significant offering we have to offer in the field of inspection and maintenance of bridges is the fixed motorised gantry system which 100 per cent made at our workshop at Manesar and is automatic and mechanical to a large extent that means the human interface is very less compared to other systems."
MBIU from Gemini
Gemini Power Hydraulics Pvt Ltd claims to be the first company in the country to supply indigenously manufactured MBIUs matching in specifications at almost half the price of the imported units. As these units are built on Indian vehicle chassis, the after-sales service support and the spare parts are easily available.
Gemini Engineers and Consultants after studying, analysing and taking user feedback, took it upon themselves as a challenge to deliver a product which is technologically superior, more reliable and safer.
Within a short span of period, Gemini has successfully supplied two units and both the units are working very satisfactory. This was only because the units were thoroughly tested in the factory as well as trial runs were conducted on bridges before they were dispatched to the customer.
Three models are available: Ginjoe – 10, Ginjoe – 12 and Ginjoe – 15 having under-bridge horizontal platform span of 10, 12 and 15 metres respectively. Mast Lowering Depth for all models is 8 metres. The company can provide MBIU to suit site conditions and as per customer requirement.
Focus on safety
Operation of these machines in a safe manner is a highly critical requirement. "For the safety use of these machines (MBIUs), we are training the operators with the global standards of IPAF. Under the product innovation, we are also bringing battery operated boom lifts from 40 to 120 feet. These machines are quite good for airports, automobiles and power segments," said Manjeet Singh.
90