MoRTH unveils ₹ 3,300 cr national highway projects in Lucknow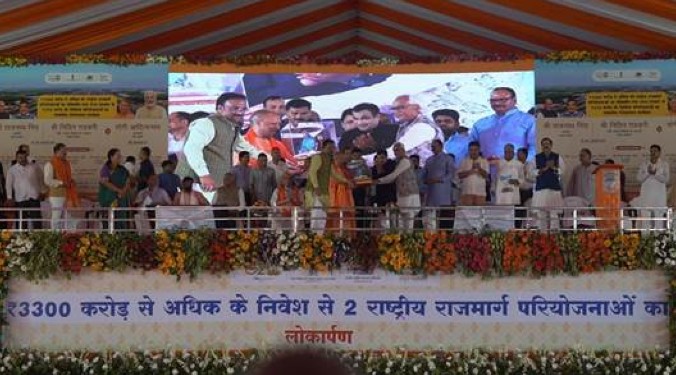 Increasing the pace of development of Uttar Pradesh, the Union Minister for Road, Transport and Highways, Shri Nitin Gadkari inaugurated two National Highway projects with an investment of more than ₹ 3,300 crore in Lucknow.
The Chief Minister of Uttar Pradesh, Shri Yogi Adityanath along with Shri Rajnath Singh, Union Minister of State, Shri General V.K. Singh, Deputy Chief Minister Shri Brajesh Pathak, Union Minister of State, Shri Kaushal Kishore, State Ministers Shri Jitin Prasad, Shri Aseem Arun, Member of Parliament, Shri Subrat Pathak, MP Dr. Ashok Bajpai and other MPs, MLAs and officials were also  present on the occasion.
Lucknow is the capital of Uttar Pradesh and one of the important cities of the country. Two National Highway projects have been inaugurated at a cost of more than 3,300 crores in Lucknow today. The inaugurated project includes, Madiyav-I.I.M. of Lucknow-Sitapur section on National Highway 24. The newly constructed 4-lane elevated corridor at the crossing has been completed 6 months ahead of time. This will provide better connectivity from Lucknow to Sitapur, avoid heavy traffic jams at Bhitauli Tiraha and Jankipuram Extention and will save more than 30 minutes of time and fuel. Pilgrims will be facilitated to visit Chandrika Devi and Naimisharanya.
The Construction of 4-lane road from Naviganj to Mitrasenpur of Aligarh-Kanpur section will facilitate traffic between Naviganj, Kannauj, Mitrasenpur and further to Delhi. Economic development will get a boost in the perfume hub of Uttar Pradesh, Kannauj and surrounding areas. Small and medium industries will get a boost in areas like Chhibramau, Gursahaiganj, Jalalabad, Manimau. Farmers of Kannauj will have ease of transport till Chhibramau, Naviganj Mandi and direct access to Delhi will be easy.
23