Nippon Paint launches odour-less and all-weather protection paints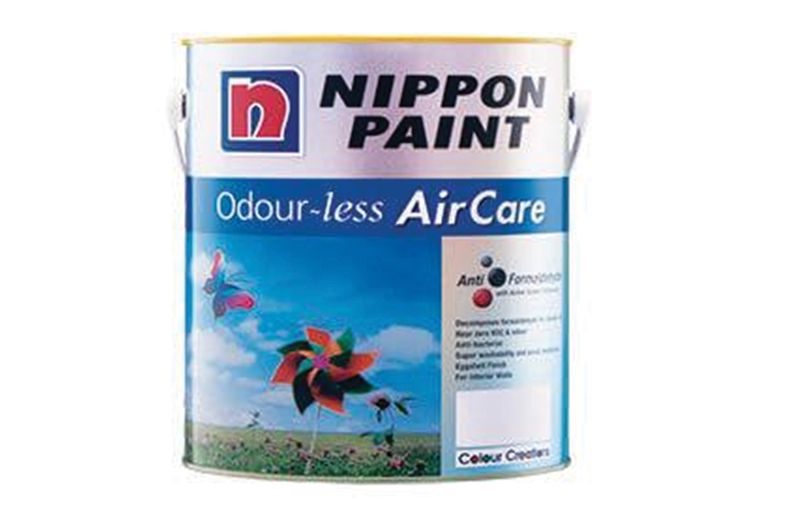 Nippon Paint launched its advanced range of Odour-less AirCare and WeatherbondAdvance paint with breakthrough technology in paint. The first of its kind environment-friendly paint by Nippon not only makes your wall beautiful, but also purifies the air and protects the house from all-weather conditions.
With the new launches, Nippon Paint leverages world-class technology and innovation to bring a wide array of interior and exterior wall paintswith superior features.
Odour-less Aircare
Nippon Odour-less AirCare is an anti-formaldehyde interior emulsion that helps create a safer and more hygienic indoor environment. This breakthrough product contains anti-formaldehyde with active carbon technology, which continuously absorbs harmful free formaldehyde from the air and converts it into water vapour – resulting in clean fresh air. Besides having ultra-low VOC and odour, this environmentally-friendly paint is anti-bacterial and possesses superior washability.
Nippon Odour-less AirCare Paint is ideal for people who are allergic to formaldehyde and paint odour. Thus, it also acts like an air freshener by releasing a mild fragrance weeks after painting. The paint is designed especially for eco-sensitive commercial building and residential areas such as hospitals, schools, hotels and homes.
Weatherbond Advance
Nippon Weatherbond Advance is an all-weather protection exterior paint which possesses a unique lamination technology with silicone, providing twice the toughness and durability resulting in supreme protection against harsh weather conditions. It provides excellent resistance to flaking, efflorescence and alkali. Weatherbond Advance paint has ultra-low VOC ensuring a safe environment.
These ranges of paints come with 10-year warranty and have Heat Ban Technology by which it reduces the temperature of the house by 5 C.
On the launch, S Mahesh Anand, President – Decorative Paint, Nippon Paint India commented, "With the positive response and demand forhealthy homes, our R&D team has come out with technologically advanced air-purifying paint and also introduced superior Weatherbond paint for exterior protection. We are happy to bring a change in the Indian homes with the launch of these two advanced products which are hi-tech, superior, innovative and eco-friendly."
2