Nitin Gadkari inaugurated and performed foundation stone laying ceremony of six projects in Goa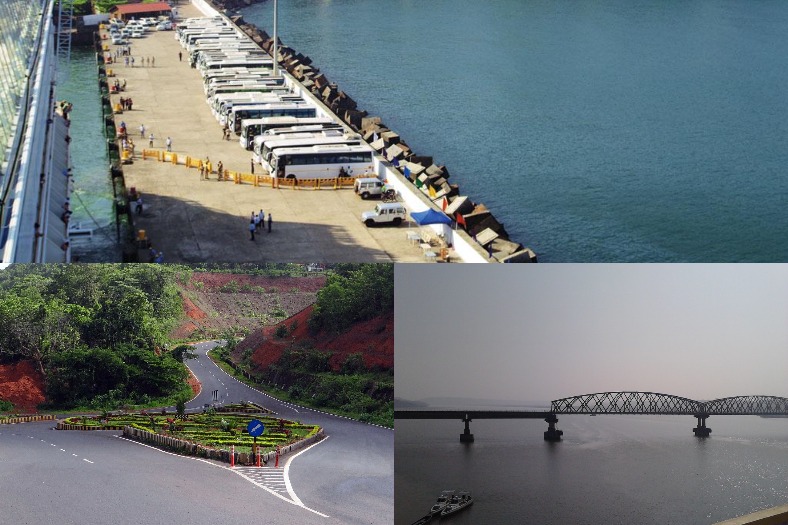 Green Hydrogen is future fuel and the Goa government should emphasize on its use: Gadkari appealed
Union Road transport and Highways Nitin Gadkari has expressed pleasure for getting an opportunity to be part of the development of Goa and make it a rich and prosperous state. He was speaking after inaugurating and performing foundation stone laying ceremony of six projects worth Rs 3,840 Cr in Goa. He expressed pleasure that the government had spent more than Rs 22,000 Cr on development of Goa when the demand from state was for Rs 15,000 Cr. He inaugurated and  performed fundation stone laying ceremony of projects like Rs 546 Cr connecting Port to Highway, Varnapuri to Sada Junction, Mate MPT Gate 1 Loop Road, Margaon West Bypass to decongest arterial roads of Margaon.
He said that the quality of work at all the projects in Goa is excellent. Speaking about  the Watch Towers on Zuari Bridge, today, he said, the bridge is an excellent example of use of modern technology. Nitin Gadkari also recalled former Goa Chief Minister Manohar Parrikar and his tireless efforts to give a modern look to Goa. Hon'ble Minister expressed his firm belief that by reducing air, water and noise pollution in Goa, Goa could be transformed into a world standerd  pollution free state. "Green hydrogen is the fuel of the future and we are constantly striving to promote its use," he said. He further said that efforts were being made to set up green hydrogen projects using electricity generated from solar and wind power projects.
Expressing satisfaction over the fact that all kinds of industries are coming up in Goa and good quality medical facilities are being created, Gadkari emphasised that high quality projects are the wealth of the nation.Chief Minister of Goa Dr. Pramod Sawant, Union Minister of State for Ports, Shipping and Waterways Shripad Yasho Naik, Rajya Sabha Member Vinay Tendulkar and many other dignitaries were present on the occasion.
Today Mr Gadkari inaugurated the following projects:
Four laning of Patradevi to Karaswada 18 km stretch of National Highway No 66.
Four laning of Karaswada to Bamboli 13 km stretch of National Highway No 66.
Loop 1 Road connecting Goa port.
Margaon West Bypass
Gadkari performed Bhoomipujan of following three projects:
Construction of National Highway No 1665 connecting Mopa Airport.
Construction of Watch Towers on Zuari River Bridge.
Six different road projects under Central Infrastructure Convenience Fund
13