Nitin Gadkari lays foundation stones of 9 NH projects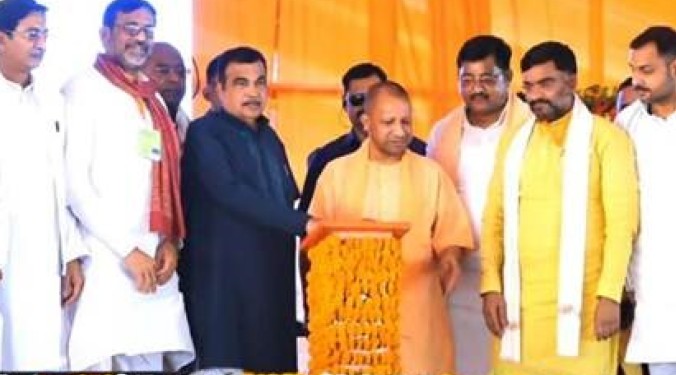 Union Minister for Road Transport and Highways Shri Nitin Gadkari inaugurated and laid foundation stones of 9 National Highway projects in Mahoba ,Uttar Pradesh with an investment of more than 3,500 crores in presence of Chief Minister Shri Yogi Adityanath and all MPs, MLAs and officers.
Shri Gadkari said Mahoba, the land of brave warriors, has a rich history. With the construction of Jhansi-Khajuraho road, the traffic will ease in Maihar-Singrauli-Ranchi industrial division and Jhansi-Orchha-Khajuraho and tourism of the state will get a boost.
He said with the construction of Kabrai section on the Madhya Pradesh-Uttar Pradesh border, the traffic in the Bhopal-Kanpur industrial division till Lucknow will be smooth saving time. The Minister said with the construction of road over bridge between Jhansi-Prayagraj, traffic in Bundelkhand region will be facilitated.
On the occasion of this program today, Shri Gadkari  announced 4 laning of 258 km Ramvangaman road in Chitrakoot, 15 km 4-lane bypass at a cost of 200 crores, 18 km 4-lane bypass in Mahoba and 15 km 4-lane bypass in Artara alongwith 4-laning of 70 km stretch from Prayagraj to Mirzapur (NH-76E) .
37