Office 543, a compact architectural marvel in Mohali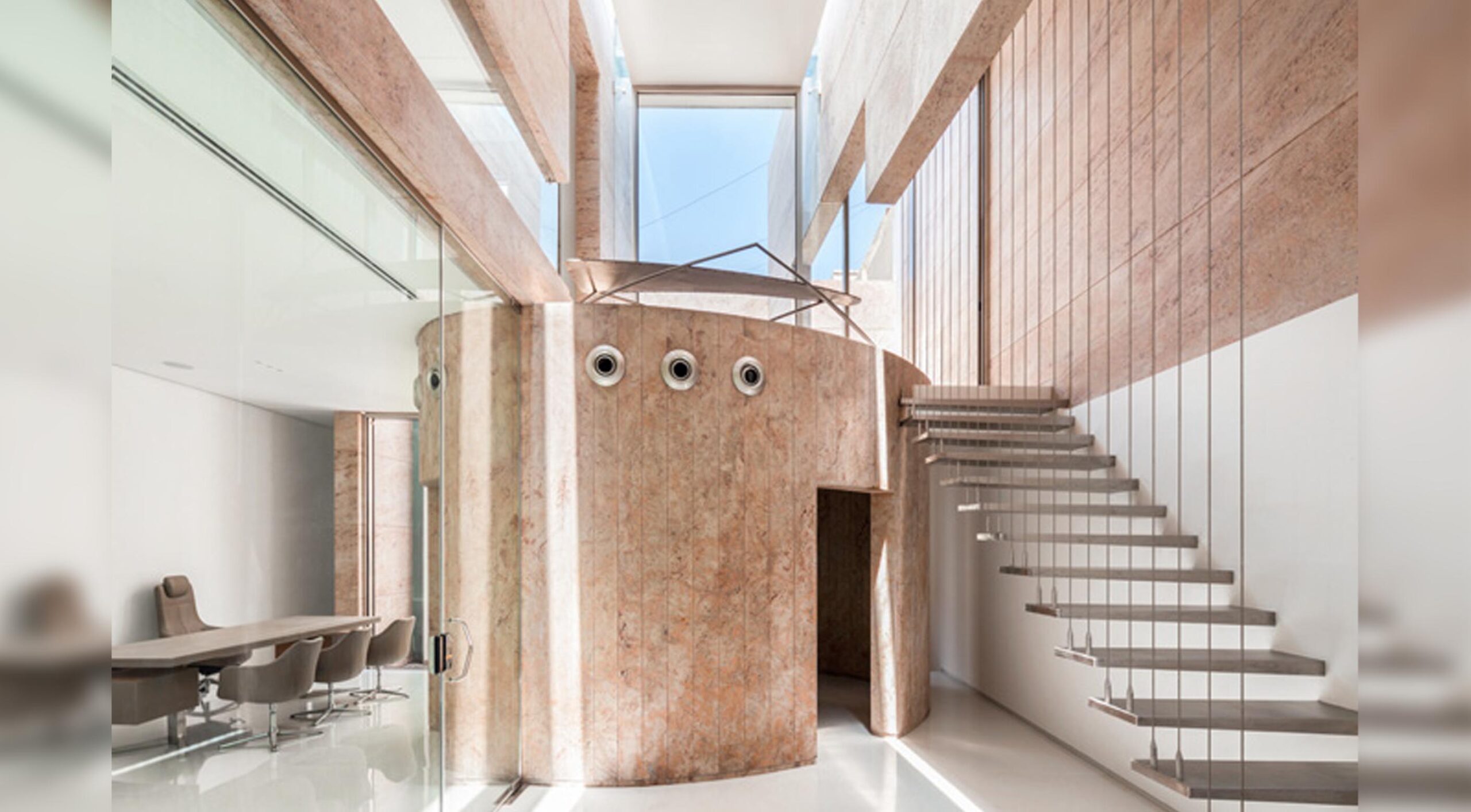 A Symphony of simplicity and functionality illuminating Mohali's urban landscape.
Nestled within the bustling commercial district of Mohali, Punjab, the ingenious design of Office 543 by Charged Voids emerges as a triumph of architectural brilliance on a tight 140-square-meter plot. Demonstrating a seamless fusion of the client's construction expertise and the studio's design philosophies, this compact office building embodies simplicity and functionality.
The building's structure, enclosed from two sides, is a closed box. However, the architects envisioned a space abundant in natural light and ventilation. They strategically incorporated courtyards and multiple skylights to achieve this, creating a sense of openness and a dynamic interplay between the interior and the bustling street outside. The façade, adorned with a soothing palette of white marble and Sivakasi gold granite, presents a calm yet characterful demeanour amidst the urban chaos.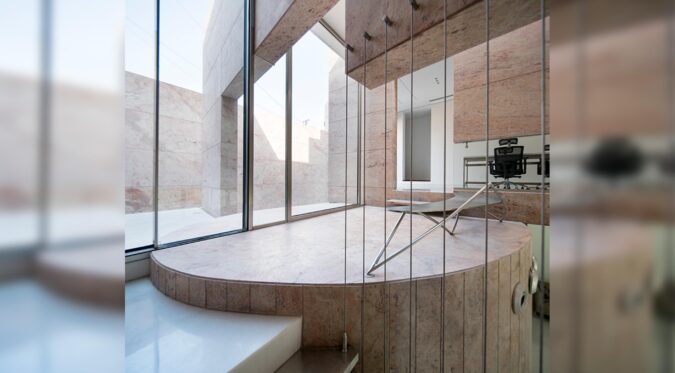 Upon crossing the threshold, an intelligently configured 'L'-shaped layout, facilitated by two intersecting walls, guides the flow of the space. The ground floor seamlessly hosts a reception area, the primary office zone, and a discreet private meeting room. Central to the design is an elegant, oval-shaped private meeting area, a testament to the architects' prowess in blending geometric precision with graceful forms.
Aesthetically pleasing and functional, a floating metal staircase within the atrium gracefully spirals to connect the ground floor to the first level. This upper floor houses a terrace, functional workspaces, and a designated office space for the accounts team. The roof of the oval meeting room spills out into a charming open area, providing a delightful retreat within the office premises.
Strategically placed openings between various rooms establish a symbiotic relationship with two enchanting courtyards adorned with small trees. These architectural choices ingeniously invite elements of nature, wind, light, and vegetation into the workspace, breaking the rigidity of the structure and introducing organic dynamism.
With an eye toward the future, the design allows for upper-floor expansion, accessible through a separate exterior staircase. The material palette, limited yet refined, comprises white marble and Sivakasi gold granite, fostering a sense of seamlessness between the exterior and interior spaces. The predominantly white-painted interior walls enhance this visual continuity, presenting Office 543 as a cohesive and visionary architectural marvel beacon of innovation and harmony in the heart of Mohali's bustling commercial landscape.
for more info visit : https://www.chargedvoids.in/
25