Our doors and windows are the perfect fit for your house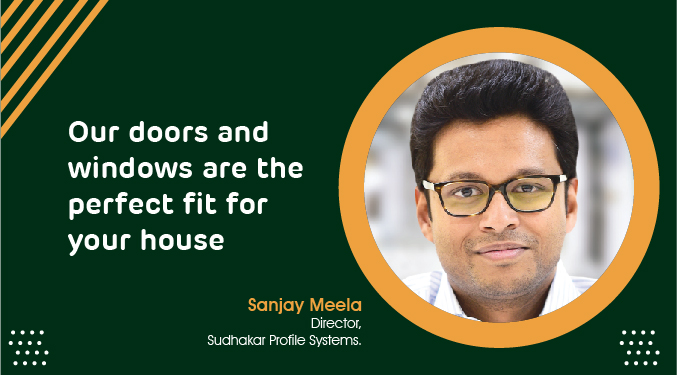 Sanjay Meela, Director, Sudhakar Profile Systems speaks on how their perfect and robust supply chain allows then to be anywhere in the world.
What are your key strengths and core values that have made you one of the premium brands for doors and windows?
Our biggest strength is our 50- year experience in the extrusion industry, as we have been manufacturing PVC materials since 1971. A perfect and robust supply
chain allows us to be anywhere in the world. We know every type of material, every compound on the market, and how to mould it into a finished product. The biggest concern is quality consciousness. We have systems where a product made three years ago is checked against the checklists inside the factory. As a result, we can get consistent quality over time. Moreover, we have had traceability for the last five to ten years since all the products can be taken to the social sector.
What are some essential factors to consider when choosing doors and windows?
The first thing we have to look at is where the window will be placed, which floor it is on, and what kind of area it is in, so you have to check which part of the country you are in. Ensure you have the proper drainage, calculate the wind loads in-house, and speak with your designer or architect to ensure that the window and door manufacturers meet the requirements.
How effective are foam sealants and self-adhesive tapes when it comes to waterproofing doors and windows?
We have to use sealants and adhesive tapes wherever necessary. The amount of sealant, the number of gaps, and where the tape should be applied are all very critical to having a waterproof PVC or aluminium window.
How does the Sudhakar Profile manage to maintain quality and deliver at scale?
We've been in this industry for 50 years, so we've learned from it, and you've grown. As a result of making these profiles over the past five years, we have built robust supply chain systems that allow us to deliver material quickly. We have good resource planning, we expand as the market requires, our forecasts are accurate, and we haven't missed any market updates.
15