Our innovative TWIN elevator system can save time and space considerably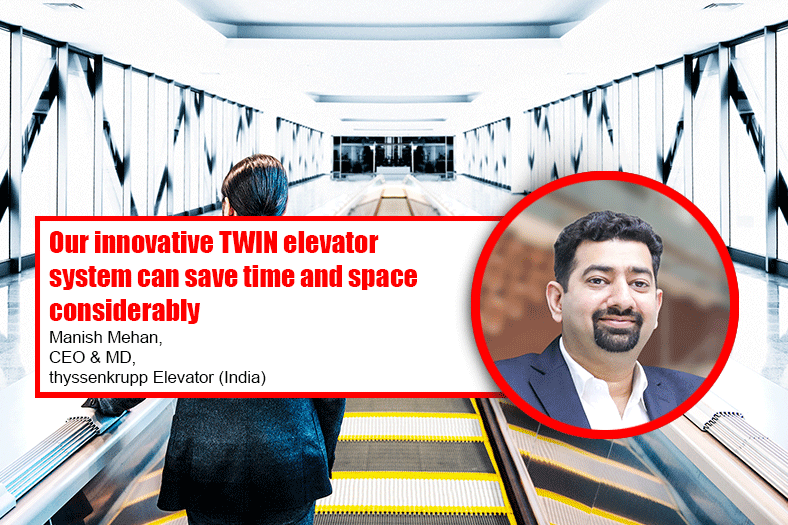 It is the only elevator system on the market that has two cars moving independently in one shaft and it can address a range of issues that owners, operators and occupants of tall buildings face daily says Manish Mehan, CEO & MD, thyssenkrupp Elevator (India).

When it comes to escalator and elevator solutions for commercial high-rises and residential high-rises, are they specific in nature or same, kindly elucidate?
When designing an elevator or escalator system for commercial or residential high-rise buildings, the same initial estimates can theoretically be applied to its usage and function. The building's function, the probable population and peak demand (either the up-peak, down-peak or lunch-peak) form the determining factors.
The following parameters need to be determined in sequence for the anticipated traffic flow, given the building's envisaged function:
• Population (number of employees and/or residents)
• Occupancy (presence/simultaneousness)
• Peak demand (indicative traffic flow peak)
At what stage of building a high-rise should the developer connect with the escalator and elevator specialists to ensure the best solutions are implemented?
The developer should connect with the escalator and elevator specialists right at the planning stage. While designing high-rise project, the following criterion should be examined, which should then be incorporated correctly into traffic flow models.
• Height of the building and its individual storeys
• Distribution of the population throughout the building
• Main entrance level(s) (points of entry and exit)
• Distribution of population over elevator groups (if the same destination can be reached using more than one group)
• Stair usage etc.
This allows the building's anticipated traffic flow to be established and a corresponding elevator configuration to be specified
What are some of the innovations you have implemented or suggest to ensure elevators and escalators remain disinfected and germ-free?
As the coronavirus is still active, it is important to ensure that elevators and escalators used by millions of people every day remain a safe and efficient method of transportation. Therefore, to make our every elevator and escalator a safe and secure place and reduce the risk of virus transmission, we have launched advanced elevator and escalator sanitizing solutions. Having said that, escalator handrail is one of the highest risk surfaces of all, as handrails are touched by every passenger young and old. To make handrails free from any pathogens and to prevent the disease transmission at all times, we have launched a high-intensity UV sanitizing unit.
These units automatically sanitize every inch of the handrail on every pass, to make it safe for everyone. Furthermore, as we strive to make every elevator a healthy and disease-free space, we have launched advanced air purification solution, LED thermal camera and Aerosol disinfectant solution.Our cabin air purifier has been designed with dual disinfection technology to sanitize and purify cabin air and walls. It's powerful wholly-enclosed UV photocatalyst and Germanic slow-released molecules can effectively eliminate over 99 per cent bacteria and other harmful pathogens from the air.Further, its biological recognition technology can successfully recognize whether there are passengers on board. It also ensures that the elevator is disinfected before every service to safeguard all passengers' health to the greatest extent.
One of our cabin wellness solutions is an unobtrusive infrared thermal camera, which monitors each passenger's body temperature as they enter the cabin. This triggers alerts that can also enable building management to track and notify passengers who may be unwell. Additionally, our aerosol disinfectant dispenser can be programmed to operate during working hours to sanitize the elevator cabin. By regularly delivering a safe antiviral and anti-bacterial spray, a clean and secure environment for passengers can be maintained at all times.Furthermore, to take our customer's safety and convenience to the next level amidst the Covid-19 scare, we have introduced multiple touch-free elevators calling solutions that enable users to operate elevators without touching any panels/ buttons.
We are offering the following solutions:
• Active IR, proximity sensor-based solution
• Bluetooth based solution, operated using smartphones
• QR code scanner-based solution, operated using smartphones
• IoT based solution (needs Wi-Fi internet)
• Voice recognition based solution
All these solutions are user friendly, cost-effective, easy to implement and requires minimal hardware.
In the backdrop of the ongoing pandemic, what is your take on the market dynamics of escalators and elevators?
The overall market impact of Covid-19 has been witnessed in the Q1 and Q2 of 2020 and it is anticipated to continue in the subsequent quarters of the year.However, it is currently not possible to accurately predict the degree of its impact and whether it will have any long-term impact on the elevator and escalator market or not. One of the positive indications is that the construction activities have resumed, so we are expecting the elevator demand to slowly pick-up during the last two quarters of 2020.
What are some of the products you are banking on in this critical period?
During the current pandemic period, our innovative TWIN elevator system, which is a unique and revolutionary technology can save time and space considerably. It is the only elevator system on the market that has two cars moving independently in one shaft and it can address a range of issues that owners, operators and occupants of tall buildings face daily. Because two cars operate independently in the same shaft, TWIN can take two passengers to two different floors simultaneously. To reduce travel time, TWIN utilizes the advantages of our intelligent passenger grouping system; known as destination-selection control (DSC) system. It minimizes travel time by reducing the number of stops each elevator makes. In addition to optimizing traffic flow, the DSC system makes elevator group operation more flexible and can be adapted according to occupants' requirements, including VIP or emergency call overrides for immediate access to an elevator. TWIN provides building owners with the choice of better traffic-handling capacity without increasing the footprint of the elevator core, or the same handling capacity as a conventional elevator system but with a smaller core. Furthermore, an unexpected design benefit of TWIN is the visual impact its panoramic car option can bring to a building exterior or atrium.Due to its highly efficient passengerhandling capacity and lesser wait time, TWIN can be the apt elevator solution during the Covid-19 pandemic.
10