Panasonic to partner smart cities in India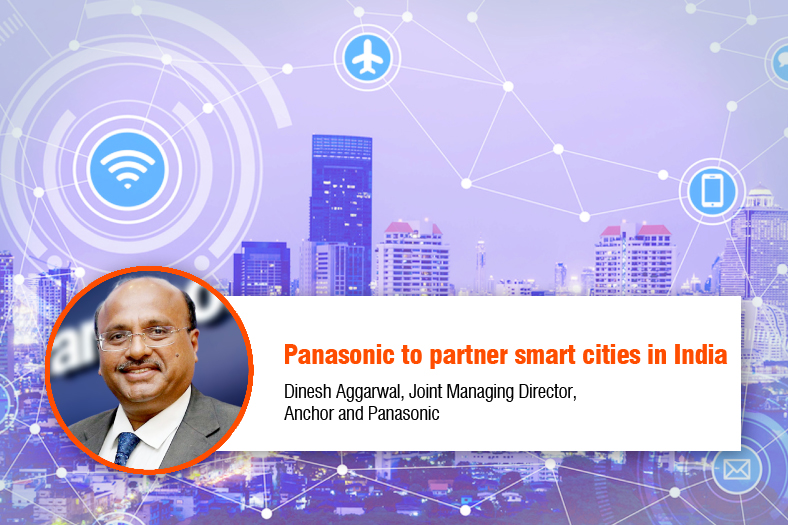 With an intense rebranding strategy in place to capitalise both brand loyalty of Anchor and Panasonic, Joint Managing Director Dinesh Aggarwal in an interaction with ACE Update, shares how the company is prepared to contribute to the smart cities and construction market in India.
How is Panasonic contributing to India's Smart City mission?
We are a member of Smart City Council. Having done business in Indore, Bhopal Amritsar, we have currently around five or six projects in progress. However, no smart cities are being planned together from the ground up, it is all happening in bits and pieces. One city may have surveillance, the other will have LED street lighting while another will be solar powered. So, what we're looking forward to is having green field streetlight smart cities, announced at the Delhi-Mumbai Industrial Corridor, where we are expecting notable Japanese financing to happen.
Which of your solutions will go into the smart cities?
Ranging from solar storage, energy storage, surveillance, centralised command centre, electric vehicles and electric vehicle chargers, there are lots of solutions that are available to the Indian market. If the government goes a step further and decides on the specification of houses, in terms of their energy usage, then again, many of our products can go in. All other appliances that our group company makes, consume less electricity thereby suitable for smart city.
How far do you think is India matured to adopt your energy management solutions?
It's a question of awareness. There has been an increase in awareness about monitoring energy consumption. This requirement comes from both the utility and the consumer side. The commercial spaces are absolutely ready with energy management systems in place. We too are working to come up with systems that are cost-friendly. As far as the utilities are concerned, they will be basically adoptsmart meters, or convert the existing electronic meters to smart meters. From there, they can monitor the energy consumption and the pattern of consumption during day and night. Every state government has started doing their work on smart metering, which is why we also have started venturing into the same.
What are the products you offer to construction sector?
In construction, our strongest area is homes; with our switches, wires, fan and all the electrical fittings find the maximum market. Similarly, we do cater the office requirements too with all these products. However, what we're not trying to do is increase our product basket.
We do offer LED lighting and energy management solutions to offices and automation and security devices like video door phones to the homes. Though we want to expand our presence in each segment, industrial is not something that we are looking into right now. But, in the future we plan to! Similarly, in infrastructure construction, we supply our basic products, but we will add more products which can go into airports and all the transportation facilities.
What are the major challenges in India to sell clean air indoor products?
Consciousness about the quality of air is not so strong right now. So, when we design an office, the general concern essentially is about the temperature being maintained, instead of the amount of air changes required to maintain the right level of inorganic compounds. Consciousness about air quality is gradually coming in, especially with MNCs. With more companies and consultants coming from abroad, awareness should expand.
A lot of investment in the commercial space is happening not only by the Indian companies, but also by the foreign companies like Blackstone, an American company, a private equity company. When such foreign investment starts pouring and create infrastructure in India, the demand for air quality would also go up considerably. That's why, we are into selling the basic products like ceiling fans and ventilation fans. But we do have excellent products for ventilation with energy recovery and also built-in proper air purification. We have started our work, in terms of sensing air temperature, humidity and air quality with a belief that India would be emerging as a smart country pretty soon.
Considering the pollution levels, especially in cities like Delhi; do you think government also should take some measures or mandates on it?
Yes, the government is trying to do what it can. The government has a strong intention on EV. Two years ago, the government announced that will make it 100 per cent EV by 2022, which is not realistic. What the government needs to do is incentivise the purchase of EV. My belief is that first the government will support the public mode of transport. The buses, to start with, will start getting converted into electric buses as they are the most polluting ones. Then, I think the government will start encouraging, parallelly, the commercial passenger cars, either by giving some kind of incentive on the taxation such as road taxes or subsidising the manufacturing, which will lead to higher adoption of EV. Apart from that, the government is becoming stronger on industrial pollution control. All our factories are 100 per cent compliant and we have seen that the local authorities are very strict about it, which is really commendable.
How do you see the market for solar rooftop solutions in India?
The solar market will continue grow, as there is an increasing acceptance, especially in the industrial segment and commercial segment, having rooftop captive generation. Earlier, the Indian market or the solar market depended too much on the subsidies from the government; which is not the case right now. People have realised that by investing in a solar plant on my rooftop they can get a payback in about five to six years which is indeed a very good investment to make because after five to six years, they will get free electricity. So with that realisation, I believe that we will continue investing in solar.
Walk us through how rebranding from Anchor to Panasonic happened?
The rebranding is only of the company, so in terms of product brands, we continue to use the Panasonic and Anchor as our brands. To explain more about the structure of Panasonic; earlier it was Panasonic Electric Works and Panasonic Corporations; all then amalgamated into one company in 2012. Post that Panasonic globally had four verticals; not listed companies but were virtual ones within Panasonic Company.
Our parent company was ES Company or Eco Solutions Company where we had home appliances, automotive and industrial systems and connected network systems. From this year, the ES Company has changed its name to Panasonic Life Solutions Limited. So we thought it's a good opportunity to change our name as well to be in line with our parent company. This has been pending since a long time. In the initial years after acquisition, we intentionally did not change the name of the company from Anchor to Panasonic because there were a lot of things that needed to be set right; in terms of various compliances, the legalities involving what internal standard product quality should be considered for systems and so on.
Presently, we have three facilities in Daman, one factory in Gujarat and two factories in Haridwar. The installed capacity is around 70 per cent.
What kind of investment do you have presently in India for Panasonic?
In terms of the capital investment, I think Anchor, perhaps, is the biggest currently. Post-acquisition, my estimate is, every year, we have invested at least ₹200 crore on capital so as to prioritise quality improvement. So we invested a lot in terms of moulding and tooling. We invested in our injection moulding and compression moulding machines and then we invested into their expansion. So, we set up a new Greenfield factory in Daman first and then we set up a new factory in Haridwar.
Every year, on an average, we invested ₹200 to 250 crore which means if you see the last 12 years, we have invested maybe ₹2,500 to 3,000 crores. So this is as far as Anchor's investments are concerned without including the brand investment; we have invested a lot into branding as well.
Apartment from these, Panasonic has multiple entities in India. Panasonic Batteries in Vadodara, Panasonic Carbon in Chennai and Panasonic Appliances. So these have been in existence for a long time, and each of these has their own capital investment, maybe in the range of ₹300 to 400 crores. One of the biggest investments i.e. ₹600 to 700 crore for Panasonic was the set-up of the factory in Gurugram in 2013. There we manufacture refrigerators, washing machine, robotic arms and welding robotic arms. Maruti is one of our biggest customers and of course other Japanese companies too.
All other appliances that our group company makes, consume less electricity thereby suitable for smart city.
Dinesh Aggarwal, Joint Managing Director, Anchor and Panasonic
20