Pidilite industries and KSU launches pioneering PWP center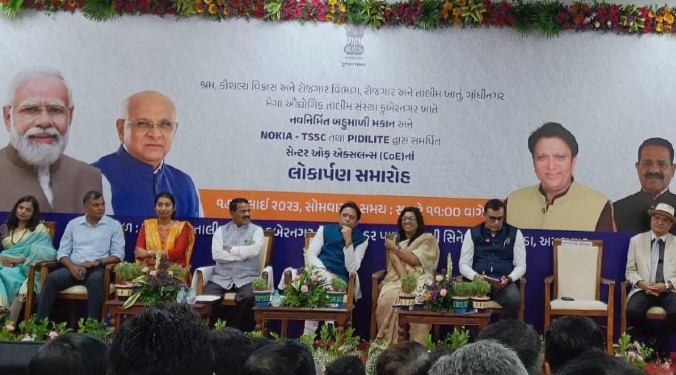 Pidilite and KSU launch pioneering PWP center for advanced woodworking and plumbing Skills
Pidilite Industries Ltd., a renowned manufacturer of construction, specialty chemicals, and art and craft products, has joined forces with Kaushalya the Skill University (KSU), Govt. of Gujarat, to introduce the Pidilite Woodworking and Plumbing Centre for Advanced Skills (PWP). Recently inaugurated by Hon'ble Minister Shri. Balvantsinh Rajput, Industries, Micro, Small and Medium Industries, Cottage, Khadi and Rural Industries, Civil Aviation, Labour, Skill Development and Employment, Govt. of Gujarat, this facility stands as a pioneering hub for advanced woodworking and plumbing skills in India.
Addressing the escalating demand for skilled professionals in these domains, the center is equipped with state-of-the-art machinery such as CNC Machines, Band Saw, Cold Press, and more. It offers customised degree, diploma, and certificate courses tailored for both beginners and experienced practitioners. Notably, PWP emphasises Trainers Training, research, and support for skill competitions, setting a new benchmark for skill development within the country.
Dr. Pankaj Shukla, Senior Vice President – CSR & Special Projects, Pidilite Industries, commented on this collaboration, expressing that Pidilite Woodworking and Plumbing Centre for Advanced Skills (PWP) represents a remarkable milestone showcasing Pidilite's steadfast commitment to bridging the gap between foundational training and advanced skills. He emphasised that the collaboration is not merely about skill development but also about empowering the workforce with the necessary tools to excel in today's rapidly evolving industries. PWP, with its state-of-the-art facilities and innovative courses, is set to redefine skill enhancement, enabling individuals to thrive and contribute effectively to the dynamic demands of the industry.
One of the prominent courses offered, the Furniture Design and Manufacturing Course affiliated with KSU, has already garnered significant interest, attracting a considerable number of students. The course provides a balanced 20:80 mix of theory and hands-on training at the Kubernagar ITI campus in Ahmedabad. The innovative approach and top-notch facilities at PWP have earned praise from notable figures such as Dr. Lawrence Pratchett, CEO of the Australian School of Global Studies, and industry leaders, underscoring its crucial role in bridging the gap between fundamental education and advanced expertise.
The collaboration between Pidilite and KSU signifies a substantial stride towards empowering the woodworking and plumbing sectors with highly skilled professionals, ready to meet the evolving demands of the industry effectively.
for more info visit : https://pidilite.com/
80