PM inaugurates ₹6,100 crore infrastructure projects in Warangal, Telangana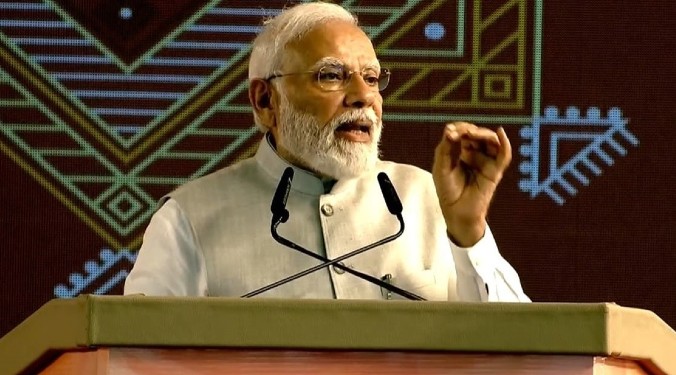 The Prime Minister, Shri Narendra Modi laid the foundation stone for several crucial infrastructure development projects in Telangana worth around ₹ 6,100 crores in Warangal, Telangana.
The development works include 176 km long National Highway Projects worth over ₹ 5,550 crores and a Railway Manufacturing Unit in Kazipet to be developed at a cost of over  ₹ 500 crores. The Prime Minister also performed darshan and pooja at Bhadrakali Temple.
Addressing the gathering, the Prime Minister remarked that even though Telangana is a relatively new state and has completed only 9 years of its existence, the contributions of Telangana and its people have been very significant in the history of India. "The capabilities of Telugu people have always enhanced the capabilities of India", he says. The Prime Minister highlighted the significant role of the citizens of Telangana in making India the 5th largest economy in the world and expressed confidence in the growth in opportunities as the world looks towards India as an investment destination. "There is a lot of anticipation for Viksit Bharat", he adds.
"The new youthful India of today is brimming with energy", the Prime Minister said as he acknowledged the advent of a golden period in the third decade of the 21st century and urged everyone to make full use of this period. Stressing that no part of India should be left behind in terms of fast-paced development, the Prime Minister highlighted the emphasis on improving Telangana's infrastructure and connectivity in the last 9 years. He congratulated the people of Telangana for the projects of today that are worth more than 6,000 crores.
The Prime Minister stressed the need to find new ways to achieve new goals as he pointed out that fast-paced development in India is impossible with obsolete infrastructure. Noting that poor connectivity and expensive logistic costs hinder the progress of businesses, the Prime Minister highlighted the multifold increase in the speed and scale of development by the Government. He gave examples of highways, expressways, economic corridors and industrial corridors which are creating a network and said the two-lane and four-lane highways are being converted to four and six-lane highways respectively. The Prime Minister informed that the highway network of Telangana has seen a two-fold rise from 2500 km to 5000 km.
The Prime Minister emphasised that the increased connectivity in Telangana is directly benefiting the industry and tourism of the state as traveling to heritage centers and places of faith in Telangana is now becoming more convenient. He also mentioned the agricultural industry and the granite industry of Karimnagar and said that the efforts of the Government are directly assisting them. "Be it farmers or laborers, students or professionals, everyone is getting benefited. The youth are also getting new employment and self-employment opportunities near their homes", he adds.
43