PM to inaugurate Veer Savarkar international airport's new terminal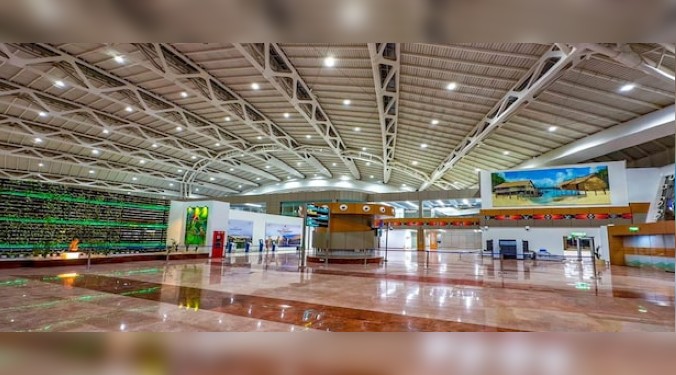 Prime Minister Shri Narendra Modi will inaugurate the New Integrated Terminal Building of Veer Savarkar International Airport, Port Blair video conferencing.
Enhancing connectivity infrastructure has been a major focus of the government. The inauguration of the New Integrated Terminal Building, built at a cost of around ₹ 710 crore, will play a key role in boosting connectivity of the island UT. With a total built up area of around 40,800 sqm., the new terminal building will be capable of handling about 50 lakh passengers annually. An Apron suitable for two Boeing-767-400 and two Airbus-321 types of aircraft has also been constructed at Port Blair Airport at a cost of ₹80 Crore, making the airport now suitable for parking of ten aircrafts at a time.
Inspired from nature, the architectural design of the airport terminal resembles a shell shaped structure depicting sea and islands. The new airport terminal building has a number of sustainability features like Double Insulated Roofing System to reduce heat gain, skylights to provide maximum inlet of abundant natural sunlight during day time to reduce artificial light usage inside the building, LED lighting, low heat gain glazing.
Rainwater catchment in an underground water tank, on-site sewage treatment plant with 100 percent of treated wastewater reused for landscaping and a 500 KW capacity solar power plant are some other features of the terminal building ensuring minimal negative impact on the islands' environment.
As a gateway to the pristine islands of the Andaman and Nicobar, Port Blair is a popular destination for tourists. The spacious New Integrated Terminal Building will boost air traffic and help enhance tourism in the region. It will also help create enhanced employment opportunities for the local community and give fillip to the economy of the region.
16