Polavaram project sets Guinness record in concrete usage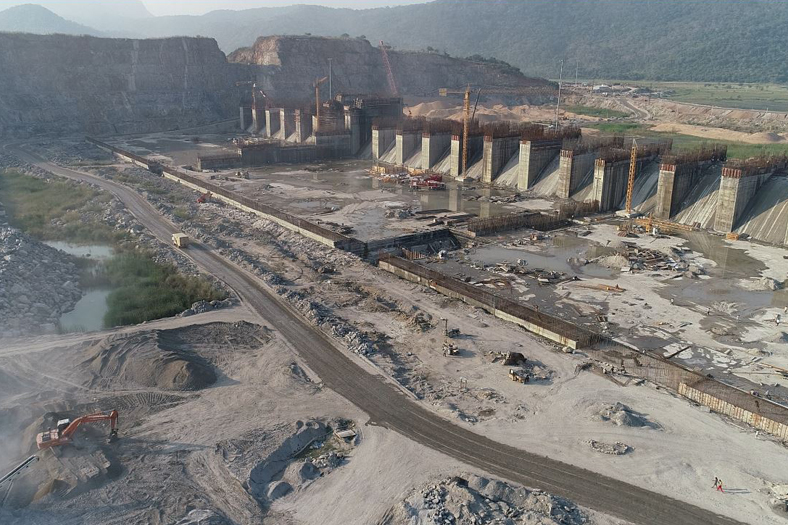 Navayuga Engineering Company Limited (NECL) one of the dominant players in the engineering and core infrastructure, which is currently building the world's largest flood discharge capacity dam at Polavaram in Andhra Pradesh, is set to create two world records at the site. The flagship entity of the Rs 250 billion Navayuga Group will create world records – Most concrete poured in 24 hours and largest continuous concrete pour.
The company will attempt for these records in the New Year, starting at 08.00 am on January 6th 2019 till next day 08:00 am completing 24 hours. Unparalleled planning and engineering skills are needed to realise a task of such mammoth proportions. Nationally accredited – Polavaram Irrigation Project will witness 20 agitator trucks delivering concrete from 10 batching plants and 90 transit mixers will be engaged in this incredible engineering feat.
The attempt will be witnessed by an official adjudicator from Guinness World Record in the presence of Chief Minister of Andhra Pradesh, N. Chandrababu Naidu.
Commenting on this attempt Sridhar Chinta, Managing Director, Navayuga Engineering Company Limited said "It is an extremely proud moment for Navayuga to be a part of such an iconic and landmark project in terms of its scale, expanse and impact on livelihood. Taking up the challenge of building this mega project is a perfect showcase of NEC's superior and world-class engineering capabilities. Working tirelessly round the clock to achieve an epoch-making feat in just 24hrs is a true testament to the hard work, dedication and sincerity of every member of the Navayuga family. This is a significant step towards achieving the real victory, delivering a half-century old dream of the people of Andhra Pradesh, the Polavaram Project, before the start of the next monsoon season. This is indeed a very proud moment not just for NEC, but also for the state of Andhra Pradesh and Nation."
As India's major infrastructure company, NEC (Navayuga Engineering Company) has many achievement many to its credit with iconic projects accelerating India's transformation. These engineering marvels include India's longest river bridge Dhola-Sadiya, Dibang-Lohit River Management System, the longest highway tunnel project, Quazigund to Banihal, largest port on the east coast of India – Krishnapatnam Port and many more.
The Polavaram Project is a mega infrastructure landmark with a total of 48 gates, each of height 20 m and a width of 16 m and spanning a total of 1,119 m. It requires pouring of 36.7 lakh cubic meters of concrete, 50,000 tonnes of steel and 9,30,000 tonnes of cement, all in record time to complete the project. The project would irrigate a total of 42 lakh acres ayacut in two phases and influence the supply of water to all 13 districts of Andhra Pradesh.
12