Polybond insulation: providing thermal comfort and fire safety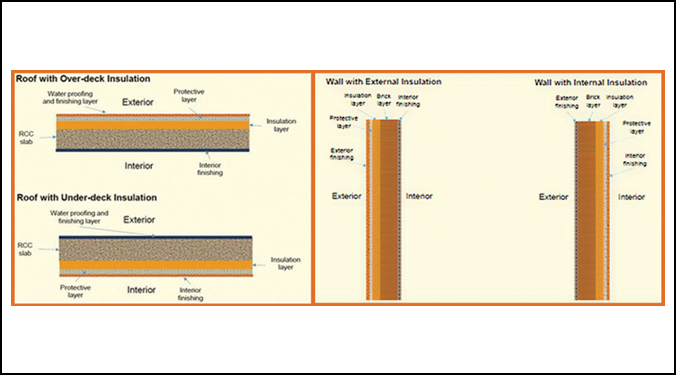 With continuous efforts for fire safety and sustainability building design and their compliances requirement especially for high rise and green buildings, revised new building code has become essential in several western countries.
For high energy efficiency, the building envelope must be well insulated and air tight to reduce heat gain or loss problematic to energy consumption of a building and its occupant for thermal comfort.
Design preventing fire threats
The recent statistic shows that more people die from smoke than burning directly in fire. Most insulation panels are polymer based when burn toxic gases releases, results in killing living being and allow spreading of fire. Nowadays, architect and consultant are fully aware of advanced safety and ensure compliances early in design stage. This is because the building envelope thermal performance is directly related to the material selection and sizing during design stage for green building and fire safety requirement. Existing buildings have used polymer based insulation material, which is not sufficient for new safety requirement. This is required to ensure permanent health and safety of building occupant.
Why mineral wool insulation
Mineral wool boards or slabs insulations are fire proof, fire retardant material with low lambda value ? (µL); insulation capacity of product designed for thermal performance. It requires finishing of wall with safety, durability and longevity. This high performance mineral wool insulation offers improved fire resistances capabilities when compared to standard EPS insulation system. Apart from these, it has acoustic property, non-reactive, odourless, recyclable value, low VOC and does not encourage growth of bacteria, mould or fungi. The additional benefit other than safety is exposures to sun will not deteriorate the product, hence very long life; elevated temperature will not melt up to 1000C, non-flammable, no gas generated and dependable fire barrier for not spreading the fire.
Application
Mineral (rock) wool insulation boards or slabs are used in both external and internal wall system. These slabs are used by fixing and plugging with H type (aluminium or steel) section. The mineral insulation boards or slabs are not suitable for taking direct load. Slabs are fixed with mostly H type or square pipe frame with plastic mesh or wire mesh to cover exposed surface, further application of mortar on surface to give a protective cover (2 to 3 thin coatings mortar) and may cover internal wall by lamination sheet or coat. It can be used according to the desire size, by cutting and fixing. In ceiling lower density of 48 kg per cu.m mineral wool slab is used. This can also be applied in existing external surface of a wall and thus can be very valuable retrofit solution on existing buildings.
Availability of mineral (Rock) wool slab
Mineral wool slabs are available from 25 – 100mm thickness, density varying 48 kg per cu.m to 150 kg per cu.m and size W/L 500 x 1000 mm.
Authored by_
Er. Umesh Chitalangia, Chairman,
Polybond Insulation Pvt Ltd
Email: pa2dir.polybond@gmail.com
For more information, contact
Praveen Mishra: +91- 9589850525
Er. Vineet Giri: +91- 7024138211
Email – polybond.sales@gmail.com
9