Promise, passion, and tech paved our path to success.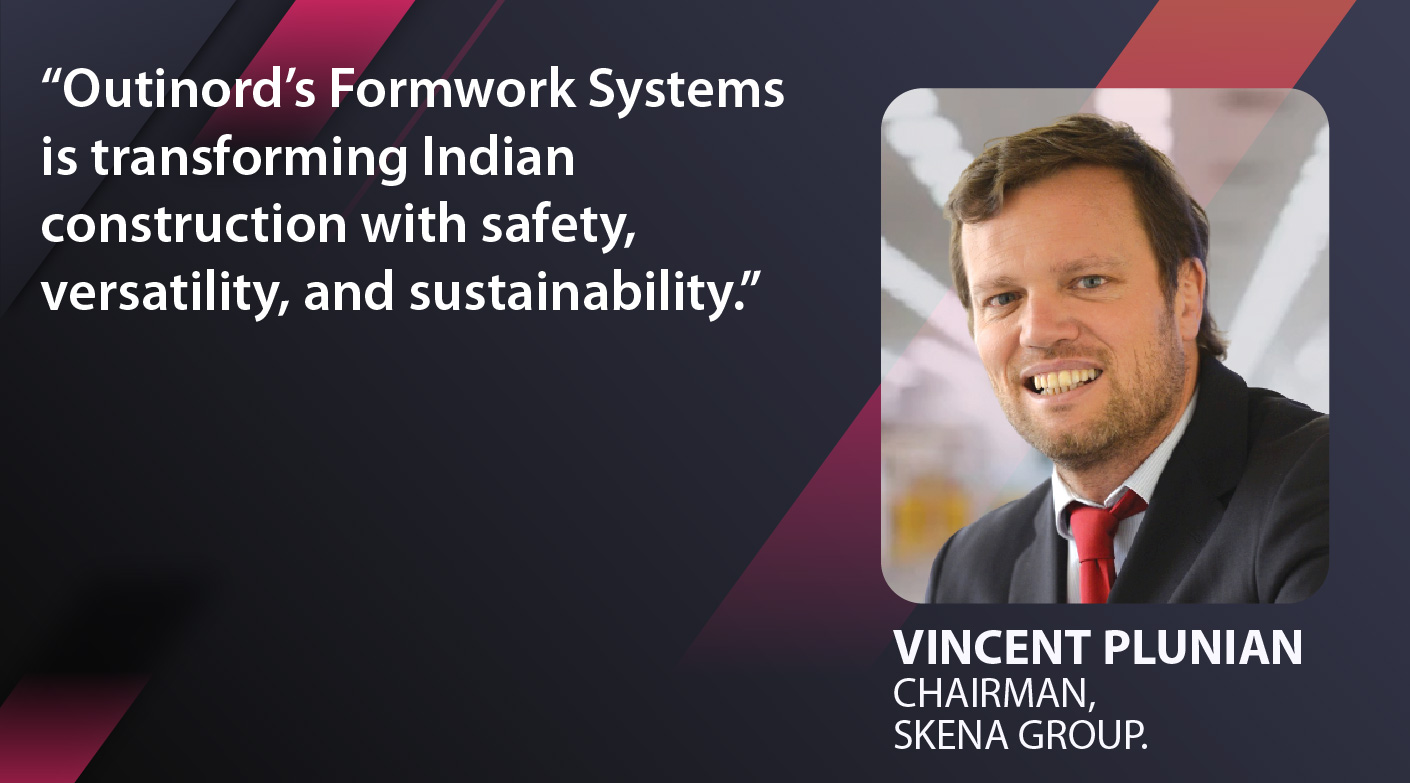 Vincent Plunian, Chairman of Skena Group, speaks about formwork systems and sustainable formwork solutions.
What specific formwork systems does Outinord offer in India, and how do they cater to the unique needs of different construction projects?
Outinord commenced its manufacturing operations in India in July 2018. We provide a wide range of products for various segments, including residential, infrastructure, and bridges. Our offerings include tunnel forms, which enable the casting of one floor per day, wall forms for infrastructural and commercial projects, and column forms for constructing bridges and other structures. Additionally, we offer circular forms, safety platforms, and more.

Could you please provide examples of high-rise projects where Outinord's formwork solutions have been successfully implemented?
One notable example of our implementation of Tunnel Form Technology is the project undertaken for Shangrila Infracon in Kismathpur, Hyderabad. This project encompassed an area of 6.4 acres, featuring 37 floors and 5 blocks, with a total of 366 units. Additionally, it incorporated a four-level car parking structure consisting of 1 cellar and 3 podium parking levels.  We have done several high rise building all over the world Hawaii USA 53 floor, Hongkong 38 floor Indonesia 38 floors.

Could you explain Outinord's approach to sustainability in formwork solutions, such as eco-friendly materials or energy- efficient practices?
Outinord's products utilise high- carbon steel as the material of choice, allowing our systems to be used Guaranteed 500 times and most of the customer have used more than 2000 times as it is modular. Even after the product's lifecycle, it can be recycled, reducing the construction industry's reliance on wood as the primary formwork material. This approach contributes to a more sustainable construction industry.
The Indian construction market and future prospects for formwork systems in India. We want to inform you that Skena Group has a high- profile product catering to the Indian Infrastructure Market. We take pride in manufacturing these products in India and supplying them for your valuable projects, ensuring faster and more efficient completion.
Looking forward to the development in India, we see significant potential in the construction industry, including commercial projects and bridges. We take this opportunity and pride in being associated with the projects, as together, we can achieve the highest success.

How does Outinord prioritise safety in their formwork systems, and what certifications or accreditations do they possess to ensure it?

Outinord places the utmost importance on safety in their formwork systems. They are dedicated to providing a secure working platform that incorporates all the necessary components to ensure operator safety. The systems are equipped with advanced features that allow adaptation to even the most complex configurations.
Furthermore, Outinord takes great pride in its certifications and accreditations. They hold the IMS certification, which includes compliance with ISO 9001:2015 for quality management, ISO 14001:2015 for environmental management, and ISO 45001:2018 for occupational health and safety. These certifications demonstrate Outinord's commitment to upholding the highest standards across all operations.
Additionally, the Outinord Formwork Systems are renowned for their versatility and seamless integration with diverse structures, providing adaptability and convenience to their customers. We give service for method statement and also sales support to make sure we achieve desire results.
for more info visit : https://outinord.net/
7