Putzmeister and Sany delight customers with concrete solutions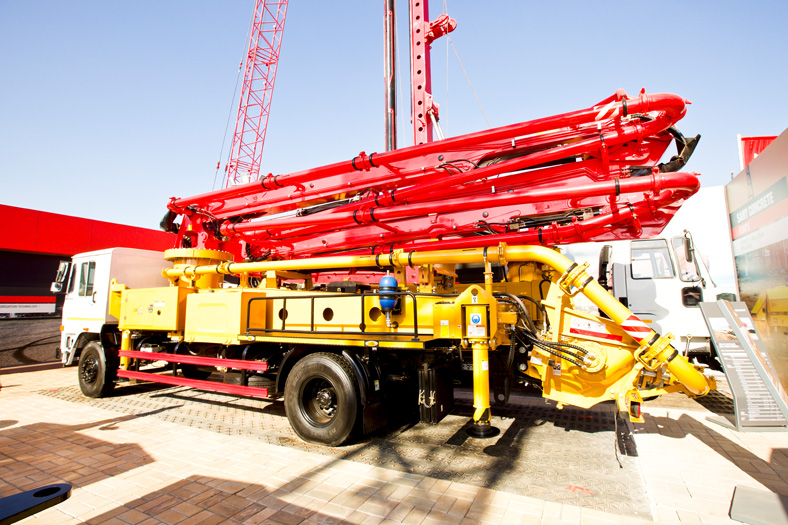 Putzmeister and Sany concrete solutions delighted customers and visitors at Excon 2019 with an expanded product range, live demo and the iconic Elephant Nights. The companies recently announced that the concrete sales and service teams were being brought together to offer customers an expanded and complimentary range of products, a wider service and spares network and one face for both brands. This was the first major event where customers got to witness this in action. The move was well received by everyone.
Product launches
Three new products were introduced to customers at the stall.
Batching Plant MT 0.35: With an output capacity of 20 m3/hr, this Putzmeister/Sany Batching Plant will cater a customer segment not addressed by either brand in the past. Designed and produced at the Putzmeister factory in Goa, the compact plant brings the answer to current and future customer requirements.
The Putzmeister/Sany batching portfolio offers our customers the best features and specifications. Customers now have a wide range of mixing options with output capacities of 20 m3/hr, 30 m3/hr, 60 m3/hr, 90 m3/hr and 120 m3/hr.
Sany SYG5180THB300C-8: Sany expanded its Truck Mounted Concrete Pump product range with the introduction of SYG5180THB300C-8. This is the only 4 arm boom pumps in India offering a reach of 30 meters on a 2-axle truck.
Putzmeister BSF 47 – 5: Putzmeister introduced a new 47 m state of the art Truck Mounted Boom Pump – BSF 47 – 5 including the latest tech features Putzmeister has to offer. The 47-5 is the biggest on the road in India and requires only a 4-axle truck.
Live mechanised plastering demos
Putzmeister conducted live demo to showcase the benefits of mechanisation in plastering. Customers were able to see sand-cement and gypsum plastering being done with the Putzmeister MP 25 and in the traditional method side by side real time. The demo successfully established that mechanisation is the way forward for the industry.
Advanced fleet management with Putzmeister machine cockpit
Putzmeister has rolled out advanced fleet management capabilities with Putzmeister Machine Cockpit to its range of concrete pumps. Customers were given a live demo of its various features including real time information on the status of pumps at the jobsite, critical status alerts, remote diagnosis capability to identify faults and implement appropriate measures, key figures for delivery rate, machine use and fuel consumption, alerts when machines are on the move and reminders for maintenance.
Gulf PM premium grease
Putzmeister introduced the new Gulf PM premium grease. Developed in partnership with Gulf Oil, this exclusively co-branded blue grease will help power Putzmeister Automatic Greasing Systems in its range of concrete pumps.
Elephant Nights
And of course, we hosted the Elephant Nights like we do at every major event. Local artists and DJs from Bengaluru entertained customers with energetic performances and foot thumping music.
33