Qanto plug-and-play corner solution by Hafele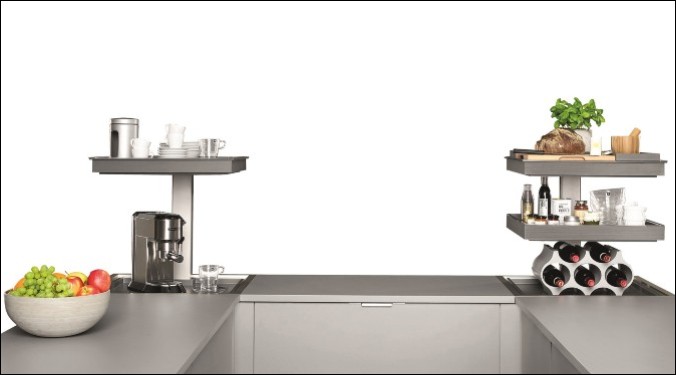 Requirements regarding kitchens have changed enormously in recent years. Exacting design standards are now every bit as important as outstanding functionality. It is precisely due to these customer requirements that Häfele's plug-and-play corner solution – Qanto hits the mark.
This new pre-assembled corner solution comes with two versatile trays that can be extracted and retracted vertically by a linear drive, at the press of a button. Just one press on the integrated switch is all it takes for the Qanto trays to rise up. Reaching stored items in the kitchen has never been as easy.
The top tray that seals the gap when fully retracted can be fitted with a wooden board or can accommodate a "little urban garden" for fresh herbs. The tray below it offers further organisational space and storage for electrical appliances, perhaps, or for wine and spices. The trays are crafted from high-quality, easy to clean ABS with a polished crystal glass finish and are completely illuminated by LED light fixtures integrated beneath the top tray.
Utilising unreachable space in the corner to its optimum effect, Qanto proves to be an intelligent corner solution which combines maximum operating comfort, generous work surfaces, well organised storage space, ergonomic qualities and the highest technical and design standards into a perfect symbiosis.
Website: https://www.hafeleindia.com/en/
58