Quality flooring and ceiling design add to the essence of good interiors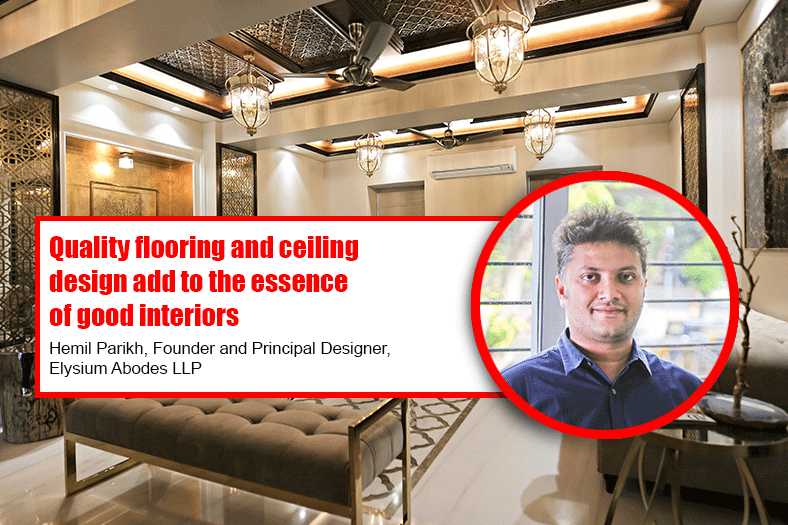 A well-designed space invokes the desired dose of aesthetics and functionality with the right choice of materials and the same is true for floor and ceiling design says Hemil Parikh, Founder and Principal Designer, Elysium Abodes LLP.
The popular options for flooring
When we talk about the types of flooring available in India, most Indian homeowners generally contemplate opting for either marble or tiles. However, one must bear in mind that there is a multitude of flooring options that are available out there and can make you spoilt-for-choice. While some of them are common, others are lesser-known. Each of these flooring options on offer has its own virtues in terms of aesthetics, price value, sturdiness, and other aspects. Some of the popular flooring options along with the good-old marble and vitrified tiles are hardwood, vinyl, granite, bamboo, brick, terrazzo, concrete, laminate, and linoleum flooring.
Use of traditional flooring
A flooring option that has been well chosen will do wonders in uplifting and dramatically altering the look and feel of your personal spaces. Contemporarily with the endless flooring options that are making rounds in the market, consumers
often find it challenging to make a definite choice owing to the gamut of styles on offer. Today we are clearly discovering flooring options like never before. While the usage and dependability on the likes of old-style flooring like marble, mosaic, cement, bricks, and red oxide have not declined, other options are being accepted in the present times with great fervor. Yet traditional flooring manages to up the ante due to their durability, accessibility, pricing, ease-of application, customizable, aesthetically pleasing, and functionality.
Floors and durability
For domestic purposes like homes, most of the flooring surfaces can sustain the usual load and stresses. For instance, natural stones and marbles are certainly stronger as compared to tiles but are likely to get stained and will call for some maintenance. Tiles are relatively maintenance free, but what is important is the bedding, mortar and the surface below the flooring which is
very important. It's necessary to check the condition of the slab and undertake localized or complete repair treatments before receiving the flooring. This will ensure a sound surface and ensure the longevity of the flooring. In case of extremely heavy loads, industrial flooring solutions like epoxy and polyurethane based flooring systems are available today. In fact, these flooring systems are trending for a seamless and monolithic look. These are self levelling liquid systems which are designed for the movement of heavy machinery, fork lifts, etc.
Today due to the growing popularity of natural stones, there are sealers that are available with various brands which impregnate into the surface and make them non-porous thereby making them stain free and more durable.
Advantages of laminate flooring
Laminate flooring has been gradually gaining acceptance in India for its pure durability and strength. Being extremely easy-to-install, these floorings are legitimately resilient to stains and water damage. The variety in the range of patterns and textures makes it an excellent option for numerous decor styles in Indian homes. Being composed of composite wood being pressed together at high temperatures is what makes laminate floors extremely hard-wearing to wear and tear than outmoded wood panels. For instance, it can resist scratches and moisture. That makes this the ultimate and suitable option for the average kitchen or bathroom, though out-of-date wood floors are susceptible to inflammation and cracking in these conditions. Another advantage of making use of laminate texture is that it is easier to clean than traditional wood floors. Being totally inexpensive these floorings are much cheaper than engineered wood floors as well as wood planks and comes with a condensed installation cost.
Best flooring options for Indian homes
Quality flooring is essential to enhance the look of any space and forms the base of the design and métier of the space. Flooring also requires to look aesthetic and at the same time also serve its purpose. While their needs vary based on the kind of space i.e. hospitality, hospitals, and residential purpose, it is imperative to take into consideration the climatic conditions of the region to ensure that the flooring is appropriate and will last for a longer duration in those conditions. Below mentioned are five of the most apposite flooring materials for the humid Indian regions like Mumbai, Bengaluru, Hyderabad, and so on:
Bricks: These are exceptional options to lend an inventive and earthy look. Having the capability to be laid in diverse patterns based on the kind of look that you desire. Charges fluctuate depending on the superiority and shade of the bricks. These are natural, robust, long-lasting, combustible, and have the capability to absorb humidity. However, being very heavy, these require a lot of effort to be placed and are most suitable for ground floor residential spaces.
Granite: This type of flooring is very prevalent and one of the most extensively utilized materials for flooring in our country. Owing to the fact that it is a natural stone, it comes in natural designs and hues and looks exceptionally superior. It is typically more vibrant than marbles. Available in stunning shades like white, pink, and grey, these are a popular choice because of their long-standing nature.
Marble: A very popular type of flooring commonly used in Indian homes, marble aids in keeping the room temperature cool and its light reflective property make it look deluxe, vibrant, and shiny. Marble, due to its properties is usually expensive. Like other stones, it is also susceptible to yellowing and cracks over a period of time. It tends to be quite slippery and should be utilized keeping in mind the activity level and the age group of people making use of it.
The importance of the fifth wall in interior design
While you consider decorating your personal spaces never neglect the fifth wall also known as the ceiling. An indispensable part of any room, the ceiling is debatably just as vital as its floor-up equivalents. If you forget about the ceiling while doing up your home, you are surely missing out on a major prospect to generate a more exclusive space. Although painting a ceiling is really no big deal, if you grow out of love with the shade, you can simply consider repainting it. If you are still hesitant to take the ceiling color plunge, you can opt for the half-and-half approach — a combination of fifty percent wall paint to fifty percent white or off-white shade to the ceiling. Never go too subtle for the ceiling shade, because then the ceiling won't appear white and it will fail to precisely bear a resemblance to the walls. Always remember to transform a ceiling and your space will surely follow.
Evolution of ceilings over the years
Today the domain of ceiling design has evolved leaps and bounds. Gone are the days when our homes would only feature the typical traditional ceilings which are typically finished flat with the surface just like the walls. In the past, it was only the floorings and walls that would take the precedence in home décor, but today with the evolved designs available in ceilings, these have become an integral part of home interiors. In contemporary times, the concept of false ceiling which an instance of up-to-date construction and architecture in both housing and commercial applications is gradually catching pace. Some of the advanced ceiling patterns and varieties are gypsum ceiling, those composed of POP, fibre coated ceilings, wooden and glass ceiling and metal, synthetic leather, or cloth ceiling. Tensile fabric (stretch ceilings) is one of the newer mediums in the ceiling systems. It preserves the dynamic look and lightweight feel of a stretch fabric ceiling along with the added benefit of safe performance and good life-expectancy.
Advantages of using a vaulted ceiling
Vaulted ceilings are advantageous in their capability to generate an airy feel in the space and make it truly look and feel more noteworthy than it physically is. Here are some of the pluses of having on board a vaulted ceiling in your personal spaces:
Appearance: This type of ceiling lends a room with a splendid feeling when you walk in. The central high point of the ceiling, along with the slanted roofline, can bestow the room a ski lodge-like ambiance. A vaulted ceiling accompanied by huge windows has an ability to get in the outdoors, particularly if you have stunning scenery outside.
Rustic Appeal: To lend a rural charm, you can consider covering vaulted ceilings planks in your preferred natural wood. Owing to their high arrangement, the ceiling will be the foremost place your eye will go to. Vaulted ceilings composed in a natural wood material lend it a countryside design.
Facilitates in exiting hot air: During times when the hot air increases, so vaulted ceilings help in emitting surplus hot air in a room.
Increased Natural Light in homes: One of the most indispensable features of a vaulted ceiling is to upsurge the natural light flow into your rooms. With manifold windows and doors, more light is enabled to pass through. Exposed beams help in adding character: Ceiling beams still continue to be very much in vogue. Vaulted ceilings help in exposing, enhancing, and highlight the beams, which adds character and allure to space.
Promotes open space: These ceilings lend the effect of open space. Even though the augmented space exists above, a vaulted ceiling seems to add square footage.
A sustainable alternative: When created appropriately, a vaulted ceiling facilitates saving up on a lot of energy and money, thus becoming a green and sustainable option.
Role of a false ceiling
The false ceiling design helps in adding a whole lot of oomph to your abodes and facilitates to decide the complete decor of the space. But the real question is whether a false ceiling is only utilized to upsurge the visual value of the home or does it have a functional and useful role to play too? In case your home features exposed structural beams that tend to run alongside the roof slab, the setting up of a false ceiling is an exceptional way to conceal the beams and lend the ceiling a seamless look. The beams are typically associated with the internal walls of the house, but in case the homeowner has moved the location of the internal walls, then the structural beams might appear in odd positions and may look out of place and a false ceiling might fail to serve the purpose. In this situation, a concealed conduit electrical wiring system is a predominant choice in domestic premises as they are visually pleasing. They are the most commonly utilized house electrical wiring system as it defends the wires from external damage and upsurges their longevity.
Most importantly it lends a helping hand in enhancing out-of-place structural beams. False ceilings facilitate indirect lighting in which case the visibility of fixtures can be eliminated but you still have a source of light just flowing naturally and creating the drama in a space.
Tips for beautiful ceilings
While designing your homes, when you consider painting walls in neutral or lighter hues, you can add wallpaper to a ceiling to make it look visually pleasing. Various decorative methods produce a multitude of results like for instance embellishing a ceiling can mask or highlight certain facts and can generate depth and interest in a mundane space. In order to lend the desired statement to a ceiling, you can consider creating a pristine mirror-like finish on ceilings with the help of a spray-on lacquer. Though the lacquer is slightly expensive and semi-permanent, it will surely replicate light stunningly all throughout the space.
In order to lend a more subtle look, you can try making use of a white or neutral wallpaper with an elevated pattern to generate fascinating shadows and depth through its texture. Similarly, wallpaper with a small reiterating print on a white background, or a background that equals the wall shade, can cover issues such as minor cracks and jagged and uneven surfaces, too, while adding a zen-like appeal to space. To correct bumpy ceilings or clumsily shaped spaces, you can make use of similar color paint as the walls or the matching wallpaper.
19