Ramco cements employee wins 2 bronze medals in Uganda Para-Badminton 2023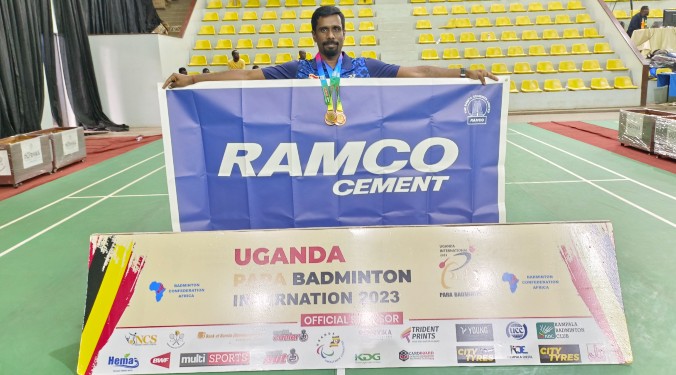 Dinesh Rajaiah, an employee at The Ramco Cements Limited has won 2 Bronze medals, in Men's Singles SL3 category and Men's Doubles SL3-SL4 category.
With the doubles bronze medal, the doubles pair of Dinesh Rajaiah and Premkumar Ezhil moves up 5 places to take 10th rank in the BWF Para- Badminton World ranking.
The championship was organised by the Badminton World Federation (BWF), Badminton Confederation Africa, and Uganda Badminton Association at Kampala, Uganda from July 3, 2023, to July 9, 2023. 212 players from 25 countries participated in the Uganda Para-Badminton International 2023. The Uganda Para-Badminton is one of the qualifying tournaments for the Paris Paralympics 2024.
Team India dominated the tournament by winning 42 medals including 13 Gold, 12 Silver and 17 Bronze in all categories. Tamil Sangam in Uganda also felicitated the medal winners – Dr. Venkata Krishnan, Chairman, and Dr. Mohamed Rafi, General Secretary of Tamil Sangam were there to felicitate the medal winners.
Earlier this year, Dinesh and Prem entered the quarterfinal in Spain Para- Badminton International 2023 held in the month of February. Dinesh started his journey in 2017 when he participated in Ramco Cements' inter-unit Badminton tournament. "When I started, I never thought I will represent the country in international tournaments. It's been an incredible journey so far and I thank Ramco Cements for the encouragement and support" says Dinesh.
The next Paralympics is going to be held in France in 2024. The qualifying rounds for this began in January 2023. Ramco Cements wishes Dinesh and the Indian contingent all success in the 2024 Paralympics.
for more info visit : https://www.ramcocements.in/
27