Sany India makes their equipment with a sustainability focus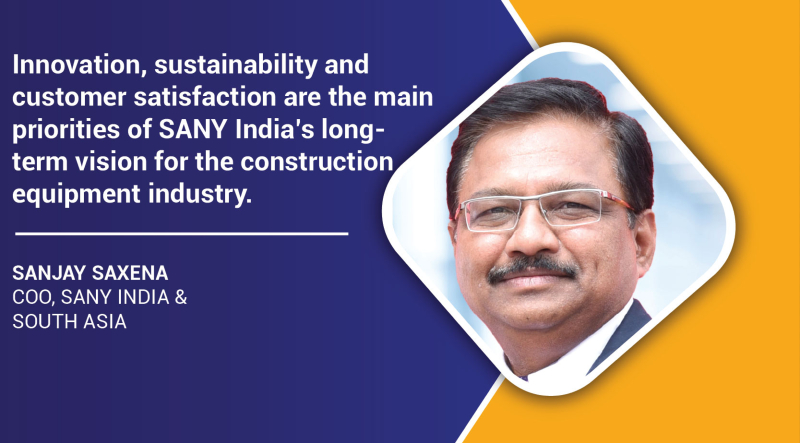 Sanjay Saxena, COO of Sany India & South Asia, talks about SANY India's long-term vision and strategic approach to driving growth in the construction equipment industry and their innovative solutions.

Can you elaborate on your long-term vision and strategic approach to fostering growth within the construction equipment industry?
We are dedicated to innovation and technology, working to create advanced and smart construction equipment that improves work efficiency and safety. Sustainability is a key concern. By eliminating waste and embracing ecologically friendly, equipment is manufactured with a focus on sustainability. Our priority is to understand and satisfy the specific needs of our customers, demonstrating our commitment to their fulfilment. We firmly believe in collaboration and growth, focusing on teamwork and cooperation with partners worldwide to provide the best practices and innovations to the Indian construction equipment industry. These foundational pillars underpin our strategic approach, paving the way for sustainable development and long-term success.
How does your range of solutions address the challenges associated with project development within the construction industry?
SANY India is committed to transforming the construction sector by providing a wide range of cutting-edge solutions that successfully meet the challenges posed by project development. Our machinery and equipment are designed to maximise efficiency, boost productivity, and improve overall project timelines.
Our state-of-the-art construction equipment, such as excavators, cranes, mining, port and piling rigs, is designed for optimum performance and durability. These machines significantly expedite project schedules, ensuring on-time completion and lower project expenses. Our dedication to cutting-edge technology and ongoing research enables us to stay ahead in providing industry-leading solutions.
Moreover, our solutions focus on sustainability and environmental responsibility. We integrate eco-friendly features and energy-efficient technologies into our equipment, reducing the overall carbon footprint of construction projects. This aligns with the industry's growing emphasis on sustainable practices and meeting environmental regulations.
As part of our customer-centric strategy, we provide tailored solutions to address the unique needs of various projects. Our skilled team collaborates closely with clients, offering consultation to optimise equipment selection and project execution strategies. This personalised approach improves project efficiency and guarantees successful project completion.
What are the current obstacles and opportunities within the construction equipment sector, and how do you intend to tackle them?
We know that the construction equipment sector is undergoing a dynamic transformation with challenges and opportunities. The economic uncertainty and demand fluctuations brought on by many global and domestic factors are a significant barrier. Also, it is difficult to adapt our products and operations to comply with regulatory changes and compliance standards. We are focusing on improving our agility and diversifying our product portfolio to address evolving market demands to overcome these challenges. We aim to design and manufacture efficient, cost-effective, environmentally friendly construction equipment via rigorous research and development.
Infrastructure projects, growing urbanisation and an emphasis on sustainable development create opportunities. We intend to exploit these opportunities by applying our technological expertise to provide innovative and sustainable solutions. Industry-wide collaborations and partnerships will be crucial in driving growth and market penetration. Furthermore, we are committed to providing comprehensive after-sales services and investing in skill development. Our objective is to remain at the forefront of the industry while embracing opportunities to benefit our customers and overcoming challenges with strategic preparation.

For more info: https://www.sany.in/
9