Sauerland Spanplatte showcases sustainable door solutions at the LIGNA fair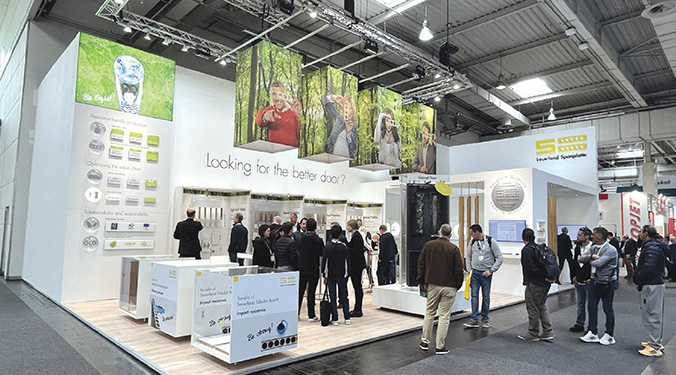 Sauerland Spanplatte made a notable appearance at the LIGNA Fair in Hanover, Germany, marking its return after a four-year hiatus.
The company took the opportunity to unveil new developments to the international audience, capturing visitors' attention from 47 countries, including numerous door manufacturers from India.
Among the highlights of their showcase were several groundbreaking advancements:
New composite tube core for lightweight moulded skin doors: Sauerland Spanplatte introduced an innovative composite tube core for doors, providing a lightweight solution without compromising strength. These doors offer high impact resistance and low burning rates, ensuring safety while minimising noise transmission. Furthermore, they comply with the low formaldehyde emission standard (E0.5), contributing to improved indoor air quality.
Wood-based solutions for acoustic doors
Sauerland Spanplatte presented new wood-based solutions for acoustic doors, catering to diverse requirements. These solutions, available in thicknesses as low as 35 mm, boast an impressive acoustic rating of 39 dB+—providing effective sound insulation and creating a quieter environment.
60-minute Fire Rated Door construction with glazing options: Sauerland Spanplatte showcased its expertise in fire-rated doors by introducing a construction capable of withstanding fire for up to 60 minutes. These doors also incorporate glazing options, offering both safety and aesthetic appeal.
The company's commitment to sustainability and environmental stewardship was evident throughout its display. Sauerland Spanplatte emphasised its philosophy of providing strong, lightweight doors with reduced environmental impact. Their products prioritise resource efficiency, emission control, and environmentally friendly production processes, significantly contributing to a greener earth.
Readers interested in learning more about these innovative solutions for the door industry can reach out to sleekboards@gmail.com for further details.
Sauerland Spanplatte's participation at the LIGNA Fair reaffirmed their dedication to sustainable door solutions, earning recognition and interest from industry professionals worldwide.
for more info visit : https://www.sauerland-spanplatte.de/
16