Schwing Stetter expands GoGreen campaign with Tamil Nadu plantation drive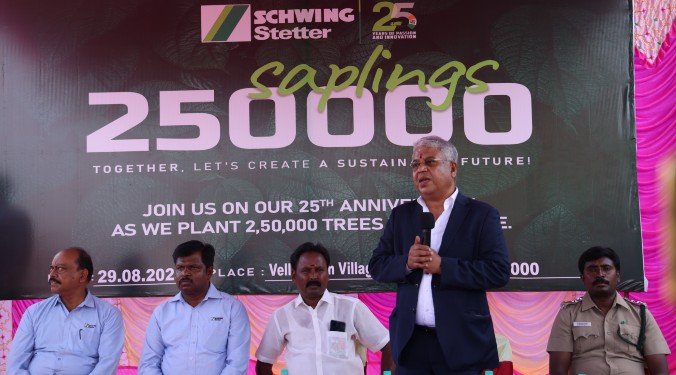 Schwing Stetter India, one of the country's leading construction and concreting equipment manufacturer, recently seeded 10,000+ saplings as a part of its #GoGreenwithSchwing – 25th anniversary celebrations campaign in Cheyyar, Tamil Nadu.
The initiative's goal is to plant 2,50,000 trees globally by 2023 to boost climate resilience and enhance sustainability. The #GoGreenwithSchwing initiative at the Cheyyar facility was commenced by V.G Sakthikumar, Chairman and Managing Director of Schwing Stetter India. The Guests of Honour, M. Mohan Kumar, Forest Ranger – Cheyyar and Suresh Babu, Sub Inspector – Dusi, planted the initial saplings, marking the launch of the plantation drive at Cheyyar, along with V.G Sakthikumar.
With #GoGreenwithSchwing, the company wants to promote reforestation and reduce the carbon footprint by involving multiple stakeholders, including employees, customers, business partners, and dealers. At Cheyyar, the Schwing Stetter team will plant an additional 15,000+ trees by this year.
Speaking on the occasion, V.G Sakthikumar, Chairman & Managing Director of Schwing Stetter India, "Our aim is to help address climate change by restoration of trees. Of the committed 2,50,000+ trees, we have planted almost 100,000+ saplings across India. It's important to reverse the current trends of rising greenhouse gas emissions and achieve carbon neutrality. At Schwing Stetter, all of us are committed to this initiative, and I am happy to see the involvement of all the employees and the benefitted communities across India.
Furthermore, Schwing Stetter India has also collaborated with Builders Association of India (BAI) and planted tree saplings in Kochi this month towards the #GoGreenwithSchwing campaign.
for more info visit : https://www.schwingstetterindia.com/
31