Singaperumal koil overpass set for December launch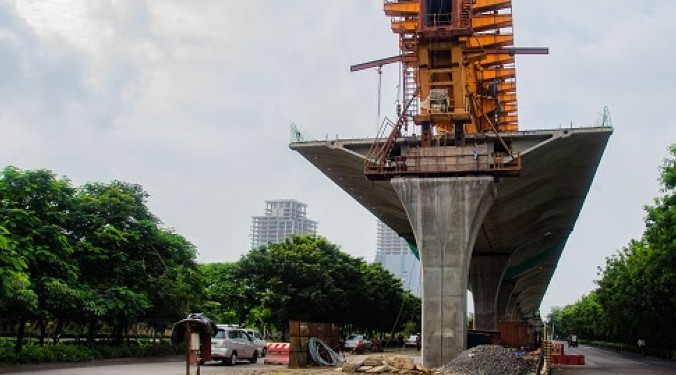 The much-awaited overpass in Singaperumal Koil which connects from Guduvancheri-Singapperumal Koil is finally scheduled on track to be inaugurated this December.
The project which has been in development for the past few years was mainly established to benefit commuters and motorists who travel from Padappai and Oragadam and further to ease the hectic traffic that keeps travelers stuck for hours near the SingaperumalKoil Railway Crossing junction.
The foundation for the flyover work was laid in 2021 at a proposed cost of ₹ 90.74 crore where the project was also planned to integrate with the Chennai Peripheral Ring Road connecting the extreme ends of trade points, Mamallapuram and Ennore Port in its future phases.
The onset of the overpass bridge is projected to launch a massive infrastructural development on both sides of the Oragaddam road, which was restricted earlier to only one side. The development will include the establishment of new educational institutions, healthcare facilities, IT and logistic parks, and entertainment avenues. Residential development is also set to capitalise on this development and further increase the price of the land and appreciation rate.
Vacant land parcels, plotted developments and other land properties are also currently being sold at a rapid pace due to its reasonable price at the current market rate and future scope of increased land appreciation. Numerous real developers have already started developing organised secured plotted communities in this region due to the presence of large parcels of unutilized land.
Nearby Developments
The upcoming location amidst all these developments is witnessing additional real estate progress such as the construction of the grade separator on the Vandalur-Walajabad Road which is directly to Singaperumal Koil at an estimated cost of ₹ 26.64 crore.
Additionally, the recent road widening project of the 13.5 km-long Guduvanchery-Chettipunyam stretch on the Grand Southern Trunk (GST) Road worth ₹ 209 crore has already set in motion major infrastructural developments in the vicinity where the broadening of the four lanes has already curbed vehicular congestion significantly.
Singaperumal Koil
Situated strategically between Chennai and Chengalpattu, Singaperumal Koil is recognised as the third auto-rail hub for automobile loading in the Chennai Division. The Singaperumal Koil Railway Station actively participates in transporting essential automobile components to various parts of the country, thus establishing the area as a significant transport center.
This location boasts a cluster of industrial giants such as Force, Mahindra, Renault-Nissan, BMW, and Lear, and major IT companies like Zoho, Capgemini, Wipro, and Infosys, among others. Their presence contributes significantly to the region by creating roughly 50,000 employment opportunities.
With substantial stretches of vacant land available, Singaperumal Koil has emerged as a promising hub for real estate development. This has attracted the attention of numerous builders and real estate developers who aim to create standardised community societies capable of accommodating the growing population expected to settle in the area in the upcoming years.
28