Skora's brand value by 2025 is pegged at RS 50 crore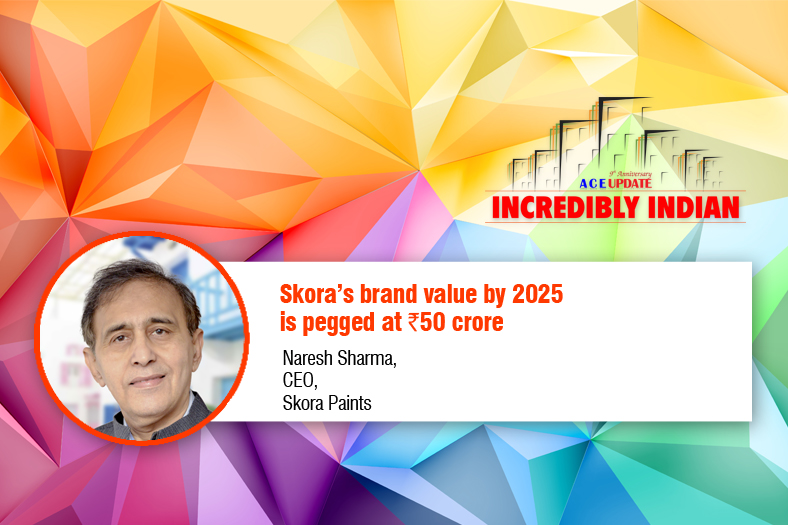 Skora Paints is in the industry for the long haul and wants to grow as a niche player.

Indian Paints industry is having big expectations from Skora, a vast range of smart paints powered by the Smart Paintz Quantz technology. Naresh Sharma, CEO, Skora Paints, in this interview talks about range of issues and is quite confident about Skora making a mark in the industry and is targeting `50 crore brand value by 2025.
What is your take on Indian Paint Industry's evolution over the past few years?
The paint industry has undergone a massive change and it has transformed from consumer durables to consumer product. If we talk about per capita consumption of paint; it is 20 kg in US compared to 4 kg in India, so there is a huge scope for growth. I have never seen a drop for demand in paint in India and despite current economic slowdown, it is performing quite well. The `50,000 crore paint industry is growing at 12 per cent per year and is set to touch ` 1,00,000 crore by 2026.
Could you talk us about the new trends in the industry?
For 50 years or so, there used to be only three categories of paint – enamel, distemper and cement paint. But, over the past 20 years, emulsions and acrylics have changed the dynamics of the paint industry. Also, technology has played a huge role and emulsions have brought in many advantages such as it is leak proof, heat resistant, dust or dirt resistant and so forth. The industry is moving towards premiumisation and paint companies are having margins of 14 per cent today as compared to six per cent earlier.
What kind of new technology is Skora Paints using?
With Skora, we bring to the forefront a revolutionary offering – our state-of-the-art Smart Quartz paint. This Smart Quartz paint technology has been developed by us through rigorous research and development that finally resulted in a coating system that possesses a unique set of attributes like no other in the industry.
Our Smart Quartz paint also extends to the shades that have been formulated to be our smart colours. Owing to our Smart Quartz paint technology these Smart colours reflect harmful IR radiation from the sun. IR radiation absorption causes surfaces to heat up which, in case of painted surfaces, causes paint to crack, flake and eventually chip off the surface. Our Smart Quartz paint technology prevents this by reflecting IR rays keeping the substrate cool, preventing cracking. Our Smart Quartz paint technology thus, also prevents UV radiation from causing the smart colours to fade as UV rays penetrate paint coatings through cracks in the surface. With the substrate kept cool and safe from cracking, UV radiation too cannot harm the paint quality over time.
It's time for the paint to become smart as well. Skora is that smart Quartz paint. It's the Smart Quartz paint that the smart new world deserves – one that offers more than just beautiful structures, exceptional protection and long lasting colour. A Smart Quartz paint technology that cares about delivering quality coatings that last a lifetime.
What sets your company apart from the competition?
We have made a conscious effort to stay away from the crowd and planning to grow as a niche player. Unlike white container of paints, we have red packaging for exteriors, white for ancillaries and purple for interiors. We are also using direct marketing methods to reach out to customers.
What is Skora Paints' price range?
Skora is able to provide same paint for same price as our competitor and that too with a longer guarantee period. It is due to not having distributors, contractors and dealers and with that company is saving on dealer and contractor margins.
How is Skora planning to grow as a niche player?
We want to build a customer friendly service and want to earn their trust. Skora is the first company to provide finishing consultants to meet customer demand and that will also help us in referral system.
What are your expansion plans?
My franchise plan for 2020 is ready and Skora will have 30 franchises across 30 cities besides we want them on board as equity partners. As one of the leading niche players, Skora's brand value by 2025 is pegged at `50 crore.
Naresh Sharma, CEO, Skora Paints
9