Sleek Boards brings Emporio skin to India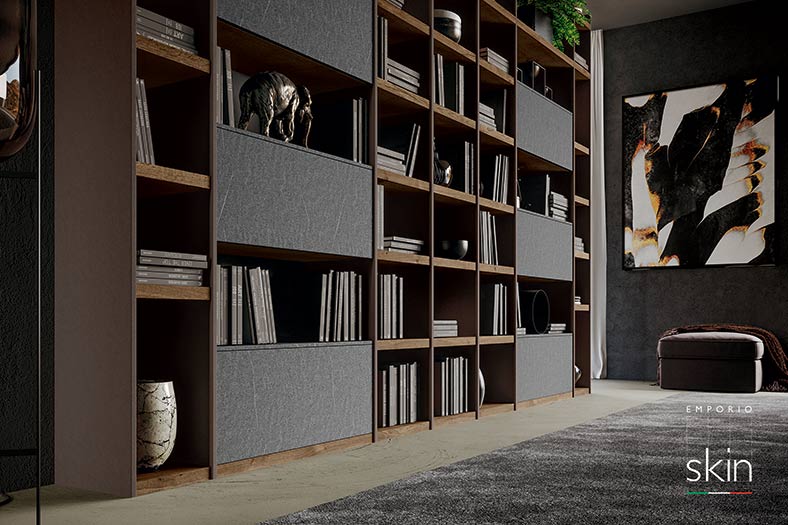 Emporio Skin is the exclusive brand of Kronospan Italia, intended to become the partner of design customers looking for something unique, combining the values of Kronospan like sustainability, quality and Made in Italy.
The 2020- 2022 Emporio Skin collection consists of 54 innovative, highly valuable decors with special finishes that recall immediate tactile sensations and reproduce natural textures. Woods, metals, textiles, stones, concrete, metallic woods, metallic textiles and marbles are traced with extraordinary precision and good taste by the seven SKIN textures:
Sagade (SG): It recreates the irregular effect of the hand-sawn wood, literally the "saw effect", representing a noble melding of the tradition of wood and its contemporary expression of living.
Dolce Vita (DV): Elegant, pure, simple. We are aware that the greatest perfection lies in nature, this is the reason why we wanted to get inspired by natural walnut creating textural decorations, rich in optical and tactile sensations.
Cala Bianca (CB): Revealing hidden pearlescent tones on sophisticated colours, refers to cement, stone, resin and marble world, becoming the ideal product for urban aesthetics, combining minimalist and modern design.
Tessuto (SX): To honour the Italian weaving tradition which makes us teachers of unique outfits, this decor reproduces textiles that create decorative motifs with natural shades.
Giada (GD): Starting from a natural element such as stone, the decor is developed to reveal nuances and luminous reflections that are never cold and bare.
Miro (SW): This texture, with its dark and light tones on ash wood, leads to a very natural tactile effect which is obtained using the "synchronous pore" technique (the carving of the pore on the melamine panel is achieved simultaneously to the print itself).
Minerva: To suit the interest developed by the market to metals, we decided to create a technical surface combining and emphasize both wood and metal.
SKIN products: Giving spark to every creation
These innovative ideas are enriched by Made in Italy, Unicity and have become "a must-have" among the most important furniture manufacturers worldwide. The result of this synergy can be seen at all the main design events, where Kronospan SKIN Sagade, Dolce Vita, Cala Bianca, Giada, Tessuto and Mirò enrich the realizations of the main brands.
Working in the design universe, Kronospan Italia knows how important it is to follow the evolution of taste and needs to satisfy each customer's needs. We are aware as well that it is equally fundamental to maintain the connection with tradition that for SKIN means Made in Italy elegance, passion, fashion and creativity.
SKIN decors can be seen both in their pureness and matched with different materials (copper, mosaic, coloured and soft textiles), to create precious and very trendy interiors.
Sleek Boards are proud to bring the SKIN Collection to India and are looking to appoint distributors so that the Indian furniture manufacturers will be able to offer the seven SKIN textures to the Indian market.
For more information, visit:
Website: www.sleekboards.com
Email: rangecontact kronoboardsindia@gmail.com
31