Sleek Boards offers Laminated HDF Flooring from Finsa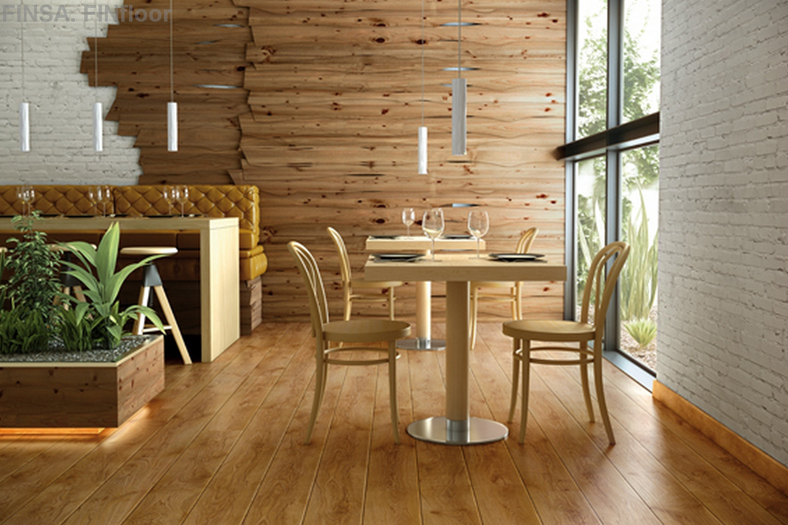 Sleek Boards Marketing Services, a leading player in the building and construction industry is now offering pre-laminated HMR-grade HDF Flooring FINfloor from Finsa, Spain – a global leader in value-added pre-laminated engineered wood panels.
FINfloor can be used in areas with a high footfall as it is available in Class 33 making it suitable for intense domestic and commercial use and with abrasion resistance of Grade AC 5 i.e. high resistance against the impact of heavy objects i.e. ideal for use in departmental stores, hotels, hallways, schools, shops, residential projects.
FINfloor's Purefloor range is available in Class 31 Grade AC 4 and in Class 32 Grade AC 4 suitable for small offices and residential projects. FINfloor comes with hydro protect properties making it ideal to be used in high humid environments. Furthermore, FINfloor does not accumulate any static electricity. FINfloor is available in 7 mm, 8 mm, 10 mm and 12 mm thickness.
FINfloor is environmentally preferred as they are guaranteed E -1 Emission levelfor Formaldehyde, making it suitable for indoor use in construction and buildings. Additionally the company is a certified PEFC Certificate holder, which means the products are eco-friendly and can be used in all green building projects too.
FINfloor is classified into the below categories:
FINfloor Original
The original FINfloor range is available in 19-cm width, having over 50 designs available in single board, two or three planks format and in rustic, modern or classic designs.
Available in Thickness: 8 mm
FINfloor Style
This range is the narrow stylish format of FINfloor. Planks in size of
13-cm width and 130 cm in length are available in over 30 single plank designs. The complete range is available both with four-sided V groove or without.
Available in thickness: 8 mm
FINfloor Supreme
FINfloor Supreme, flooring range is available with an innovative plank format of 131 cm in length and 24 cm in width. The strips give a stylish and elegant look and give the depth, feel and look of natural wood planks.
Available in thickness: 8 mm
FINfloor 12
Higher thickness gives a higher resilience and solid wood feeling.
Available in thickness 12 mm.
Purefloor 7 & Purefloor 8
With AC 4 grade scratch abrasion resistance making it ideal for intense domestic use and general commercial use i.e. ideal for areas with moderate footfall small offices, hotels, bedrooms, living rooms and shops.
Available in thickness: 7 mm and 8 mm
FINfloor Vinyl Pro
PVC-based vinyl flooring is a synthetic flooring widely used in commercial areas, schools, hospitals, offices, bathrooms and kitchens. The advantages are that they are more resilient and durable and more fire-resistant while being Water resistant and non-slip.
Available in thickness: 4.5 mm.
To know more about the FINfloor range or for distribution interests, please email us at sleekboardsmarketingservices@gmail.com or Call on +912025463471/25421021
14