Spearheading the green steel revolution in construction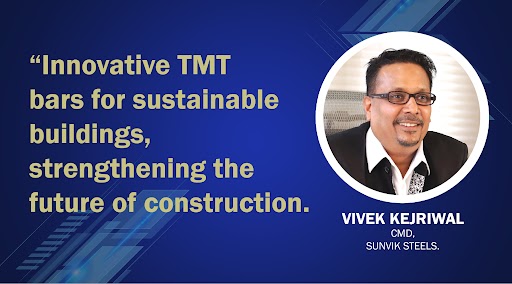 "Innovative TMT bars for sustainable buildings, strengthening the future of construction." Vivek Kejriwal, Director, Sunvik Steel.
The construction industry has embraced a paradigm shift towards green and sustainable buildings in today's rapidly evolving world. These innovative structures prioritise environmental conservation and create a healthier and greener future. Sunvik Steels, a pioneering TMT bar manufacturer, has emerged as a leader in this revolution, providing sustainable construction solutions that redefine industry standards.
Sunvik received the award for being the "Most Strong & Safe Green Steel" at the Times Business Awards Bengaluru 2023. We sat down with the Managing Director of Sunvik Steels, Vivek Kejriwal, to discuss the brand's commitment to environmental stewardship and the unique advantages of their green steel.
What are your TMT bars' key features and specifications that make them suitable for various construction applications?
Sunvik Steels' TMT bars are engineered to deliver exceptional strength, durability, seismic resistance, and corrosion resistance, making them ideal for various construction projects. Our bars undergo stringent quality control measures to ensure compliance with industry standards, offering superior structural integrity and safety.
How does your TMT steel bar manufacturing process prioritise environmental sustainability and contribute to green initiatives?
At Sunvik, environmental sustainability is at the core of our manufacturing process. We utilise renewable energy sources such as solar, wind, biogas, and captive power to power our operations. This significantly reduces carbon emissions and minimises our ecological footprint. Additionally, our manufacturing facilities adhere to stringent environmental regulations and employ resource-efficient practices.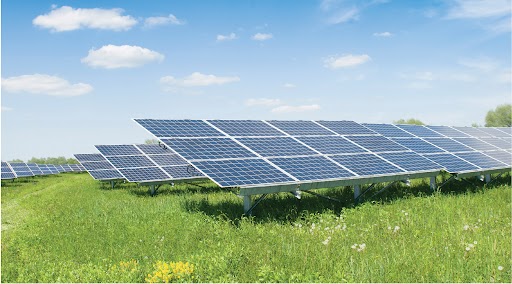 What specific measures or technologies do you employ to reduce carbon emissions and minimise the environmental impact of your TMT steel bar production?
Sunvik Steels is deeply committed to reducing carbon emissions and minimising environmental impact. Firstly, 90 percent of our power is generated in-house using solar, wind, biogas, and captive power. We have invested over ₹ 50 crores in a Wasted Heat Recovery Captive Power Plant, which helps us significantly reduce greenhouse gas emissions. Additionally, we have a zero solid waste disposal system that helps us achieve 100 percent utilisation of all by-products and waste materials into the production of Fly Ash Bricks and Blocks. Our water treatment plants and boilers reuse waste and blowdown water for dust suppression and cooling purposes, while advanced technologies like electrostatic precipitators, bag filters, water sprinkling systems, and mist cannons control and suppress dust emissions. Sunvik Steels has surpassed all targets for reducing plant energy consumption, as monitored by the Bureau of Energy Efficiency, Ministry of Power, and Government of India. These initiatives demonstrate our strong commitment to a green future and our dedication to sustainable practices.
How are green building materials contributing to the modern era, and what initiatives is the government taking to promote their adoption?
Green building materials play a vital role in the modern era by prioritising environmental sustainability and enhancing energy efficiency in construction. These materials are designed to minimise environmental impact, conserve resources, and create healthier living environments. To promote their adoption, governments are implementing tax incentives, grants, and updated building codes that enforce energy efficiency standards and encourage sustainable materials. Regarding Sunvik, our company has been recognised and rewarded for its green initiatives at various forums. As a privileged member of the Indian Green Building Council, Sunvik showcases its commitment to sustainable practices and actively contributes to promoting green building in India.
What sets your TMT steel bars apart from competitors, and what unique advantages do they offer to customers and construction projects?
Sunvik's green steel bars go beyond industry standards, offering numerous advantages to customers and construction projects. Our bars provide exceptional structural stability, enhanced seismic resistance, and excellent ductility. Moreover, they exhibit superior corrosion resistance, ensuring longevity and durability even in challenging environments. By choosing Sunvik's TMT steel bars, customers contribute to sustainable development and support creating greener, healthier communities.
Sunvik's commitment to green and sustainable building solutions has positioned them as a frontrunner in the construction industry. Through their eco-friendly manufacturing process, utilisation of renewable energy, incorporation of recycled materials, and emphasis on quality, Sunvik is spearheading the movement towards a more sustainable future. By choosing Sunvik's green steel, stakeholders can actively participate in the global effort to mitigate climate change and create a better world for future generations. 
for more info visit : https://www.sunviksteels.com/
32